Things have been moving at an alarming rate and I'm here to update you on the madness that has ensued. I promise you, everything is well and the craziness is a good thing. Like many of us, entrepreneurs know, scaling a bootstrapped startup can be extremely difficult at times but we are lions stand tall when times are hard.
First and foremost, Eashan Das, our Porsche Motorsport Parts Specialist has departed us as of last Wednesday. He will be rejoining his classmates at Arizona State University to pursue his Pre-Med degree and all of us here at Function Factory Performance wish Eashan the best of luck. In his absence, I, Charles, will be tackling sales and phone calls with Donny. This does present a small problem with our growth but I fear not as Marissa Hanson will be joining the crew full time in late September to help with onboarding new staff. We will work together to create procedures that will increase productivity, organization, and efficiency throughout all sectors of the company.
I surprised the team on Eashan's last day and took everyone for an adrenaline-laced team building activity at our local paintball facility. When we smash our goals, I believe that we should reward our self's with exciting activities that make us work together or even make us work against each other.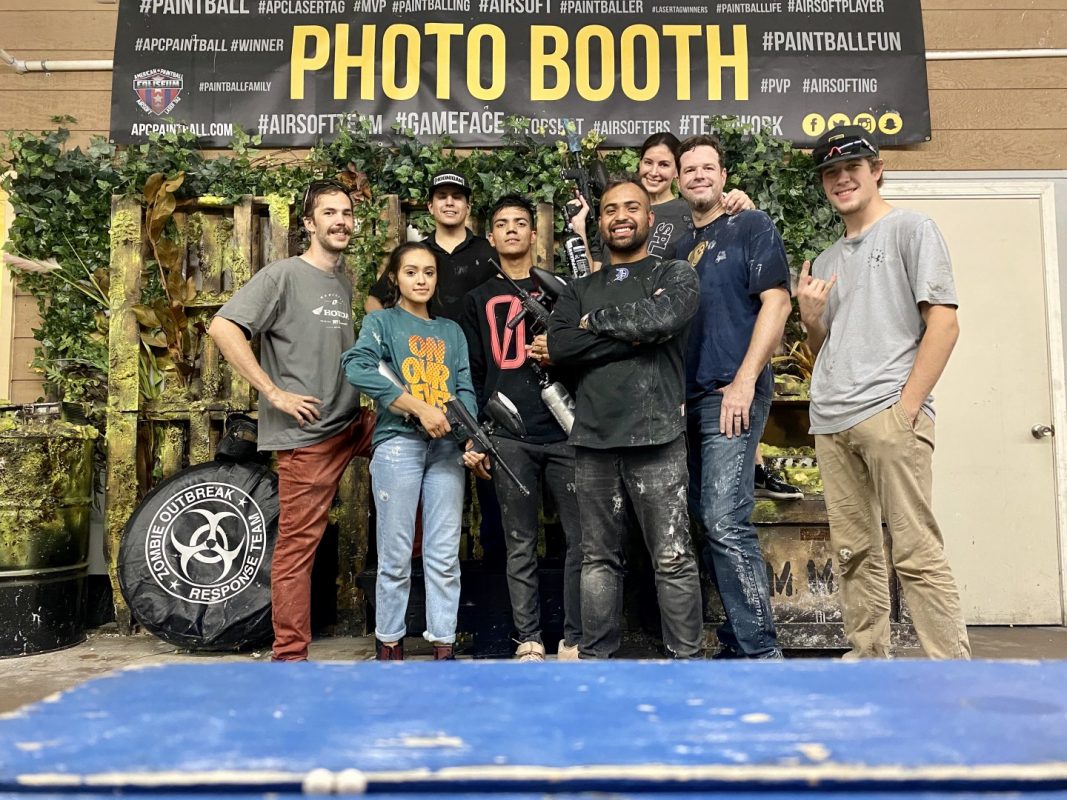 Let's touch on a Mustang we've been keeping in the door for some time. Private client Frank C has brought us his 2017 Ford Mustang GT. With less than 17,000 miles on it, we will be completely dismantling this S550 chassis down to the bare metal. We will be replacing every single body panel with gloss and dry Carbon Fiber. Adding another 15mm to the front and 40mm to the rear, we have chosen to work our sponsor and recommend carbon fiber supplier, Anderson Composites. A custom solution for the A and B pillars is being currently being discussed. Not to forget the interior, all plastic and trim items will be replaced with dry carbon giving Frank's S550 an upper-class GT4 feel. I bet you're starting to wonder what the purpose of this Mustang will be for? Frank has expressed that he would like to drag race this car, weekend drive it and take it as many car shows as possible. Following his request, a set of 15″ Weld Racing S71 forged bead locks will accompany the rear with the fronts being 17″ S71 forged wheels. Connected to the Mickey Thompson 28×10.5's will be Baer's 15″ brake conversion brake system and a set of Driveshaft Shop 1000 HP+ Axles. We will not be pulling the stock subframe just yet as I want to see how well it will perform. Providing the much-needed help every S550 rear subframe needs, we have chosen to with every Steeda Hardcore upgrade and Voodoo13 billet rear and front arms. Viking shocks and front coilovers will be taking the rebound and compression from the insane launches this car will see on the drag strip. There are many other parts that will be going on this vehicle but I will get to the two main components that will be propelling Frank's beast into infinity and beyond.
I think I've spilled the beans enough on this project and everyone is more than excited to have Frank on board for the wildest project to date.
Recent updates moving forward
Speedform GT350 Wings: I don't even know where to start with this product. I want to formally apologize for this headache. We sent an email out the other day giving our customers the ability to request a full refund, less than 24 hours later, Speedform started shipping the wings out. We still have NOT received communication from them. We are currently in a terrible limbo with the company as we are waiting for an answer from them if this product is truly in stock or not. I HIGHLY appreciate those who upgraded to our FFP GT500 Swings.
Our FFP Twin Turbo Kit for the 2015 to 2020 Ford Mustang GT: We are about 90% finished with Kurt's 2019 Ford Mustang GT and Anoiel's 2020 Ford Mustang GT. I say only 90% because the tune is still not completed. I will be writing a separate blog about these two groundbreaking builds for our company. We believe these turbo kits will set the tone when it comes to quality and expectations from us.
CV Fabrication Parts: Many CV Fab parts have an ETA of early September, we managed to hold some stock this week but they instantly flew out the door. Please be patient as this brand is trendy and COVID-19 is making production a little more difficult for them.
Full-Race Motorsports: We sold A LOT of Full-Race Motorsports parts over the months. They are backed up 4 to 5 weeks. Please remember, any and all Full-Race Motorsports are non-refundable as it is placed on the build sheet the second you place your order.
Liquivinyl Updates: LVA's new boxes should be going out next week. Say goodbye to shipping mishaps and bent splitters. If you do happen to get a bent splitter, please send an email as soon as possible to this link including as many pictures as possible. All replacement splitters are free of charge and make sure to keep your rods and hardware.
ZL1 Addons Quality Concerns: Customers, ZL1 Addons is an economic brand that provides simple aerodynamic solutions. These parts are not meant to be the highest quality but are meant to meet a great balance of form and function. If you are looking for a higher quality aero part, we recommend Anderson Composites or APR Performance. We are working with another brand to create a product that bridges the gap between ZL1 Addons and Anderson Composites, make sure to stay tuned!
Software and company communication: I know I've been talking about this for almost a month and a half now but I believe I am starting to make some strong progress. I am working on an automated solution to make sure all our customers and clients have constant updates on the status of their orders. This has been our NUMBER 1 hurdle since our large growth of customers and I am making it our number 1 priority to finish up moving forward.
Last but not least, Q3 profits, gains, and scale
Currently, we are in the middle of Q3 and we've seen another 200% jump in sales and customer growth. Where is this growth coming from? Our superior internal marketing, referrals, and most importantly, repeat customers. Our 2020 YTD sales total 1.5 million for Q3. With our current growth pattern, we will close out 2020 with 2.2 million in sales. The only way we can push this number higher is with the implementation of automated software and more staff. I am working hard to make this a reality but many day to day operations can hinder this process. This is a flaw in the business model but will be addressed by late September.
Our repeat customers make up nearly 30% of our latest profits proving that our customer service is doing their job even when we are operating at over 100% capacity. I have a solid plan leading into Q1 of 2021 that includes a new facility and many new additions to our current ecosystem. In the meantime, we are laser-focused on the current projects at hand which are turbo kits and Frank's Mustang. Moving forward, we are not accepting any more special or general installs until early 2021 and video production will only be on our in-house vehicles.
Interested in learning more about our financials, deals, and sponsors? Feel free to email me at Charles@ffperformance.co anytime.
I'm highly grateful for our Nespresso machine as this is a critical time in the company, I need to push harder and faster to complete this automation to get us back on top of customer service, marketing and be a well-functioning company altogether.
Charles
@ffperformanceaz
P.S. Updates to come?
2016 Ferrari 488 Mods
New sponsorships
RSeat in-house simulator
Our Ceramic Pro / JIMGLO Trailers Mustang goes to Laguna Seca
Shop upgrades
Final numbers from our FFP Twin Turbo Kit
FFP Goes to London
FFP 2020 Ford Raptor Update
FFP 2016 Ford Mustang Ecoboost Update