If you didn't open or receive yesterday's email, I've been working on providing some strong updates on some recent open holes. Please read below to keep up to date with what's going on at Function Factory Performance.
I've updated the front page, more announcements soon about McLaren vehicles. Our main focus is now McLaren and Ford Performance.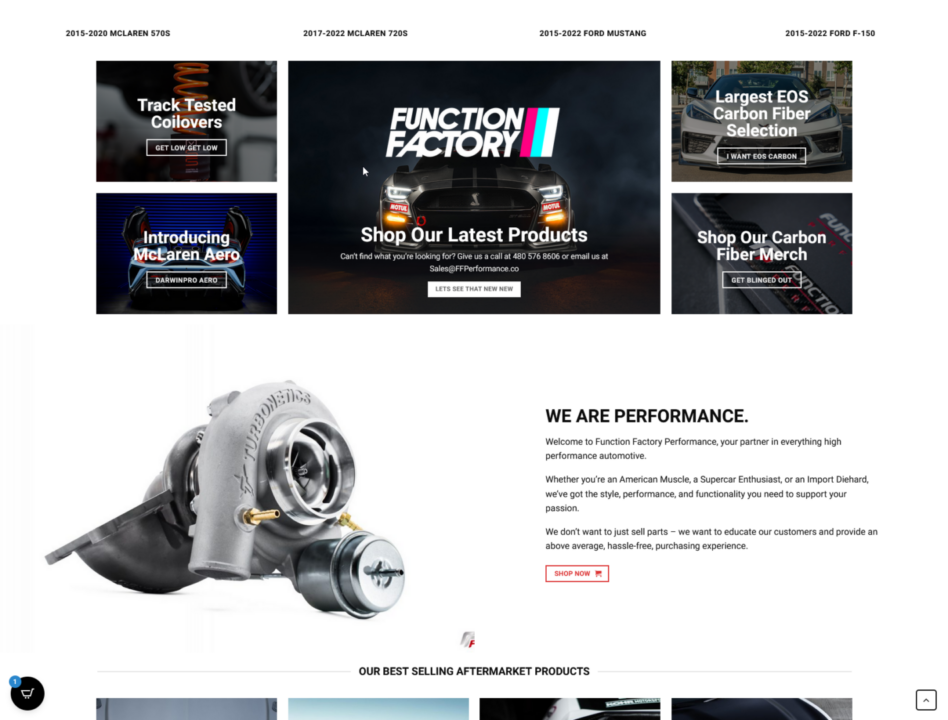 The phones have been fixed. Our number is 480 576 8606. I removed our automated system which was causing calls to straight to voicemail. I need to fully update our system so we can have a proper call routing. I should have that done sometime this week
Donny went through and answered all pending voicemails. Yes, I've heard about our inbox is full, it has been listened to and emptied. Please check your inbox if you have left a voicemail
I have had an influx of customers saying emails have not been answered, we have internally rectified this issue and will make sure to touch base with you regardless if we have the answer or not. Our customer service reps will let you know we are working on your support case.
Product updates
All of our FFP GT500 Carbon Fiber Hood Vents shipped out. If you purchased one, please check your inbox for tracking. We would appreciate it if you can take and send us photos. Feel free to tag and post us on Instagram @ffperformanceaz or email us here at news@ffperformance.co
Our 2nd batch of GT500 CFTP Wings has landed and is currently undergoing harsh quality control checks. Our 1st batch did not go smoothly so we are taking extra steps to ensure every wing is near OEM quality. 3rd batch of wings should be arriving at the end of the month and we will be bringing in more for the Holidays.
We are developing a Forged Carbon GT500 Wing
We will NOT be developing any more products after this, we will keep producing what we currently have.
I am aware we are running behind, we are working to balance out our support email, calls, inventory, and order volume. Some customers have suggested that we just hire more staff, if it was that easy we would have done that, unfortunately, that creates more overhead, training, and more delays. Worse, if that person doesn't work out, we've lost that time. We are still very much a start-up but being able to spearhead these issues publicly is a massive milestone for us.
Unfortunately, we have no updates on the NX2 turbocharger. We appreciate those all holding with diamond hands for their NX2 and we'll be shipping units the second the pallet arrives.
Our GT500 is still for sale, it will be going on Bring A Trailer
We created 3 separate videos and installation instructions for our 3 current bumpers, GT350, GT500 for 15 to 17, and GT500 bumper for 18 to 22. Check out our first install guide below
Thank you for your continued trust and business,
Charles – Founder / Owner