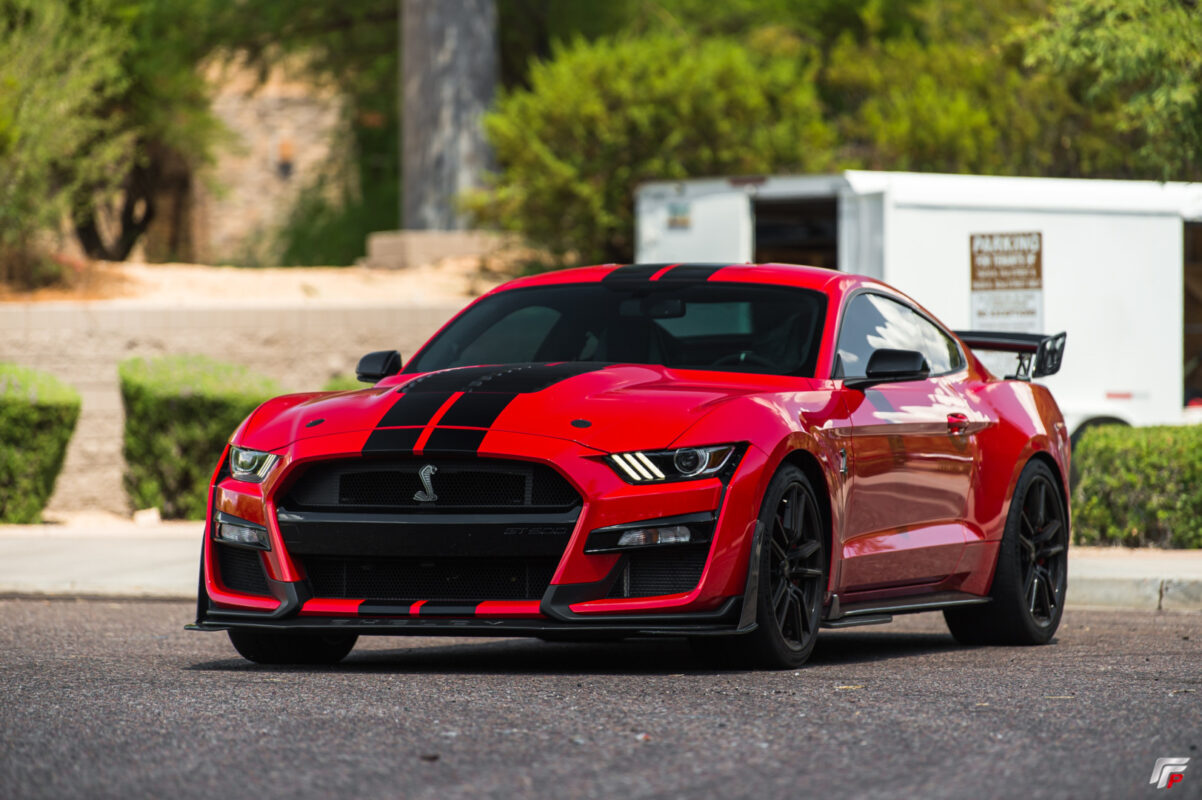 After years of R&D, the Function Factory Performance 2015-2022 Ford Mustang Track Pack Rear Wings are finalized and heading into enthusiasts' hands.
*Please read this entire installation manual carefully prior to installing and using this Function Factory Performance product.
Function Factory Performance products should only be installed by persons skilled in bodywork or other car parts. The instructions provided in this manual should be followed to ensure proper installation and safe use of the Function Factory Performance product. Function Factory and/or its partners shall not be held liable for any damage or personal injury (including direct, indirect, or consequential damage) sustained due to improper installation of the Function Factory Performance product or its use and maintenance contrary to the instructions and warnings contained herein. If you have any questions regarding the installation and/or proper use of the Function Factory Performance product or this manual, please get in touch with Function Factory Performance. 
GENERAL INFORMATION
All statements regarding the product are made regarding the product "as is." Any modifications of the Function Factory Performance product or its improper installation, use, or maintenance that do not follow this Installation manual may result in severe damage to the product and/or vehicle and personal injury. Damage caused by improper installation, use, and maintenance of the Function Factory Performance product is not covered by warranty. Please refer to our website in regard to the terms of our warranty here: https://ffperformance.co/factory-service/warranty/
BEFORE BEGINNING THE INSTALLATION OF YOUR NEW FFP PRODUCT, PLEASE MAKE SURE ALL ITEMS BELOW ARE READ
This instruction manual is product and year specific, indicated on the cover page. Installation procedures will vary for the year of your car. Please verify that your Function Factory Performance product and this installation manual match your car. Ensure that you have all the parts necessary to install your new Function Factory Performance product using this instruction manual. If any of the parts are missing, please do not proceed with uninstalling your stock parts/installing the FFP product and contact Function Factory Performance. *If your car has fog lights, they will not be reused. Instructions may vary slightly between models with additional options equipped.
Parts Included:
QTY 1 – 2015-2022 FFP Carbon Fiber Track Pack Rear Wing
QTY 2 – Left and Right Side Billet Aluminum Wing Stands
QTY 2- Left and Right Side Wing Stand Foam Pad
QTY 2 – Left and Right Side "Dogbone" brackets
QTY 4 – M6-1.0x25mm
QTY 4 – M6x1.0-20mm
QTY 2 – M6x1.0-16mm
QTY 4 – M6x1.0 Acorn Nut
QTY 14 – M6 Washer
Tools Needed:
Ratchet with 12mm and 10mm socket
Torx #30
Nylon panel removal tools
Fishing string
Adhesive removal wheel compatible with a cordless drill
Masking or painters tape
5mm Allen wrench
Cordless drill
5/16″ drill bit
1/16″ drill bit
Removal Procedures:
Open the trunk and remove the rubber grommets on both sides of the trunk lid.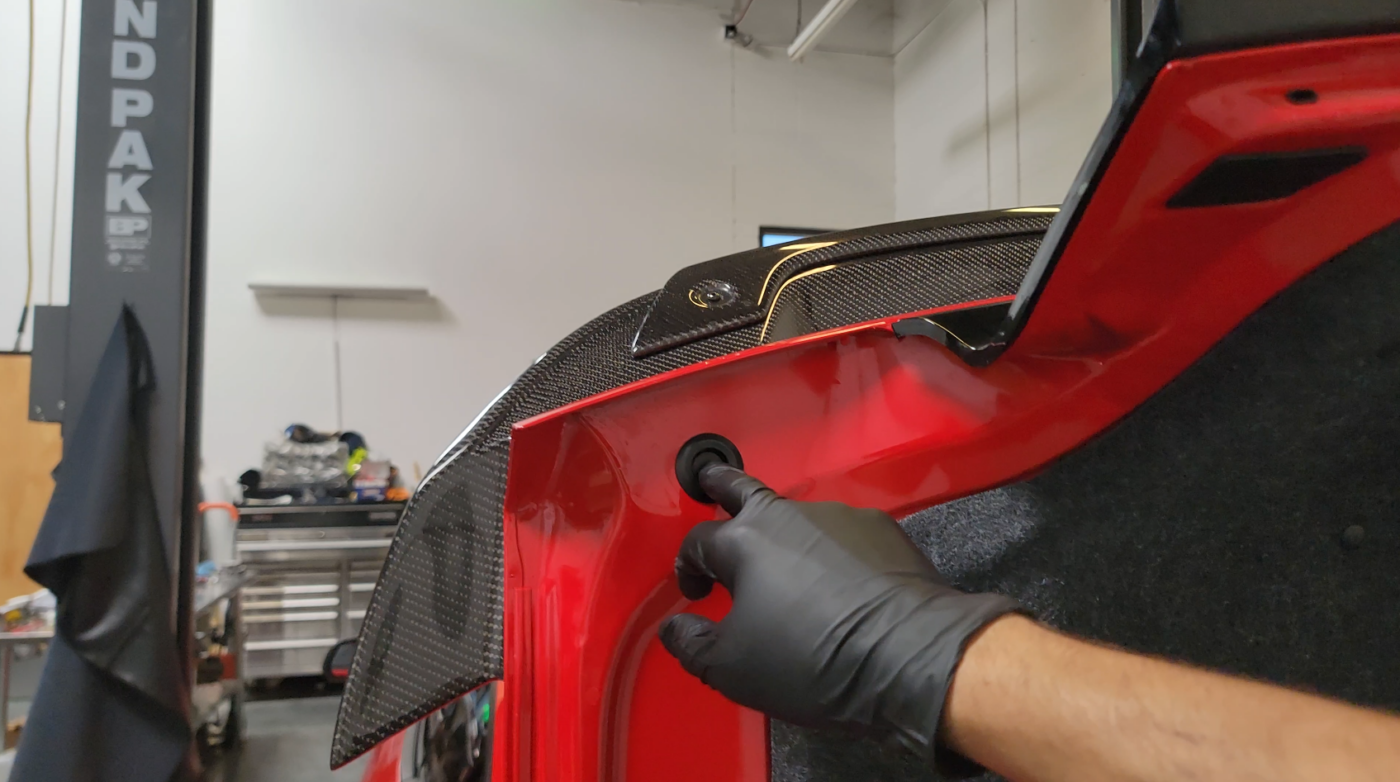 2. Remove trunk lid interior pieces.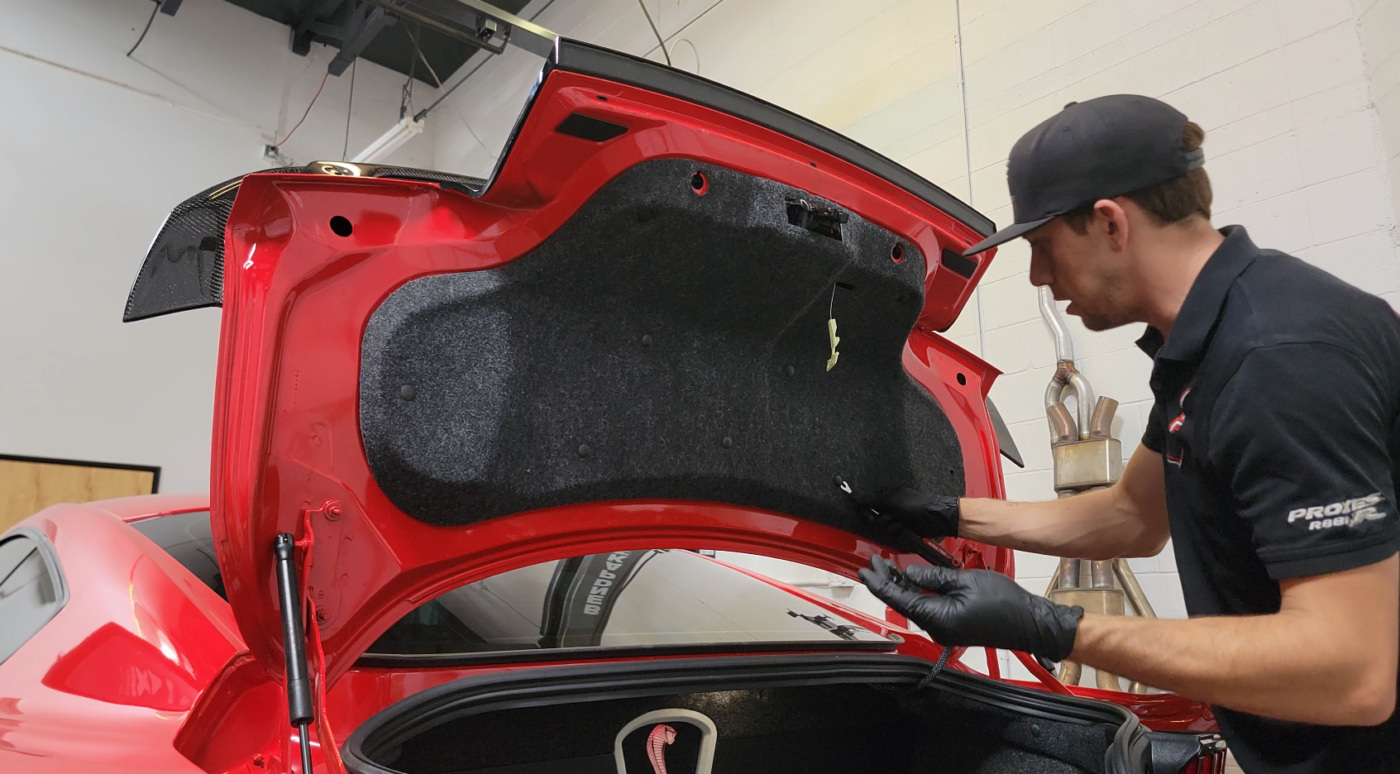 3. Use Ratchet and break loose the 10mm or 12mm nylock nut fastened to the stud. Please be careful and do not drop the nut into the trunk lid when removing it.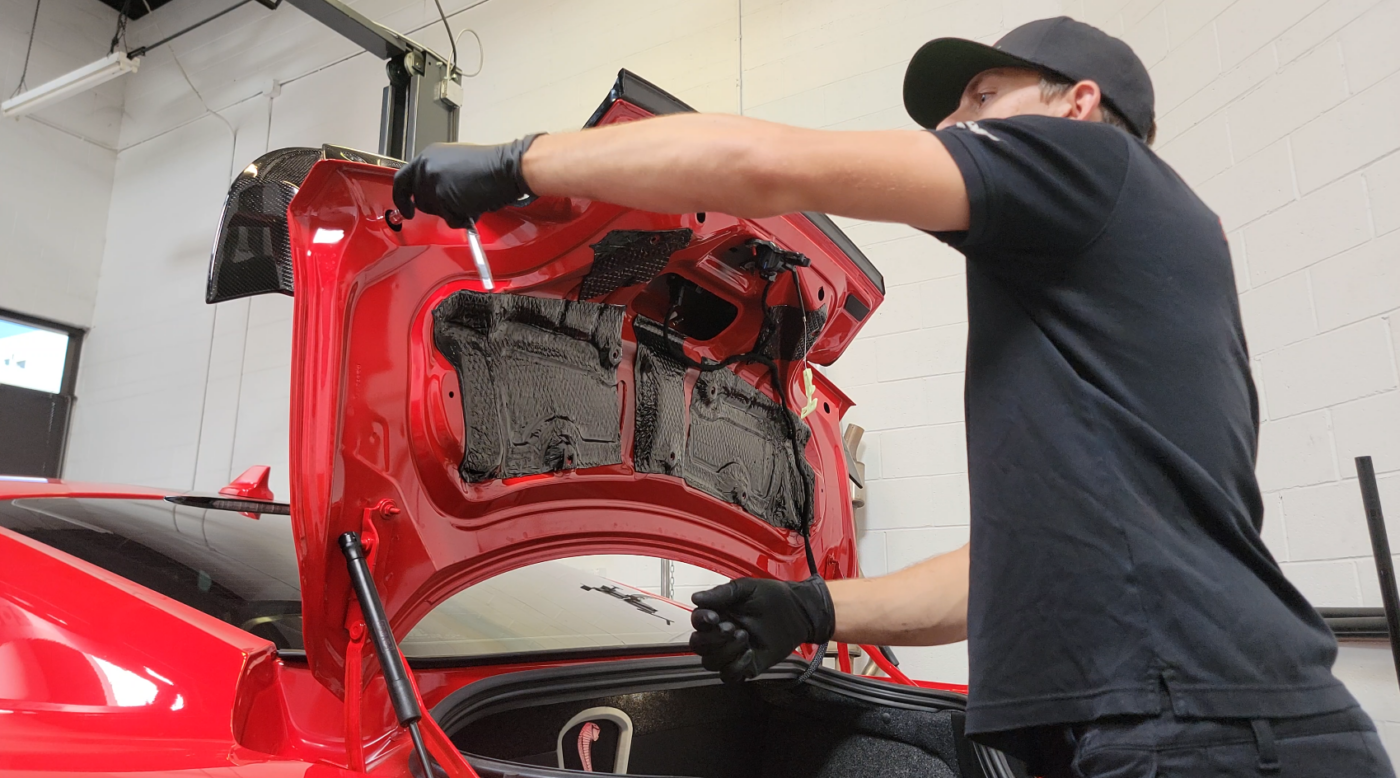 4. Use fishing string to break the mounting seal from all sides of the wing; please note that fishing string will not pass all the way through due to the mounting stud. (This is not pictured as this car was equipped with the Anderson Composite 2020-2022 Ford Mustang Shelby GT500 Swing Carbon Fiber Rear Wing and the seal was previously removed)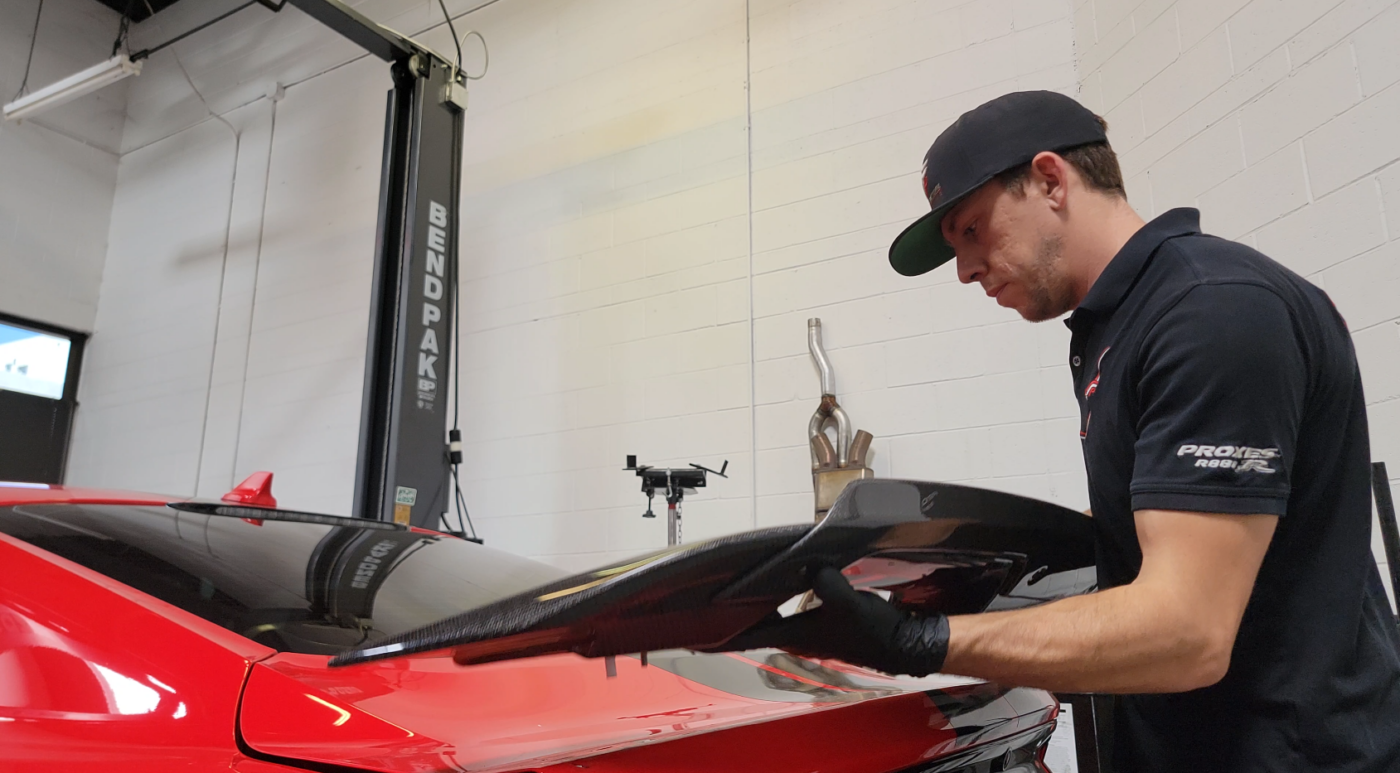 5. Once the rear wing has been removed you will then go in and clean the leftover adhesive/glue using a cordless drill with an adhesive removal cup wheel. Vary drill speed and do not overheat the painted surface; once finished clean the decklid corners with rubbing alcohol or cleaner.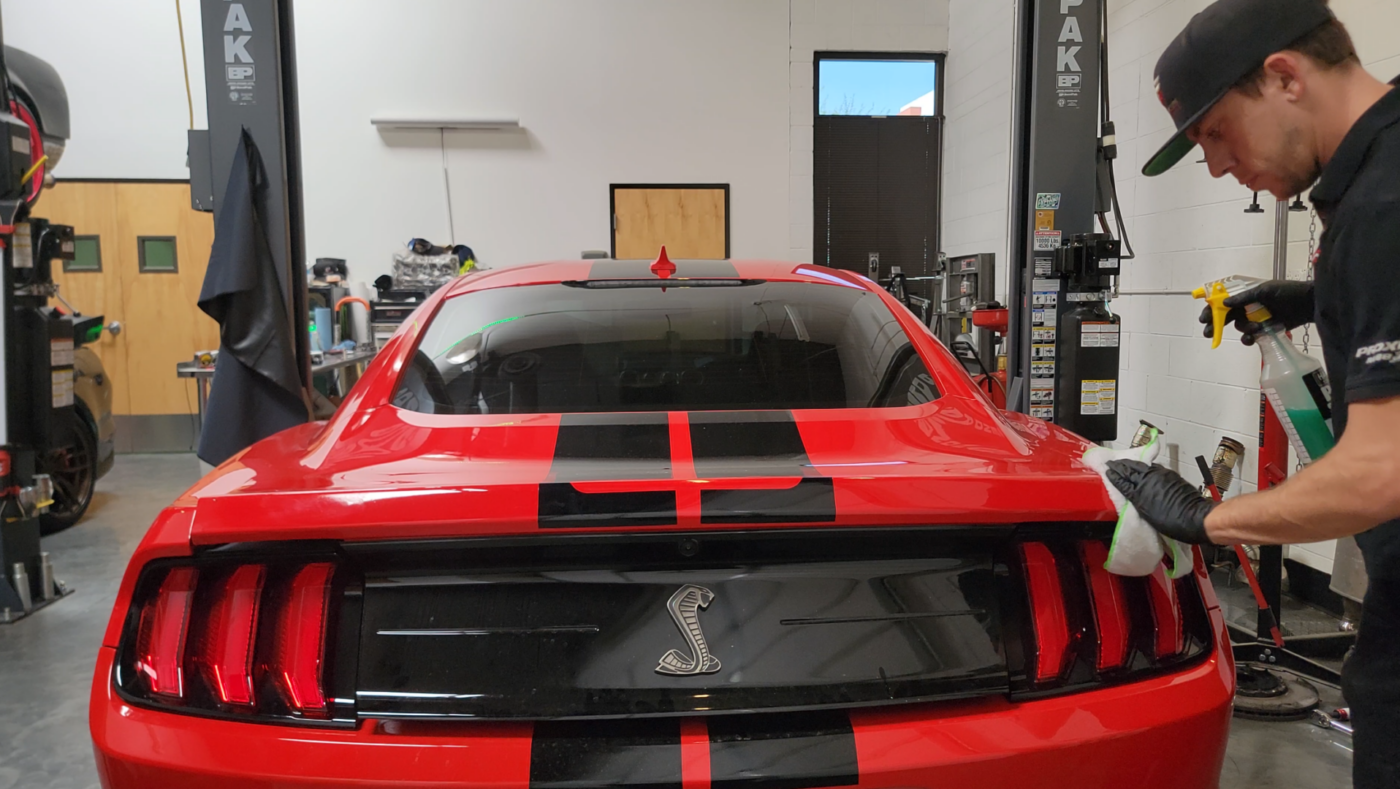 Installation Procedures:
Drilling Preparation: Grab both left and right side wing stand foam pads and pop out the 3 holes in the foam pad; this will be used as the drilling template.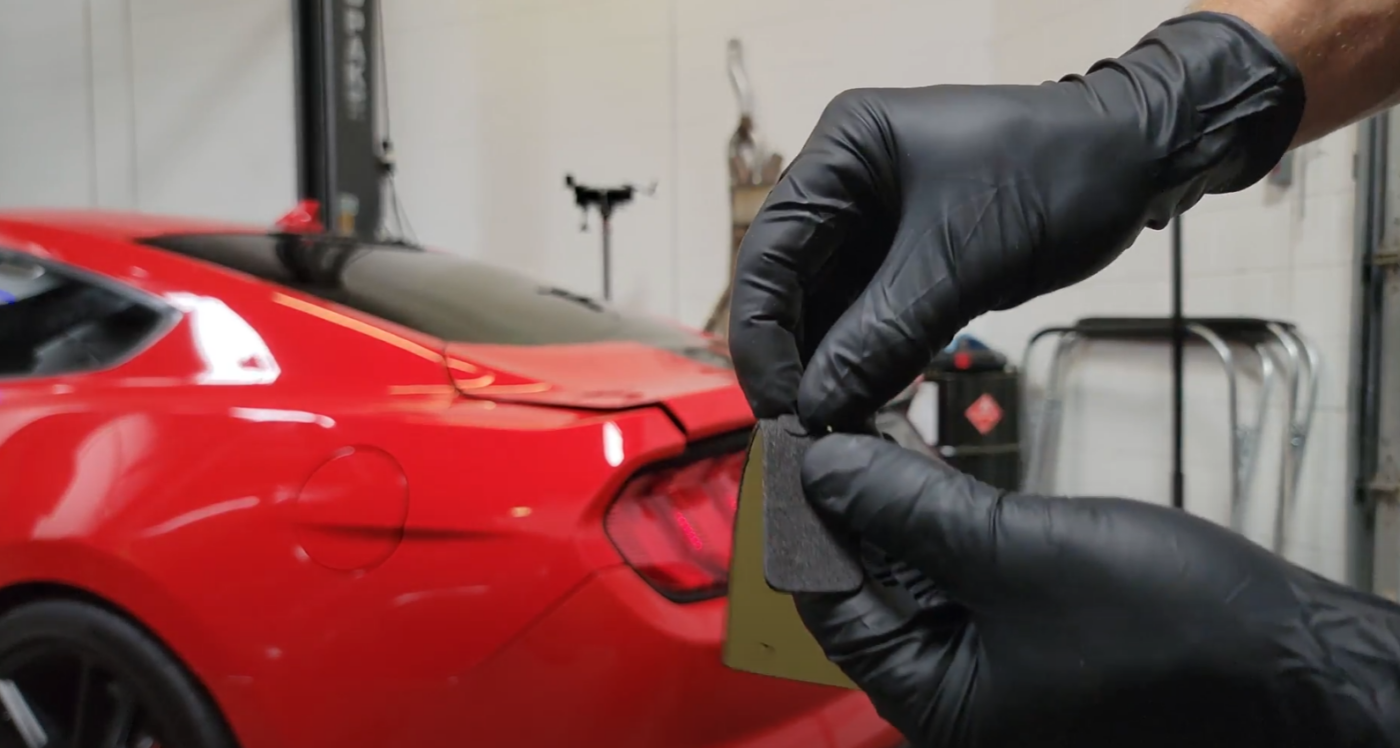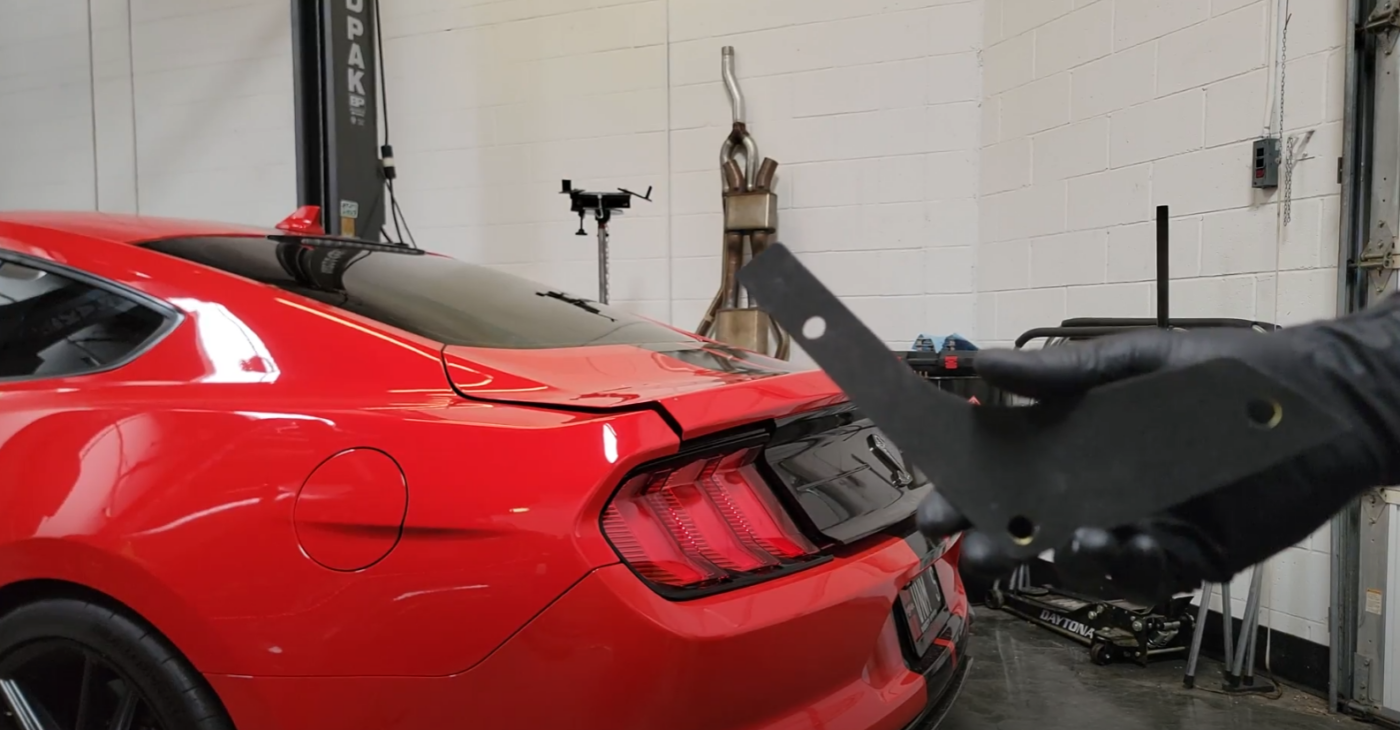 2. Use masking tape to protect the surrounding paint and be able to mark where to drill.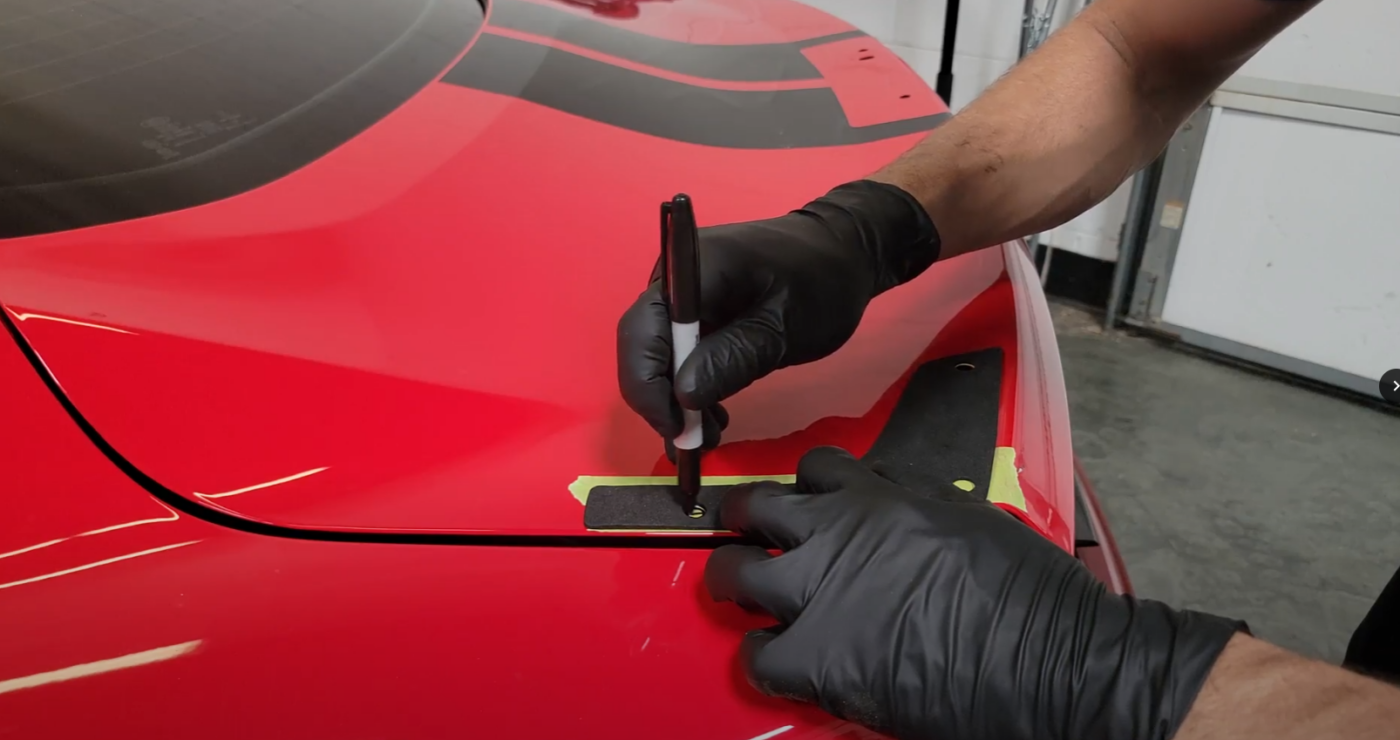 3. Use a punch to tap where you will be drilling; it will help when drilling and deter it from walking away and scratching the paint.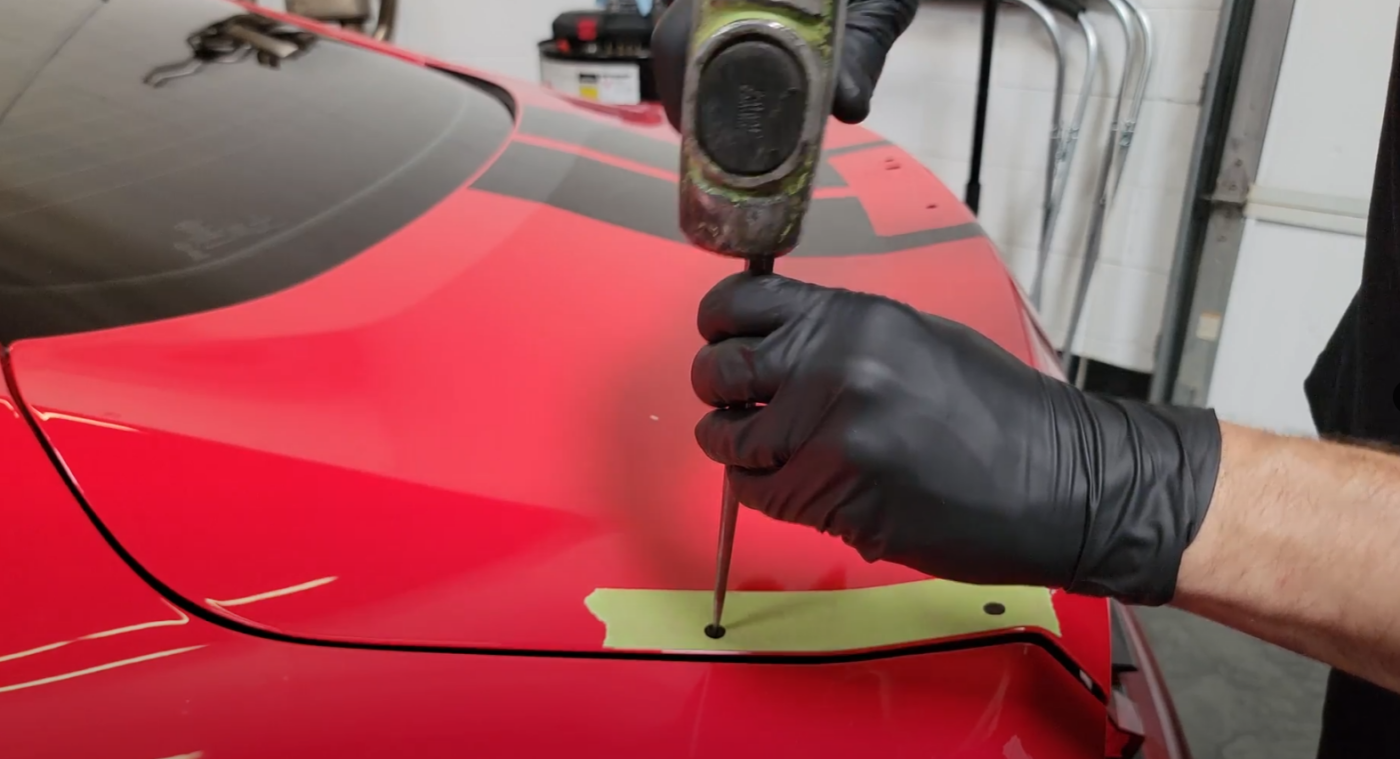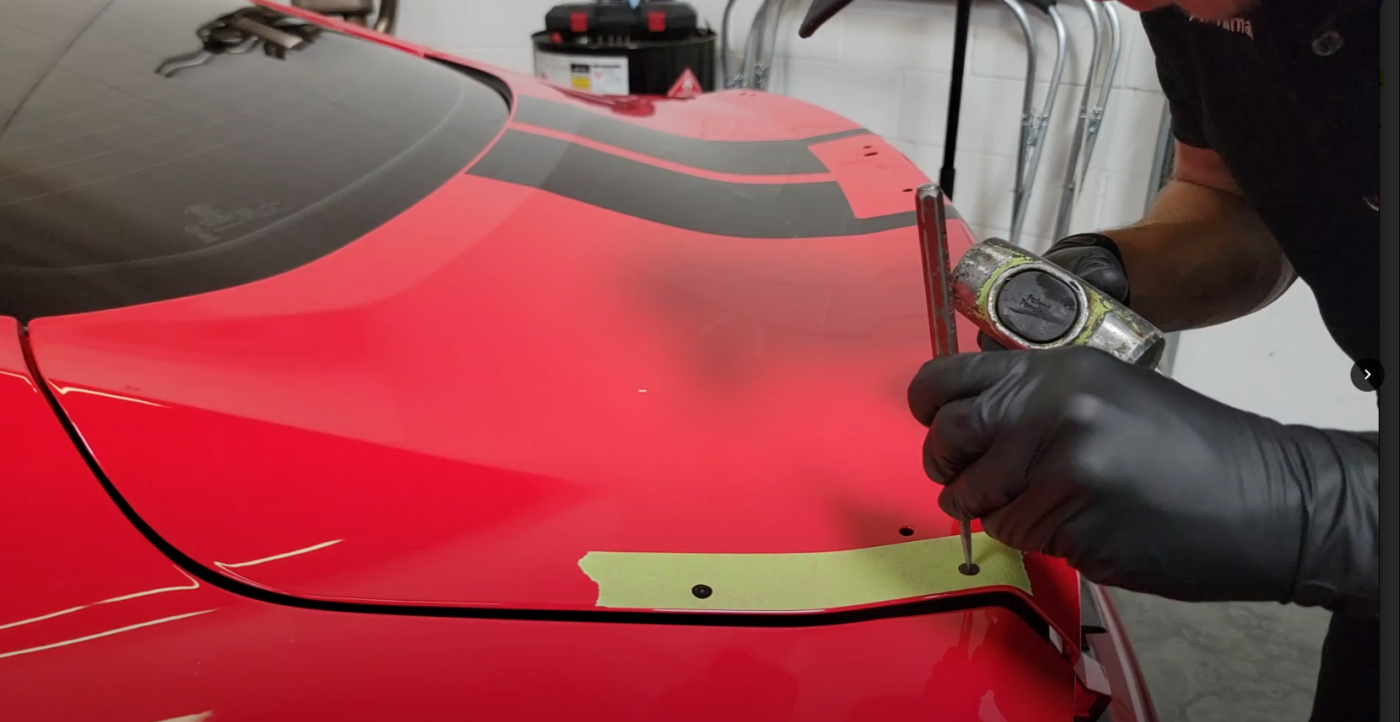 4. Once the preparation is finished, you can prop the trunk lid up or use a friend to hold the trunk up when drilling.
Note: You can use a microfiber towel to catch the metal shavings from drilling.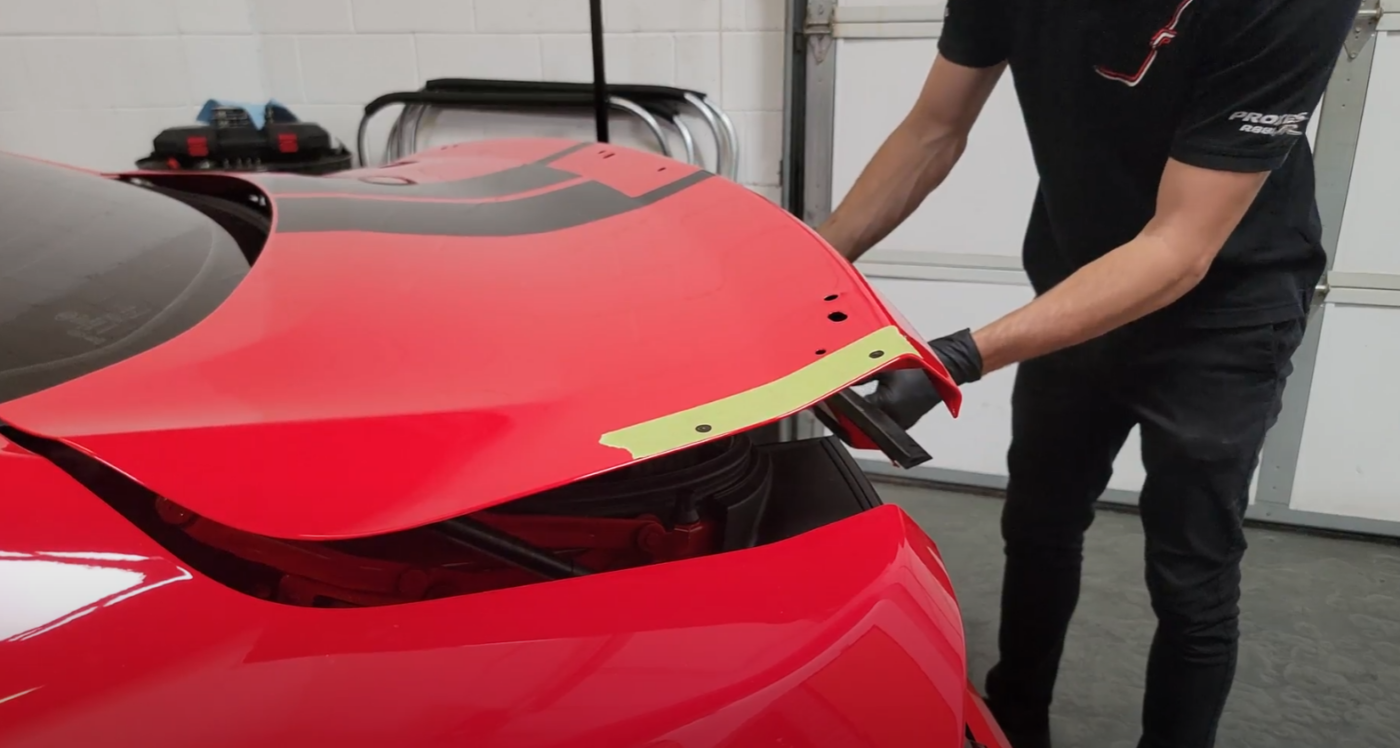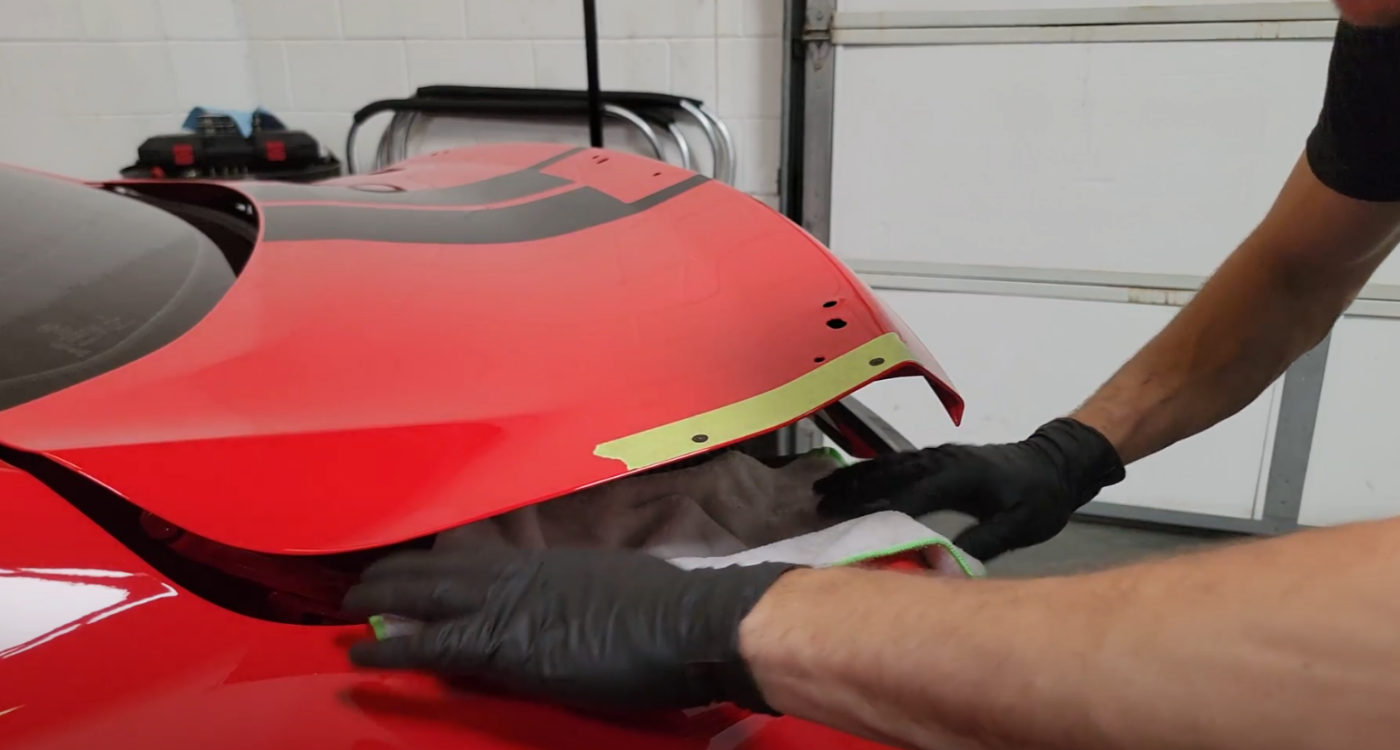 5. Use a 5/16″ drill bit to drill your holes.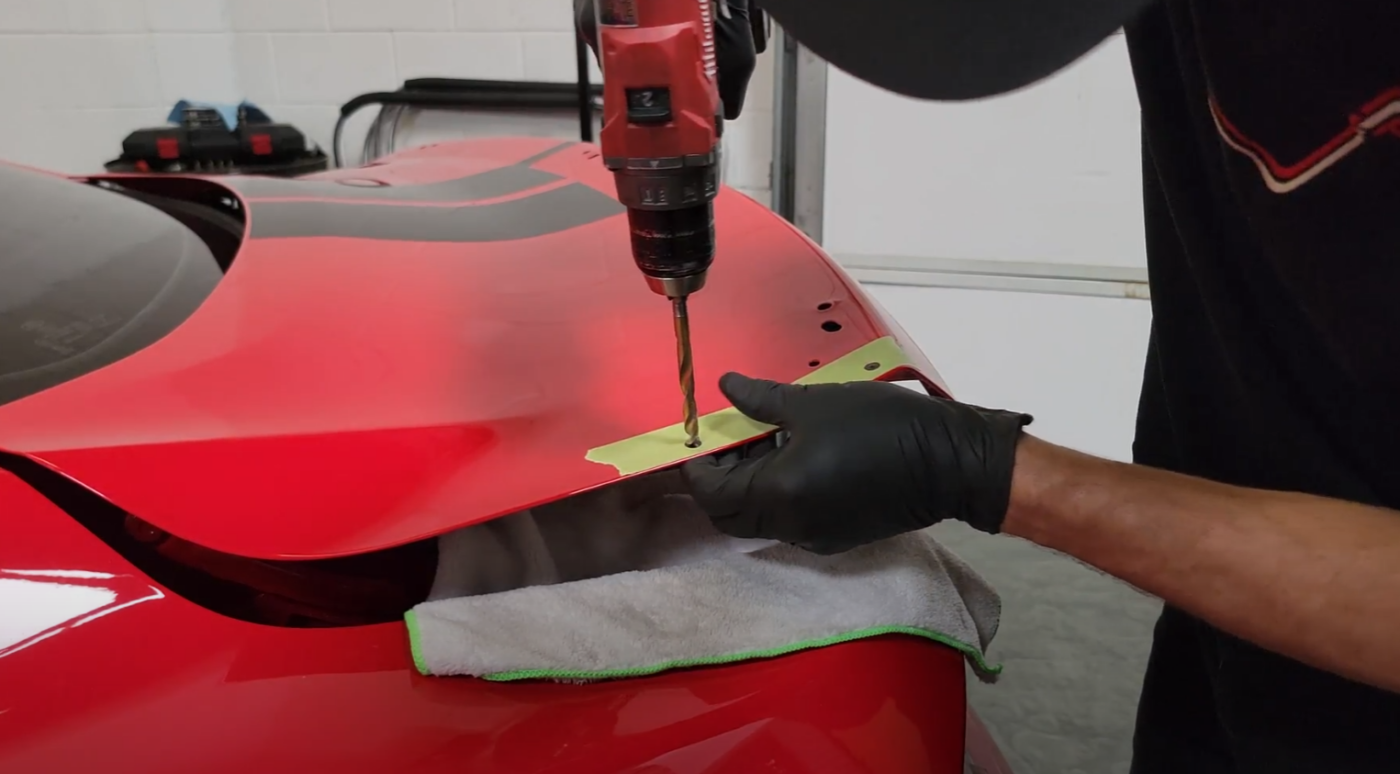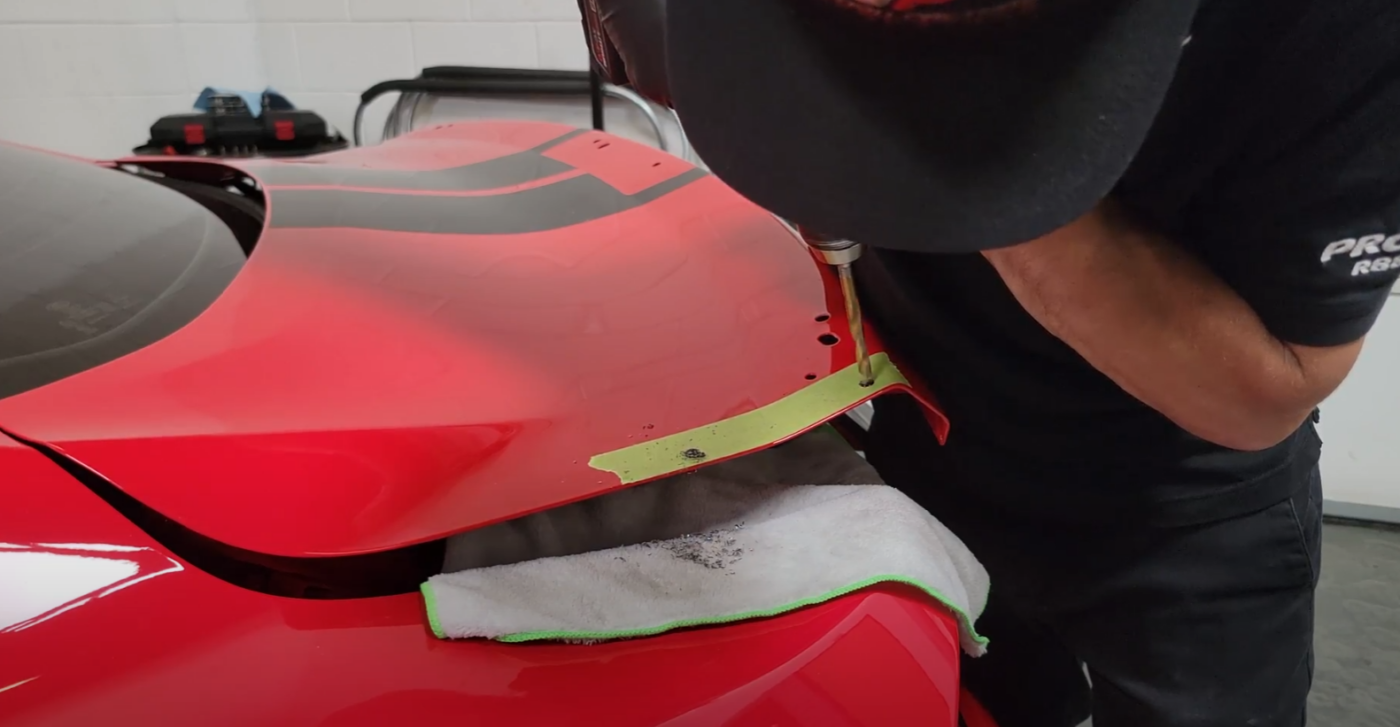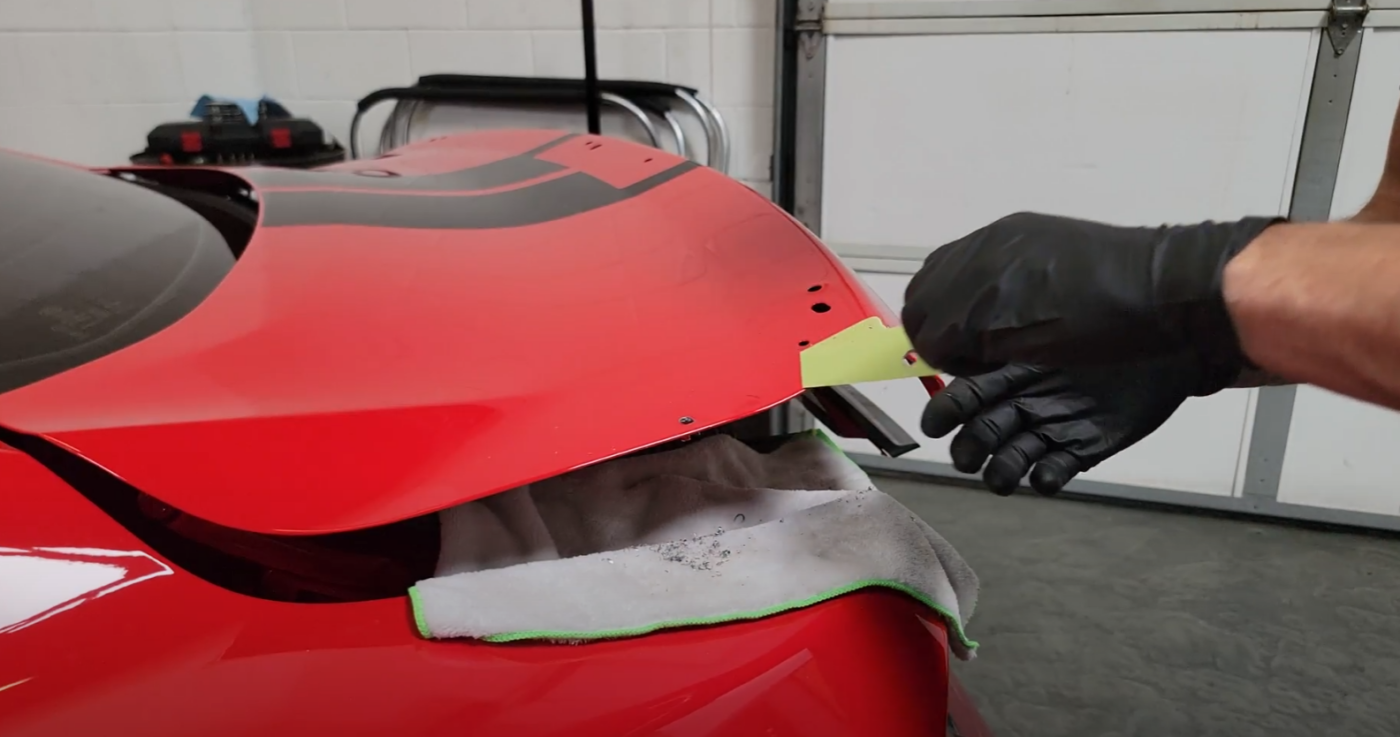 6. Verify that the "Dogbone" bracket aligns with the drilled holes.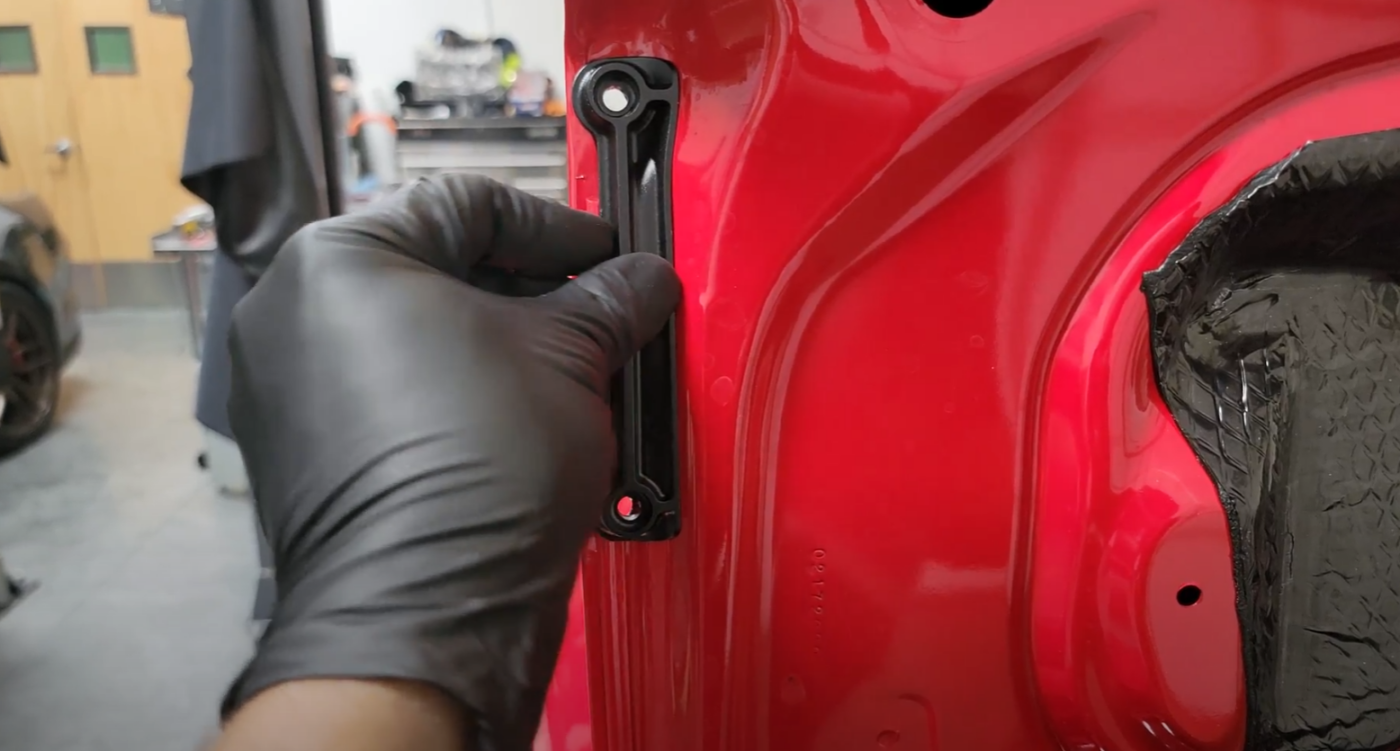 7. Now that all holes are drilled and aligned you will install the foam wing stand pad onto the trunk lid.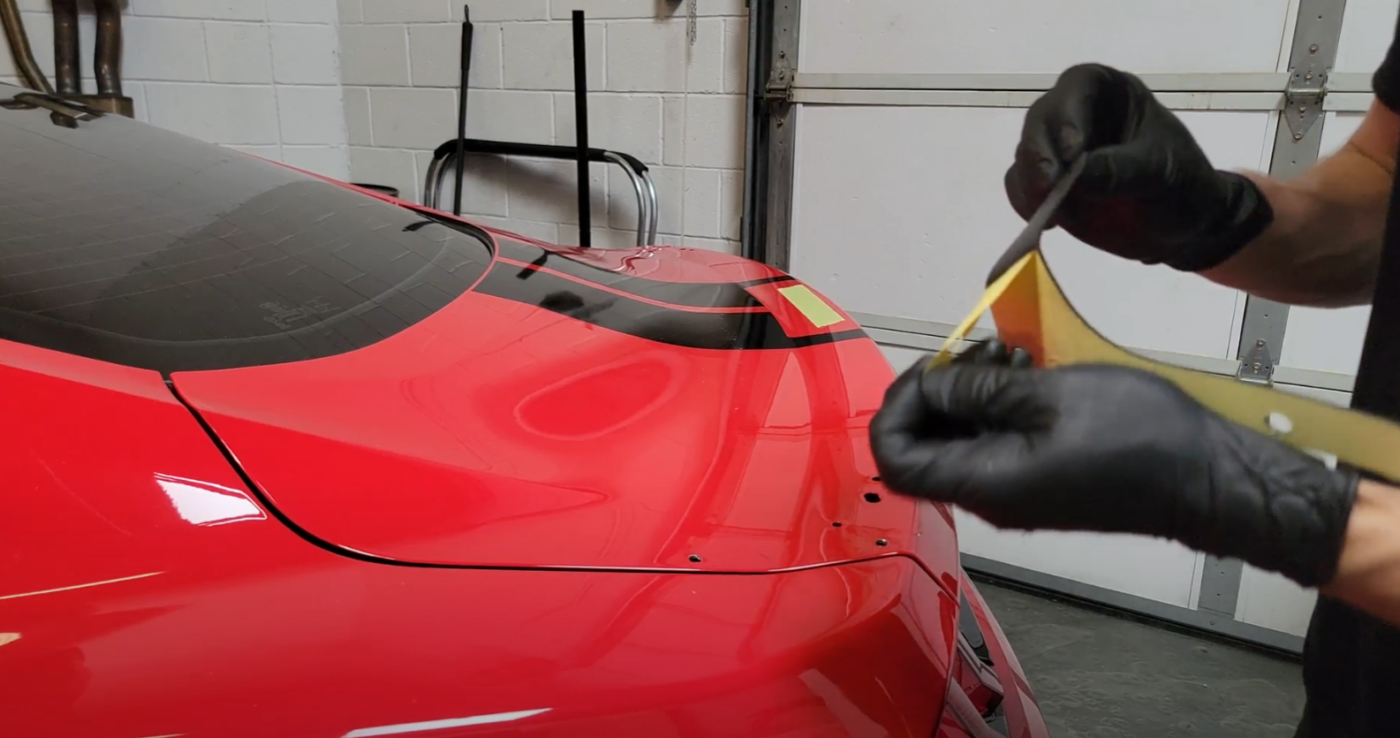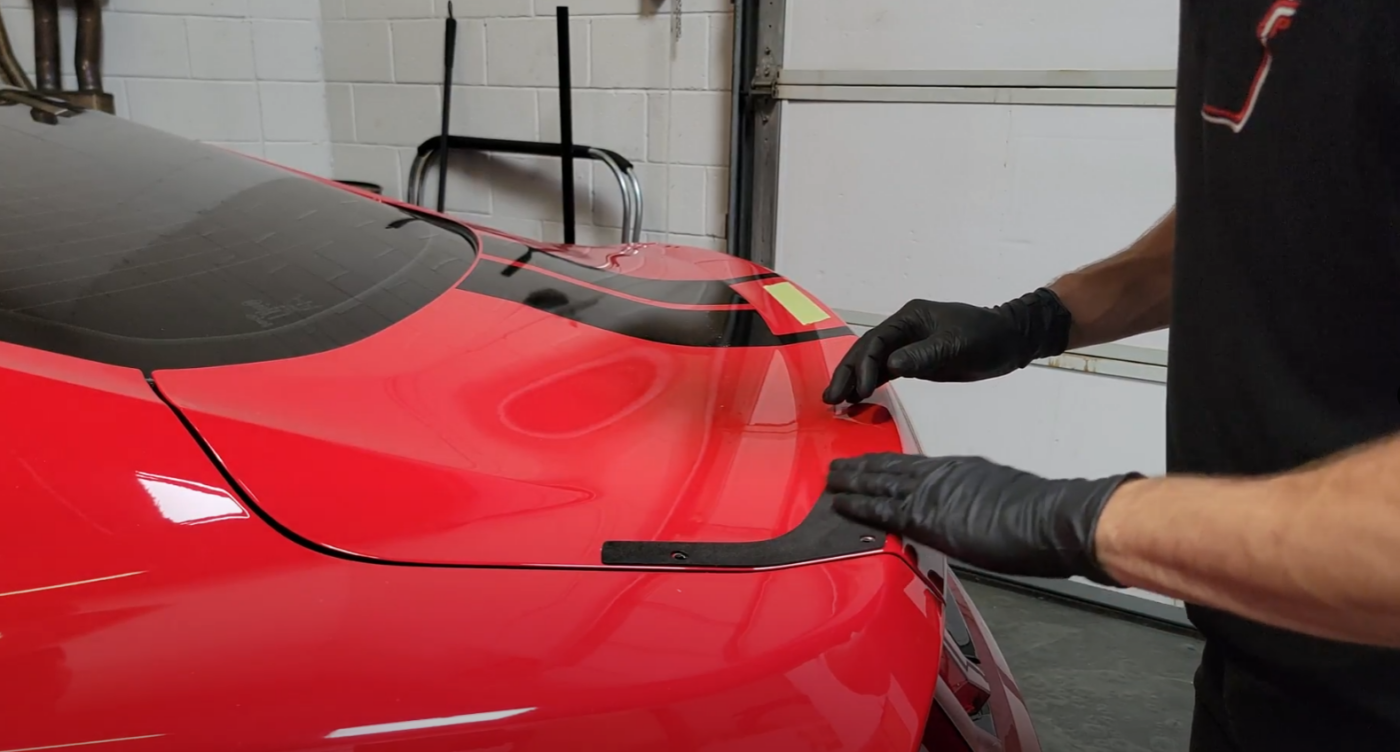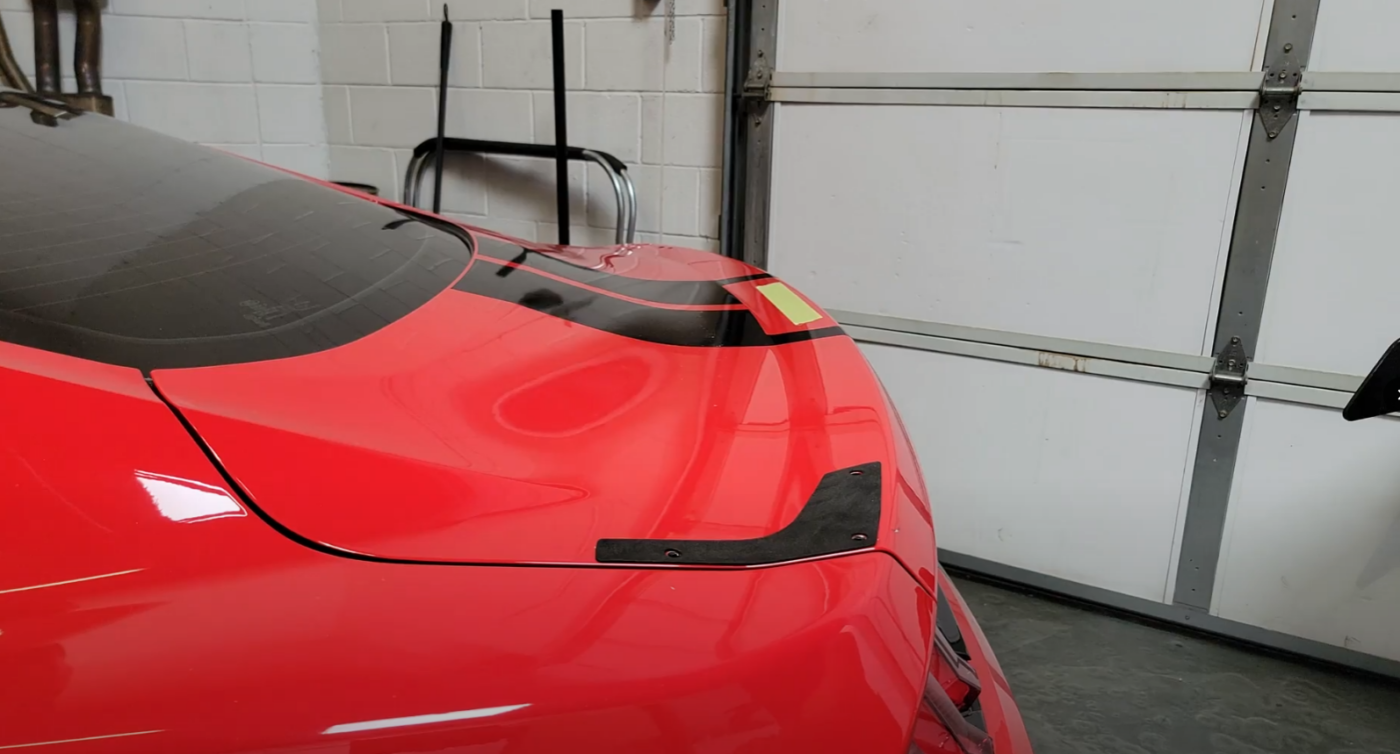 8. You now can then go ahead and use the provided hardware to install the wing stands.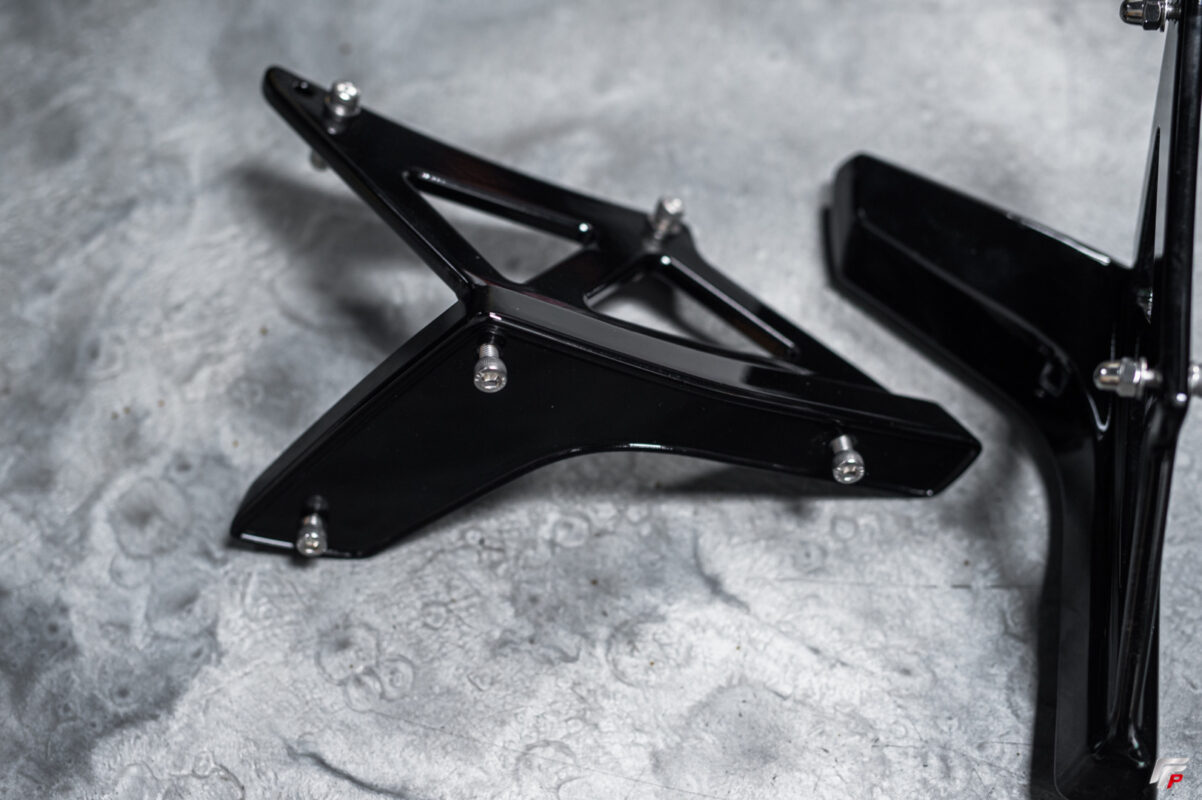 9. Once the wing stands are installed you will move onto the wing. It is easier to install with 2 people but doable alone.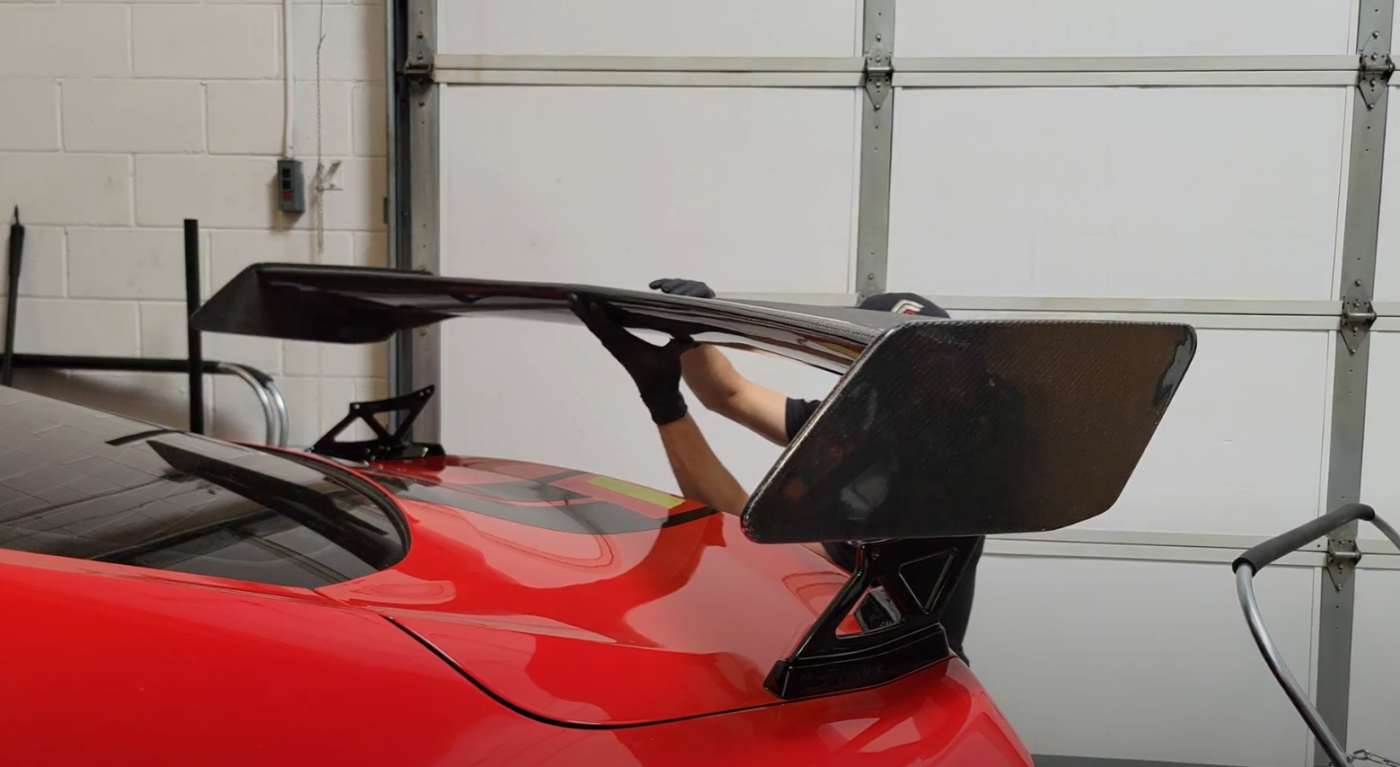 10. Use the provided hardware to bolt the wing to the stands as the final step.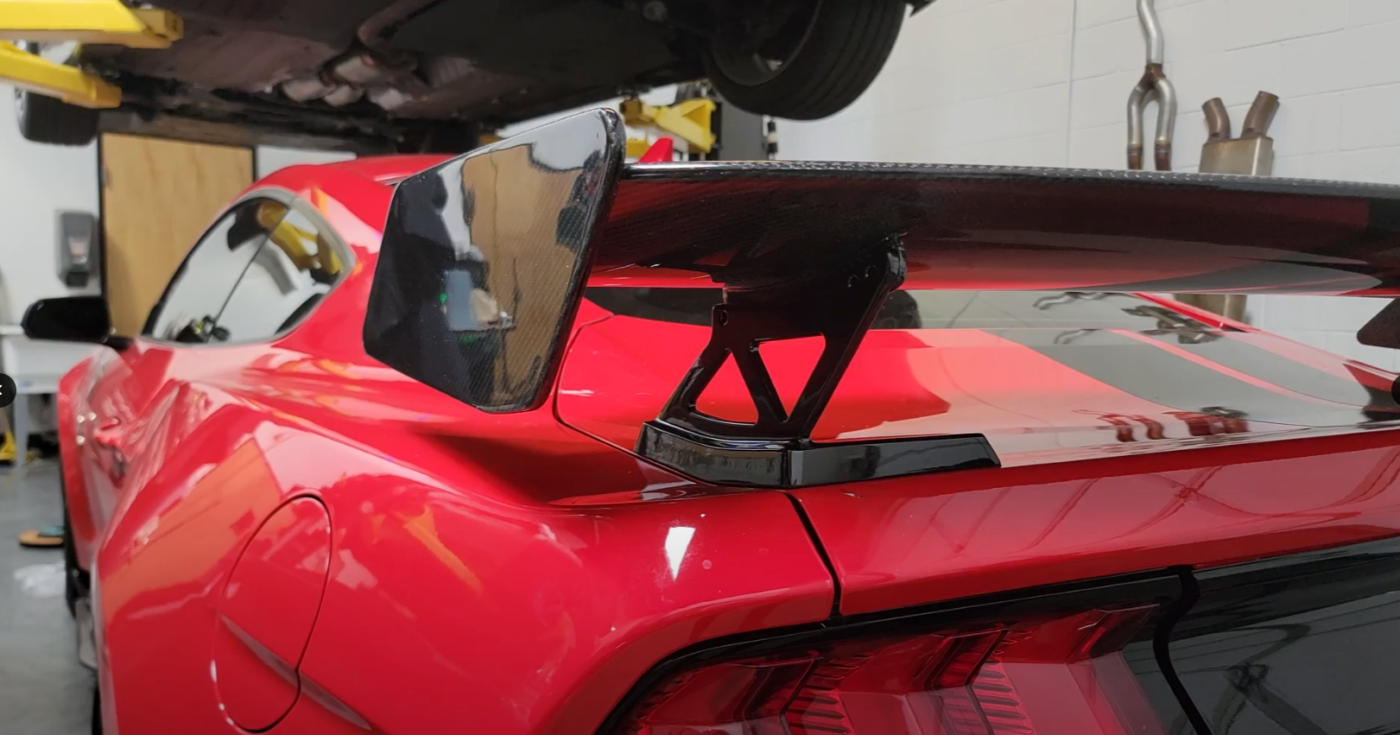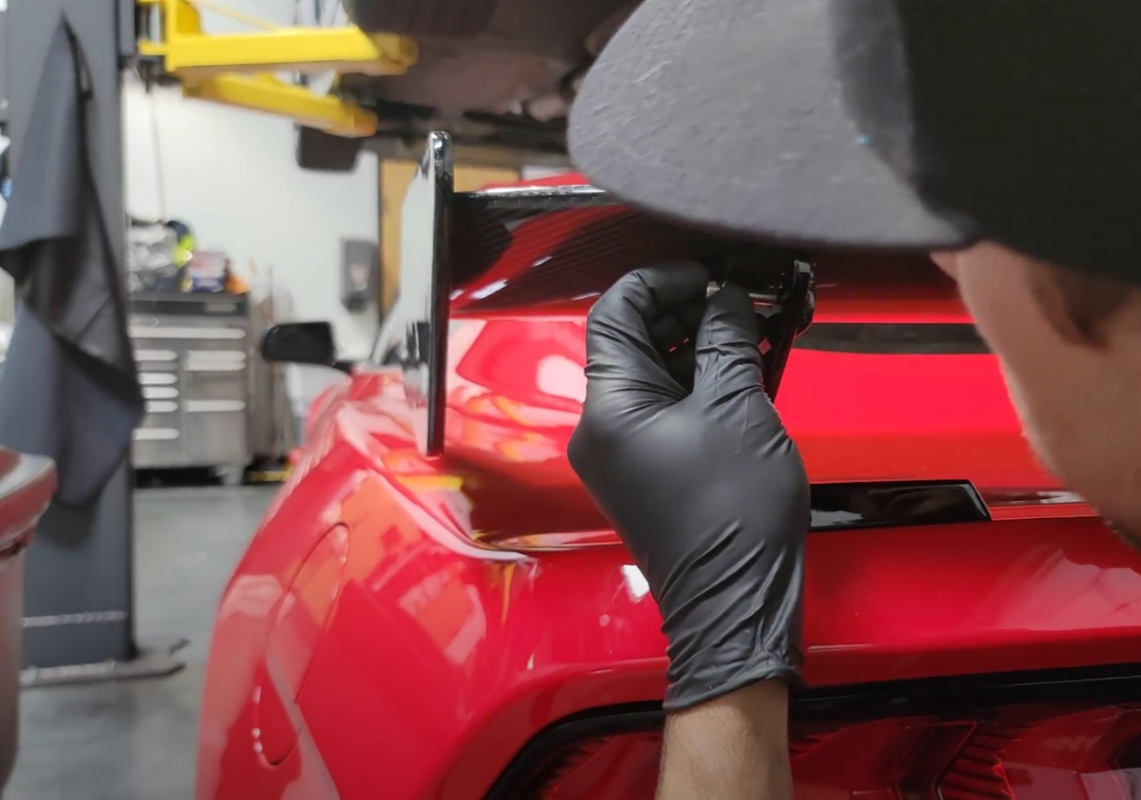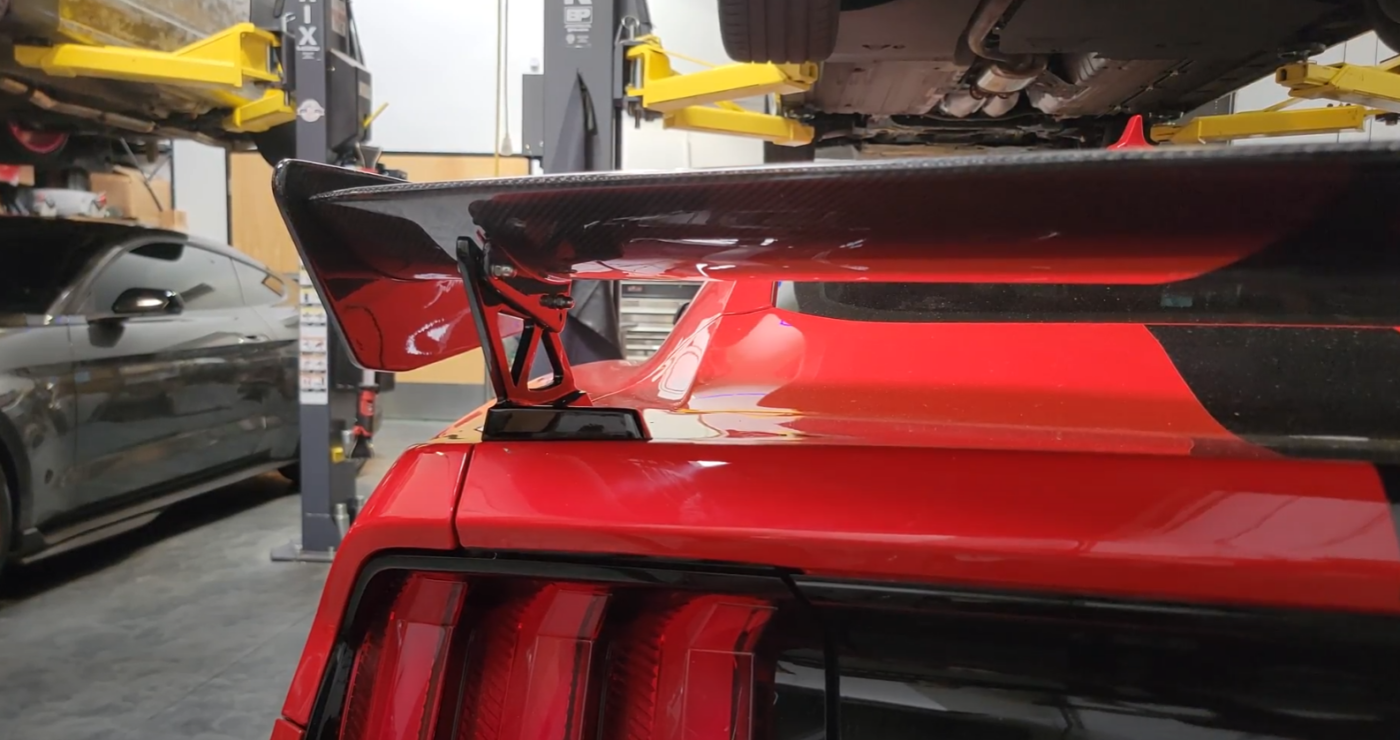 11. Enjoy your new Function Factory Performance 2015-2022 Ford Mustang GT500 Carbon Fiber Track Pack Rear Wing!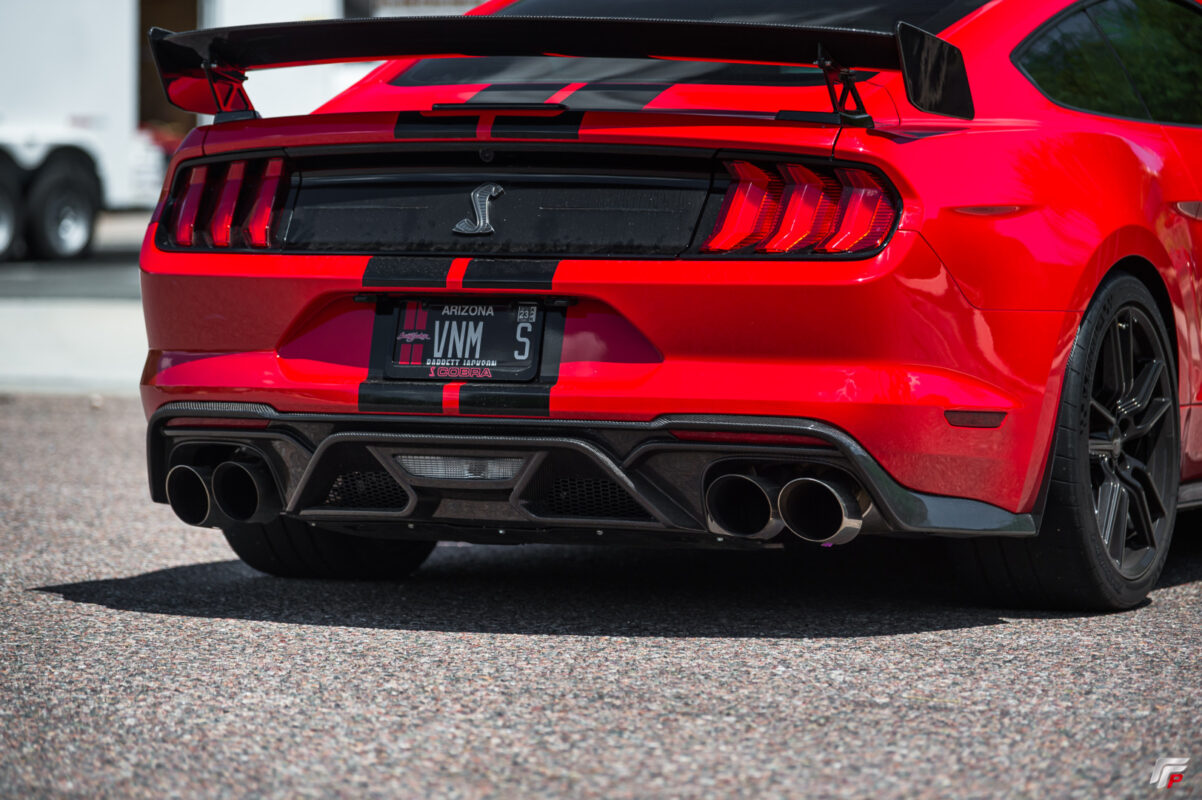 Notes and Takeaways
If you have a Handling Pack / Base Model GT500, your trunk will still have the center holes left over from the OEM swing. We provide the option to buy a carbon fiber cover covering the holes left by the OEM swing. Photos of the carbon piece are below.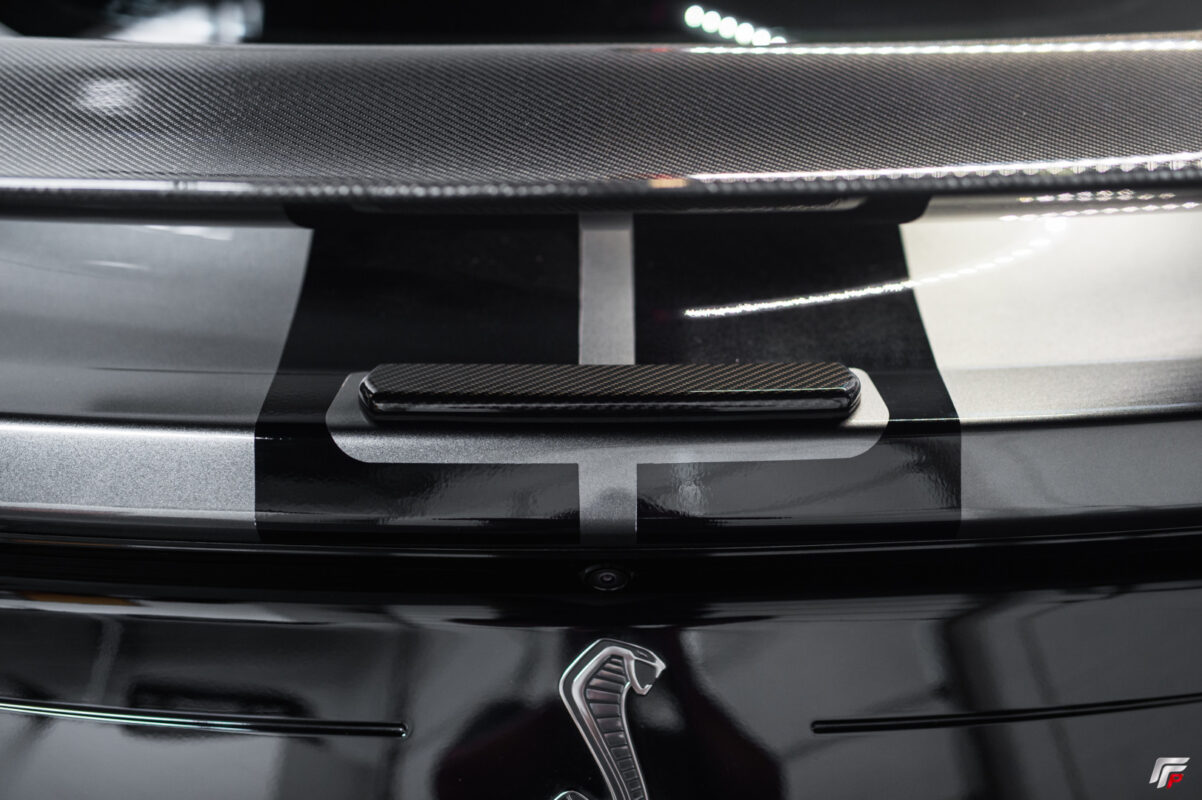 Our carbon fiber maintenance recommendation is to get the wing protected with a Paint Protection Film and a Ceramic Coat. This will not only protect the carbon from UV Rays and prevent yellowing but will also bring a vibrant shine to the surface.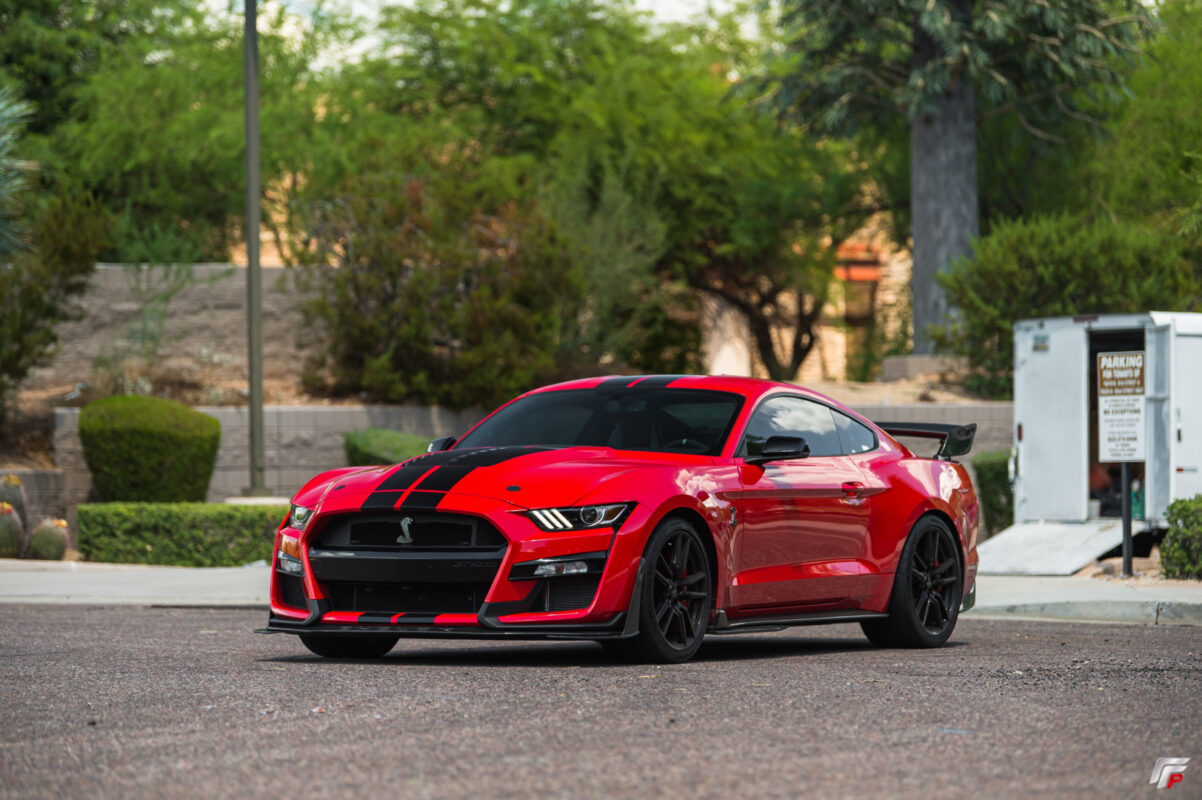 From the crew at FFP, we kindly thank you for your business. For suggestions or revisions, please get in touch with Support@FFPerformance.co
As always, feel free to leave a comment below and follow us on social media.
Follow us below
Facebook: https://www.facebook.com/ffperformanceaz
Instagram: https://www.instagram.com/ffperformanceaz/
Youtube: https://www.youtube.com/functionfactoryperformance
Need help ordering? Shoot us a message at this link https://ffperformance.co/factory-service/contact/ or dial 480-576-8606