AMS Performance 2016-2021 INFINITI Q50/Q60 Red Alpha Auxiliary Intercooler Tank
AMS is proud to introduce the INFINITI Q50 Q60 Red Alpha Auxiliary Intercooler Tank. Beat the heat and make more power. This tank adds over 1.5 gallons of coolant into the intercooler system of your twin-turbo equipped INFINITI. The unique shape allows it to fit seamlessly out of sight in the stock fender while still retaining the stock liner. Because of the OEM-like fitment, there are no permanent alterations to your vehicle. INFINITI USA was so impressed by this component and its performance that they are adding it to their INFINITI Motorsport Catalog.
The twin turbos in your INFINITI produce a massive amount of heat. The Red Alpha tank allows you to make the same power over an extended period of time without loss due to timing being pulled as a result of high charge temperatures. The data does not lie. This tank adds a significant amount of capacity to the intercooler system allowing the car to make power safely and consistently. This is one of the most important modifications for your vehicle after the Red Alpha Heat Exchanger. INFINITI owners should combine all 3 Red Alpha cooling products together for a winning combination! The following charts feature runs made with a Red Alpha Heat Exchanger, a Red Alpha overflow tank, with and without the Red Alpha Auxiliary Intercooler Tank installed. If these runs were done with a completely stock car the differences would be even greater!
Features –
An almost 35-degree intercooler outlet temperature drop vs no tank at all
Adds a total of 1.675 Gallons of coolant to the intercooler system
The most important modification to your vehicle after the Red Alpha Heat Exchanger
Fits seamlessly into the stock fender while retaining the stock liner
Tough exterior powder coating stands up to the elements
INFINITI USA is adding this component to its Motorsport Catalog
No permanent alterations to your vehicle necessary
This is a bolt-in part
All required hardware included for the install
Fully TIG welded in the USA
3mm thick aluminum construction to minimize flex
Precision CNC machined fittings
Dyno Tests –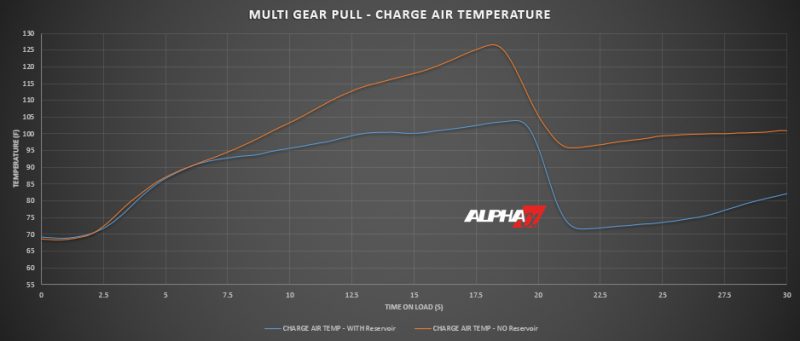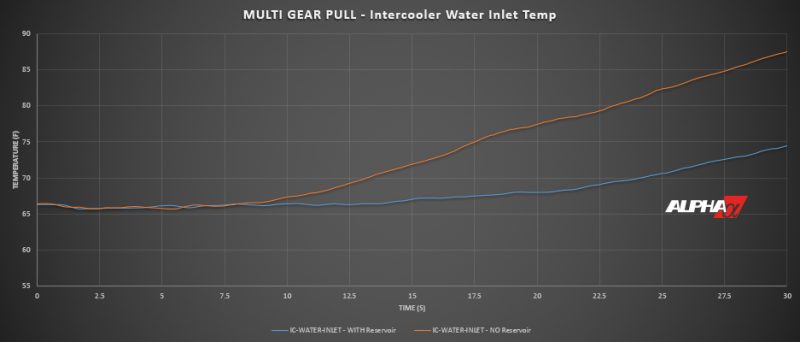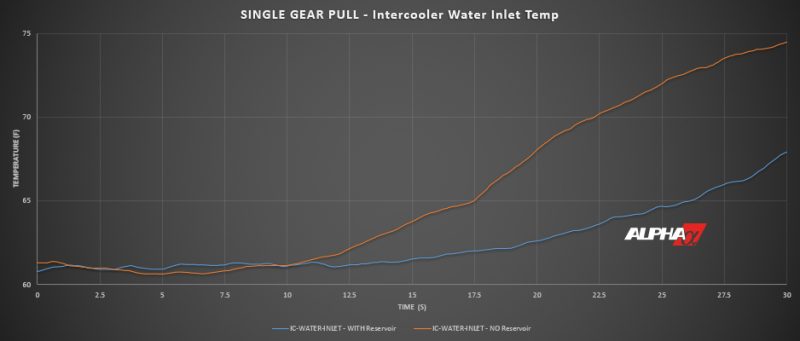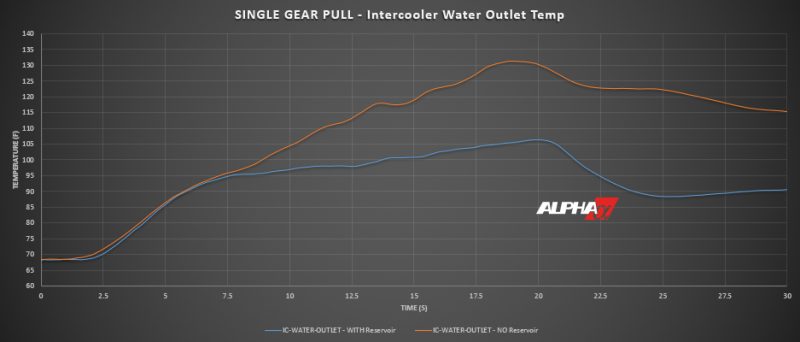 The Red Alpha Auxiliary Intercooler tank will help keep charge air temps consistent and in a safe range. The stock intercooler system holds only .84 gallons of coolant. AMS Performances' tank adds 1.675 on top of that. Combined with the Red Alpha Heat Exchanger and Red Alpha Overflow Tank brings the total system capacity to nearly 2.5 gallons! It's a huge improvement and helps keep the engine safe from high charge air temps! Be the Q50 and Q60 owner to beat! Order the Q50 Q60 Red Alpha Auxiliary Coolant Tank today!
Fitment –
2017-2021 INFINITI Q60 with 3.0L Twin Turbo VR30
2016-2021 INFINITI Q50 with 3.0L Twin Turbo VR30
Includes –
Powder Coated Aluminum Tank

Water Lines and Fittings

All Necessary Hardware
Installation Instructions –
***Not legal for use on pollution controlled motor vehicles. This product is for racing competition only and is not legal for use on highway or street vehicles, or other non-racing competition off-road vehicles***
We've got your back!
Function Factory Performance takes "customer service" very personally. We understand that finding the right parts can be overwhelming. Education and awareness are the principles that keep us ahead of the curve. Let us make this experience simple, easy, and awesome, so without hesitation give us a call at (480) 576-8606, feel free to direct message on our live chat, or CLICK HERE to contact us via email.
Make sure to follow us on Instagram: @FFPerformanceAZ and Youtube.
EMAIL A FACTORY SPECIALIST FOR HELP CALL A FACTORY SPECIALIST NOW