Description:
Looking for the highest downforce spoiler to add to your street / track Corvette? Look no further! This chassis-mounted spoiler utilizes the factory chassis brace from the C7 ZR1 ZTK Wing mount system for superior durability and stability.  Unlock performance driving like never before with the added downforce our chassis-mounted spoiler creates on the C7 Corvette.  The back end of the car will feel planted as you take corners faster.
Carbon fiber legacy spoiler is made with 100% carbon fiber
Fits 2015-19 Corvettes with the factory ZR1 chassis brace installed..
Hand polished and sanded to achive a long-lasting beautiful finish.
Package includes:
C7 Carbon Exclusive Legacy Spoiler.
Beautiful milled CNC Aluminum Mounting uprights fit to OEM spec.
Uprights are painted in a high gloss carbon flash Metalic paint.
CNC Aircraft grade attachment brackets from the top of the OEM C7 Chassis mount plus CNC'd extensions from the brackets to the Track Spoiler.
Includes all bolts needed for the install.
This spoiler system can provide up to 735 Ft Lbs of downforce! We strongly advise matching this spoiler with one of our front splitters to balance your aerodynamics.
C7 Design to prioritize downforce and limit drag as much as possible. Our exclusive design maximizes the airflow to provide as much downforce as possible.
GM Part # 84438724 is included in this package.
If you already have the c7 Zr1 chassis brace please contact us for a custom quote.
Finish :
Carbon Fiber reinforced with high-grade composite material.  This premium carbon fiber comes UV Clear coated with high-quality automotive clear that yields an extremely high gloss finish.
These products are tested and verified with CFD analysis for optimum results and aerodynamic efficiency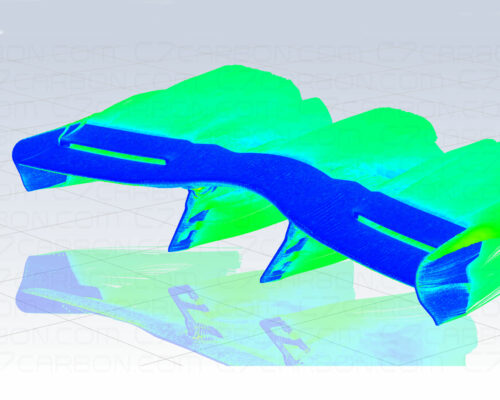 Quality and Craftsmanship. All of the painted products go through a 3-stage clear coat and finishing process to ensure a lasting gloss finish that will provide years of protection for your product. All of the painted products are sprayed with a premium automotive UV clear coat.
SKU: C7Z-3D-1
---
We've got your back!
Function Factory Performance takes "customer service" very personally. We understand that finding the right parts can be overwhelming. Education and awareness are the principles that keep us ahead of the curve. Let us make this experience simple, easy, and excellent, so without hesitation, give us a call at (480) 576-8606. Feel free to direct message on our live chat or CLICK HERE to contact us via email.
Make sure to follow us on Instagram @FFPerformanceAZ and YouTube.
EMAIL A FACTORY SPECIALIST FOR HELP CALL A FACTORY SPECIALIST NOW