2017-2021 Honda Civic Type-R enthusiasts around the world spoke, and we listened. Each component of this kit was engineered to complement and retain OEM torque strategies – not hacking or compromising the control system that makes this car so good.  Designed to be a straightforward bolt-on installation with no permanent modifications required – Full-Race design and engineering quality applied to the FK8 chassis results in a turbo kit that spools like stock at light throttle and boosts unmistakably like a Turbo Honda at WOT.  Completely civilized when you want it, and a monster when you need it.
4piston Racing 2017-2021 Honda Civic Type-R with Full-Race Motorsports Turbo kit note: includes 4piston fuel pump upgrade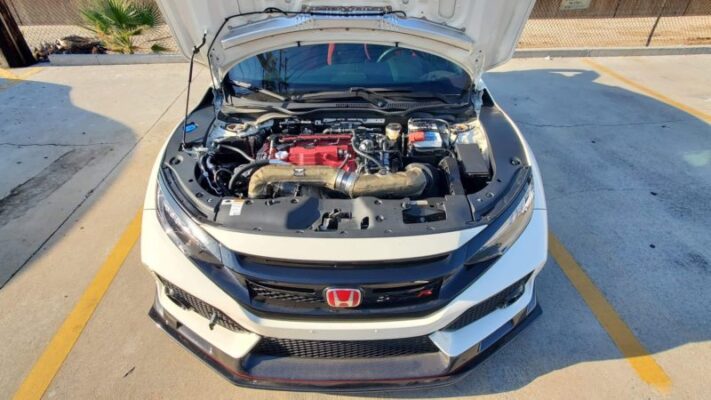 Electronic Wastegate Control
The 2017-2021 Honda Civic Type-R 2.0-liter engine's ability to electronically control boost (wastegate position) is hugely important to the overall vehicle performance.  It may not sound like a big deal on internet forums where dump tubes and external wastegates are the norms – but electronic internal wastegate actuation is a major component of the FK8's unique Bosch engine management control system's logic. We worked extensively with Hondata and MHI (OE Turbo Supplier to Honda) to retain this OEM electronic wastegate control.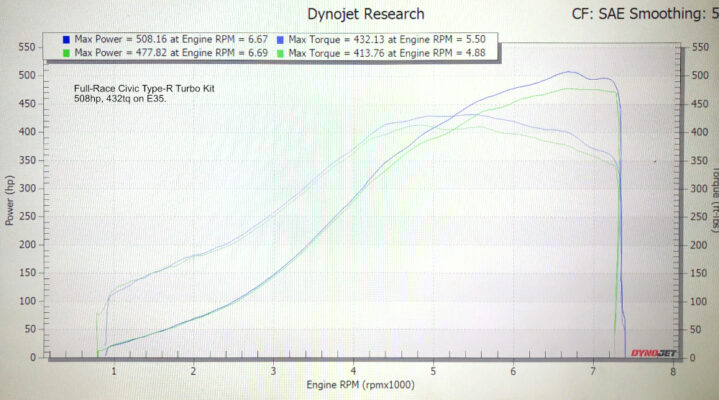 Key Design Features
100% V-band connections for Turbo and Manifold
Fully retained OEM Electronic Wastegate actuator
3.5″ oversized MAF Intake and Airbox (Hondata MAF scaling available)
3″ EFR Vband Downpipe
Billet Aluminum Oil and Water fittings
Full-Race Motorsports Charge Piping, Couplers, and Clamps
Full-Race Motorsports Intercooler Kit (Recommended)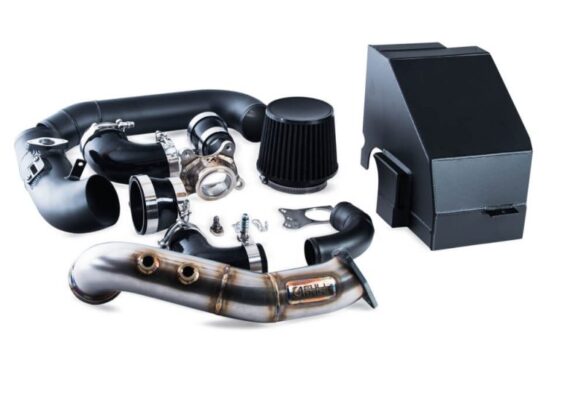 Full-Race Motorsports 2017-2021 Honda Civic Type-R Intercooler Kit – 9″ Tall Core with 2.5″ Charge Pipes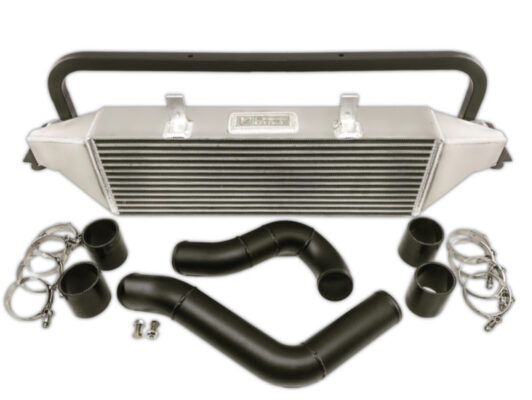 Kit Box With hardware And Fittings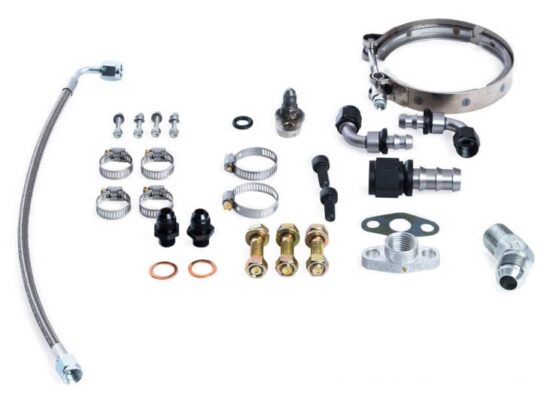 HONDA CIVIC TYPE R (FK8) TURBO KIT CONTENTS:
Manifold
Down Pipe
G Series Turbo
Intercooler Pipes
Air Box **Will require one hole drilled for M6 Bolt done upon install.**
Intake pipes
Turbo Kit Box (Hardware)
Manifold Hardware
G Series V-Band Inlet Clamp
Downpipe Hardware
G Series V-Band Clamp
(3) 3/8×16 Hex Nut
(3) 3/8 Lock Washer
(3) 3/8 16×1.5 Hex Bolt
Oil Feed Line
-4 AN Straight To -4 90 Degree Stainless Line (14.5")
CTR Oil Feed Line Fitting w/ O-Ring
1/8"NPT to -4AN Straight Fitting
Oil Return Line
-10 AN Twist-Lok Straight Hose End
-10 AN to 1/2" 45 Degree  Male Connector
G Series Drain Flange
G Series Drain Gasket
M8x20  Socket Cap Screw
24"  5/8" ID Push On Hose Black
11/16 Hose Clamps
Coolant Line
M14-8AN Male Straight
14MM Crush Washers
-8 AN 90 Degree Push-lock
½" Hose Clamp
60" ½"ID Jiffy Push On Hose Black
Couplers
2" x 2" 90 Degree Black Coupler
2.5" x3 " 90 Degree Black Coupler
3"x 3.5" Straight Transition Black Coupler
2" x 2.5" Straight Transition Coupler (Stock Intercooler Only)
(3) 2" T-Bolt Clamp
(3) 2.5" T-Bolt Clamp (Only 2 If Using FR Intercooler)
(2) 3" T-Bolt Clamp
(1) 3.5" T-Bolt Clamp
Electronic Wastegate Hardware
Electronic Wastegate Bracket
(1) CTR Electronic Wastegate Linkage Kit
Misc
(1) Anti Seize Packet
(1) 3.5" Air Filter
(1) M6 Flanged Nut
(1) M6-1.0×16 Hex Bolt
(1) 6" x 24" Gold Foil
We've got your back!
Function Factory Performance takes "customer service" very personally. We understand that finding the right parts can be overwhelming. Education and awareness are the principles that keep us ahead of the curve. Let us make this experience simple, easy, and awesome, so without hesitation give us a call at (480) 576-8606, feel free to direct message on our live chat or CLICK HERE to contact us via email.
Make sure to follow us on Instagram: @FFPerformanceAZ and Youtube.
EMAIL A FACTORY SPECIALIST FOR HELP CALL A FACTORY SPECIALIST NOW