The Garrett GTA1749V is a performance upgrade / replacement turbocharger available to the Aftermarket for Volkswagen 2.0L TDI BKD/BKP/AZV engines. The GTA1749V comes equipped with a larger compressor wheel for increased flow and bolts directly to the stock engine manifold flange. The turbo is easy to install and suitable as a performance upgrade or replacement turbocharger. The Garrett VW TDI turbo also promotes a longer turbo and engine life span and increased reliability by lowering exhaust gas temperatures. Includes the Latest Technology Tailored to Your Diesel Performance Needs: – Garrett patented Variable Nozzle Turbine (VNT™) design – GT wheel aerodynamics.
Replaces VW OE Part Numbers:
03G 253 010 J & 03G 253 010 J V100
* Estimated. Performance results of this product are highly dependent upon your vehicle's modifications and tuning/calibration. The horsepower numbers represented above are calculated based strictly on choke flow of the compressor map (total turbo capability), which represents the potential flywheel horsepower.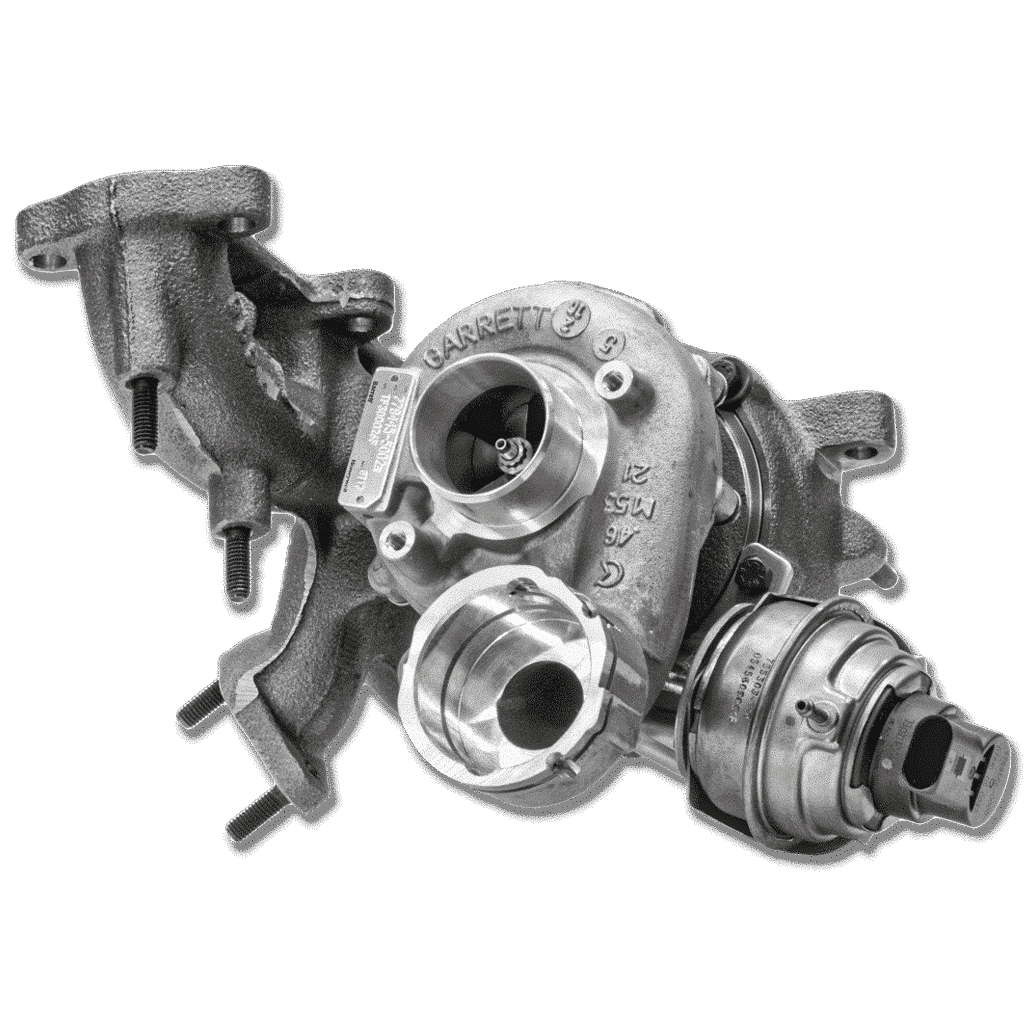 Compressor
Turbine
Volkswagen TDI 1.9L 2.0L Upgrade
Turbo PN
HP*
Inducer
Exducer
Trim
A/R
Inducer
Exducer
Trim
A/R
VW 1.9L TDI (BEW Engine) VNT
778445-5002S
175
36mm
49mm
55
0.46
43mm
38mm
76
0.61
VW 2.0L TDI (BEW Engine) VNT
838946-5001S
190
36mm
49mm
55
0.46
43mm
38mm
70
0.61
VW 1.9L | 2.0L Turbo Upgrade Application
VW 1.9L
VW 2.0L
2003.5 – 2006 Volkswagen Beetle TDI
2.0L TDI BKD/BKP/AZV engines
2003.5 – 2006 Volkswagen Golf TDI
2003/10-2009/07 – Golf V Mk5 A5 (PQ35) (typ 1K)
2003.5 – 2005 Volkswagen Jetta TDI
2005/08-2011/05 – Jetta A5 (PQ35) (typ 1K)
2005/09-2010/05 – Passat B6 (typ 1T) – BKP
2004/02-2010/05 – Skoda Octavia Mk2 (typ 1Z) 2nd gen. [AZV for 136HP]
2009/01-2010/03 – Skoda Superb B6 (typ 3T) [BKD EA188]
2005/07-2011/09 – Leon Mk2 (typ 1P)
2004/03-2011/09 – Seat Altea
2004/04-2009/05 – Seat Toledo 3
2003/08-2007/05 – Audi A3 (Typ 8P)
We've got your back!
Function Factory Performance takes "customer service" very personally. We understand that finding the right parts can be overwhelming. Education and awareness are the principles that keep us ahead of the curve. Let us make this experience simple, easy, and awesome, so without hesitation give us a call at (480) 576-8606, feel free to direct message on our live chat, or CLICK HERE to contact us via email.
Make sure to follow us on Instagram: @FFPerformanceAZ and Youtube.
EMAIL A FACTORY SPECIALIST FOR HELP CALL A FACTORY SPECIALIST NOW