After several revisions and a season of racing RV6® is finally ready to release its downpipe options for the FK8. This downpipe was designed using Solidworks 3D modeling and our Creaform 3D laser scanner system for precise measurements and fitment. The transition from turbo to tube and tube to the front pipe was designed using advance flow analysis for maximum flow characteristics.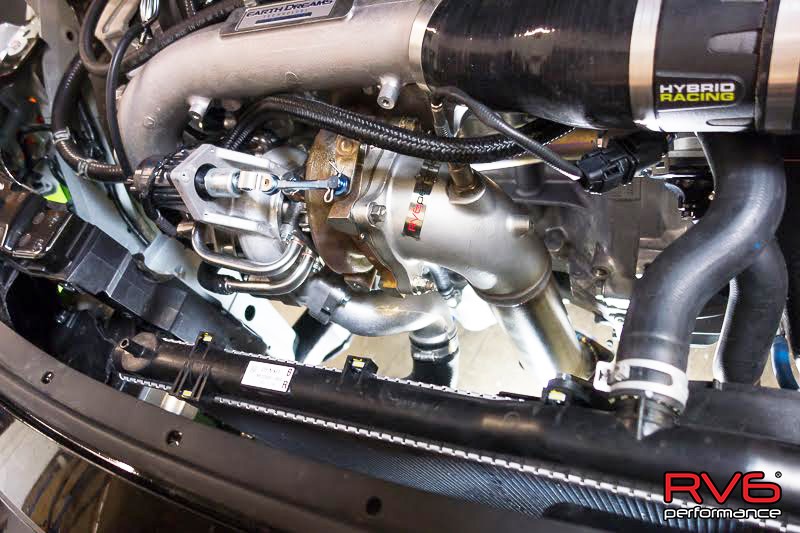 Specifications:
– 300 Cell High-Temperature High Flow Cat
– 304 Stainless Precision Cast transition sections
– All factory heatshield mounting points maintained
– 304 Stainless 3.0" outlet
– Fully TIG welded
– Argon back gassed for pure welds
Includes:
– Non-Fouler
– Chromoly Exhaust Studs
– Locking Nuts
– Graphite gasket with sealing ring to prevent blowouts
Processing takes an additional 7 to 14 business days for ceramic coating.
Intended FOR OFF-ROAD USE ONLY.
RV6® Performance LLC products are sold for off-road use only. All performance modifications and installations are at the customer's own risk. RV6®Performance LLC and TFFP LLC holds no responsibility either implied or otherwise for mechanical, electrical, or another failure when using any aftermarket performance products. Items sold for off-road use only are illegal in many states and provinces and are intended for racing vehicles which may never be used on a public road.
By purchasing any aftermarket performance product, the customer takes full responsibility for any use, and/or misuse of the product and agrees that RV6® Performance LLC and TFFP LLC hold no responsibility for any consequences, legal, or other, of such use and/or misuse.
We've got your back!
Function Factory Performance takes "customer service" very personally. We understand that finding the right parts can be overwhelming. Education and awareness are the principles that keep us ahead of the curve. Let us make this experience simple, easy, and awesome, so without hesitation give us a call at (480) 576-8606, feel free to direct message on our live chat or CLICK HERE to contact us via email.
Make sure to follow us on Instagram: @FFPerformanceAZ and Youtube.