Street Faction Engineering is proud to introduce their Chassis Mount Wing! Street Faction Engineering designed these to be application-specific, which means that they will be made specific to your chassis. The main components (deck, wing stand, and bash bar) are shipped in 3 separate packages.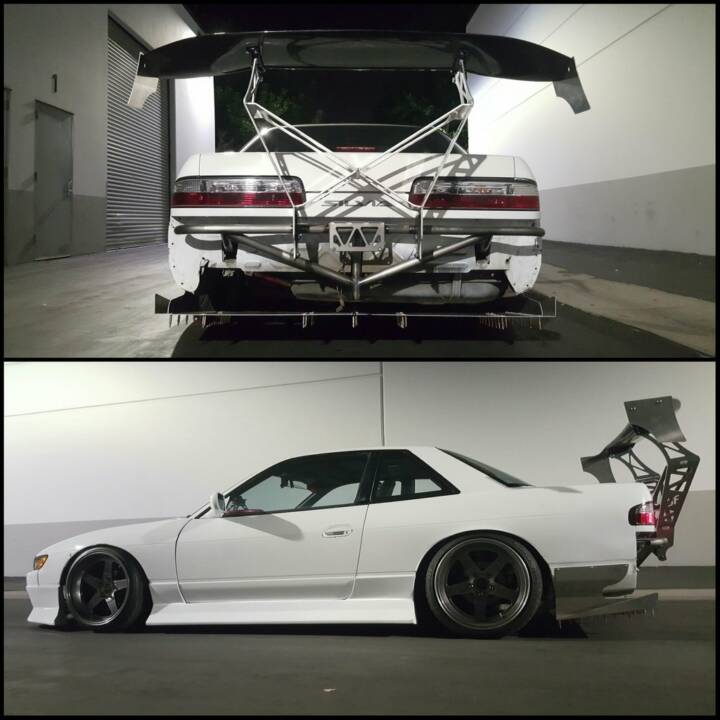 Quick Specs: 
1018 steel bash bar
6061 aluminum stand
Carbon fiber airfoil 69″ wide
3 AOA positions (angle of attack)
Tamper-resistant hardware is included
Charcoal powder coat on stand and end plates
Features:
Designed and made in Santa Fe Springs, California
Wing stand and bash bar come powder coated to prevent corrosion
The "angle of attack" can be adjusted by simply changing forward holes
The foil height is set to be as efficient as possible, per its particular design and vehicle application
Built-in "X" brace is designed to increase lateral & torsional strength, reducing side-to-side & twisting flex
Professionally TIG welded for aesthetics and strength (vs.) using heavy bolts, washers, and nuts which induce stress on weak areas
Chassis-mounted through our bash bar, which has been tested & proven to be strong & effective, so your rear end will be fully protected
Easily height-adjustable through our anti-slip lower brackets. We don't use straight slots, because having the wing shift while driving is not beneficial
Just bolt our bash bar onto the OEM location & you're good to go! No need to cut, drill, or weld anything onto the car! Exceptions may apply.
What's included:
1 set of tamper-proof hardware & tools
1 rear bash bar (jack point is optional at an additional cost)
1 set of light-weight aluminum end plates for road race functionality
1 aluminum wing stand (constructed to be strong & very light, weighing only 9.4 lbs. )
1 foil/wing deck (69″ wide, made of carbon fiber for strength and lightweight of 7.5 lbs)
Read our FAQs regarding our chassis mount wings here.
Disclaimer:
This product was NOT designed to be used as a safety device. We do not recommend standing on our chassis mount wings. There is a possibility of the wing deck breaking if too much weight is applied which could cause injuries.
We don't manufacture the carbon fiber airfoils, therefore we can not make any guarantees pertaining to the quality and lifespan of the airfoil that you may receive. However, we do our best to source the best airfoils possible.
We've got your back!
Function Factory Performance takes "customer service" very personally. We understand that finding the right parts can be overwhelming. Education and awareness are the principles that keep us ahead of the curve. Let us make this experience simple, easy, and awesome, so without hesitation give us a call at 251-253-2032, feel free to direct message on our live chat or CLICK HERE to contact us via email.