General Motors made a big evolutionary jump with the new C8 Corvette. A significant departure from the front-engine, rear-wheel-drive configuration of the past. With its mid-engine layout, powering out of a turn feels like you are exiting a corner on rails. However, all is not perfect. Early to mid-corner understeer occurs heavily when pushing the car hard. In addition, noticeable body roll is present and steering response is nothing to write home about.
The aFe Control sway bar set was meticulously designed to cure the shortcomings of the C8 Corvette. With 3-way adjustability front and rear, you can easily dial in the handling balance and eliminate understeer. Body roll will be reduced, and sharpened steering response will help improve initial turn-in making it more agile and feel like a lighter car.
Whether it's stability on the track, more rotation on the autocross, or just adding confidence during canyon carving, aFe Control sway bars will deliver.
CNC Bent Sway Bars
Every aFe Control sway bar is CAD designed and CNC bent to strict tolerances. This ensures precise fit and perfect operation.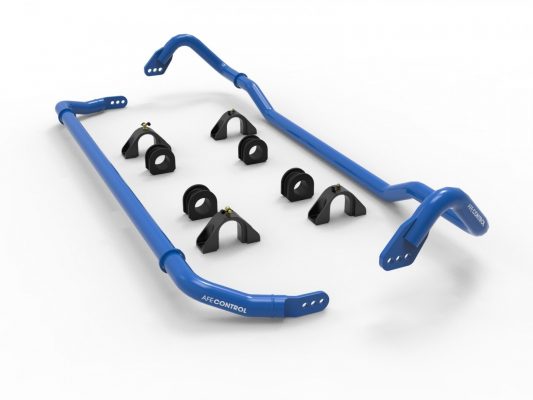 Adjustable Rates
Both front and rear aFe Control sway bars have 3-way adjustment. This allows the driver to dial in the front and rear roll resistance to achieve the desired handling bias.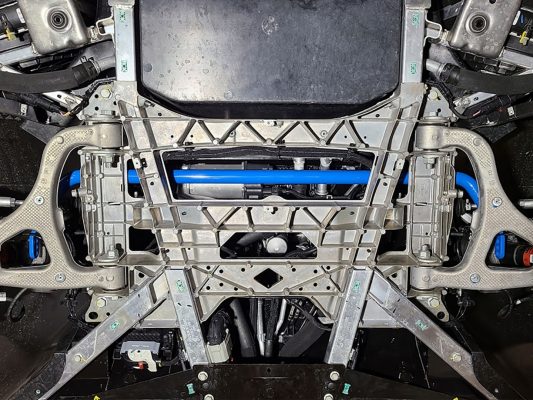 Precision Sway Bar Ends
The front sway bar utilizes CNC machined ends and the rear has CNC laser-cut endplates. These are TIG welded to the bar in a dedicated fixture to ensure accurate hole positioning and consistent manufacturing.
Polyurethane Bushings and Billet Brackets
aFe Control includes low-deflection polyurethane bushings and premium 6061-T6 aluminum black anodized billet brackets. Brackets are equipped with grease fittings for easy maintenance.
We've got your back!
Function Factory Performance takes "customer service" very personally. We understand that finding the right parts can be overwhelming. Education and awareness are the principles that keep us ahead of the curve. Let us make this experience simple, easy, and awesome, so without hesitation give us a call at (480) 576-8606, feel free to direct message on our live chat or CLICK HERE to contact us via email.
Make sure to follow us on Instagram: @FFPerformanceAZ and Youtube.
EMAIL A FACTORY SPECIALIST FOR HELP CALL A FACTORY SPECIALIST NOW