While maintaining street drivability, are you seeking competition-proven handling performance for your 2015+ S550/S650 Ford Mustang? Our Steeda Dual Rate Ultimate Handling Springs are now available for your MagneRide-equipped Mustang! Our experience and expertise in high-performance street and racing suspension systems is second to none, and the team here at Steeda has put that experience to work for you. Designed for ALL street and road racing applications, Steeda's Competition springs have the highest rates on the market but still maintain a comfortable and enjoyable ride when put on the street.
Competition-proven in both NASA and SCCA events, these springs significantly reduce nosedive and keep body roll to a minimum for the ultimate in performance handling. By lowering your Mustang .750″ all around, these springs provide an optimized center of gravity and an aggressive stance. At a recent HDPE event, Steeda clocked a 4-second lap time improvement with just our springs and adjustable camber plates. They are a tremendous handling upgrade for GT350s and any MagneRide-equipped Mustang.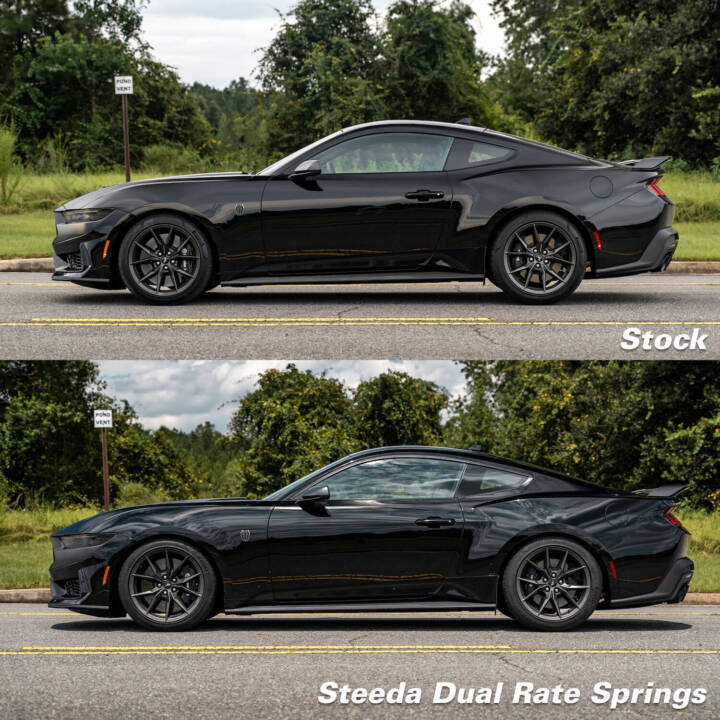 Professional racecar driver Billy Johnson borrowed a Q500 for some laps at Palm Beach International Raceway, and this is what he has to say about them.
"The Steeda Q500 was a blast to drive on track… The adjustable suspension was far from harsh and had a wide range of adjustability to dial the car in at the track. Overall, it was a nice dual-purpose street and track package that raised the limits of the Mustang GT." – Billy Johnson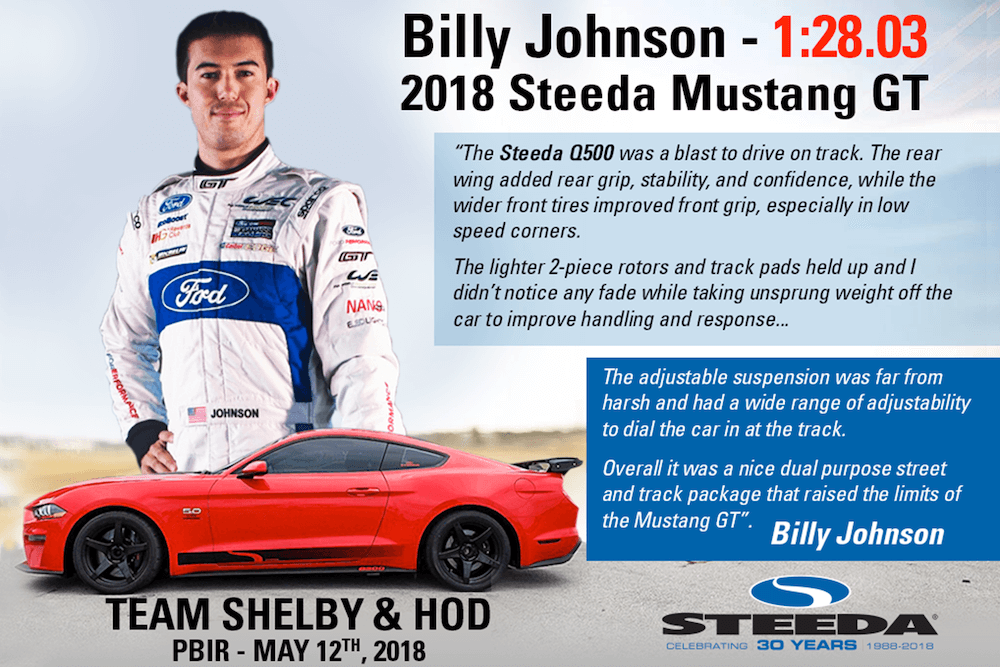 Benefits:
Lowers the Non-PP Mustang .750″ front & rear
Lowers GT350, PP1, & PP2 Mustangs .500″ front & rear
Designed for competition racing but maintains outstanding street-able ride
Highest spring rate for dramatic improvement in handling and reduction of nosedive
Steeda collaborates with the best motorsport spring engineers in the industry to provide you with the best products possible.
Steeda Springs is developed using advanced proprietary CAD data, and our exclusive 3D modeling sets us apart from the others.
Race-proven in NASA and SCCA events
LIFETIME warranty
SKU: 555 8243
We've got your back!
Function Factory Performance takes "customer service" very personally. We understand that finding the right parts can be overwhelming. Education and awareness are the principles that keep us ahead of the curve. Let us make this experience simple, easy, and excellent, so without hesitation, call (480) 576-8606; feel free to direct message on our live chat, or CLICK HERE to contact us via email.
Make sure to follow us on Instagram: @FFPerformanceAZ and Youtube.
EMAIL A FACTORY SPECIALIST FOR HELP CALL A FACTORY SPECIALIST NOW