What does a $70,000 car look like these days? Apparently not much different than a $100,000 car depending on how it gets optioned, at least when it comes to the 2020 Ford Mustang GT500. Earlier this week Ford confirmed the leaked pricing sheet was legit and the GT500 sticker is $73,995 with $1,095 destination fee and $2,600 gas guzzler tax.
The GT500 pricing leak comes after Ford announced the 2020 GT500 produces 760 horsepower and 625 lb.-ft. of torque, based on the use of premium fuel per SAE J1349 standard.
According to the document, the Shelby GT500 has a whole array of pricey add-ons like $10,000 for painted-on racing stripes and a mear $18,500 for the carbon-fiber track pack. Those two options alone tack on another $28.5K to the Shelby's sticker and bring it up to $102,495.
To put Ford's pricing in perspective, in the $70-100K range you could get a current model year Chevrolet Camaro ZL1 1LE with 650 hp for $71,295, widebody Dodge Challenger SRT Hellcat Redeye with 797 hp for $76,245, Nissan GT-R with 545 hp for $96,820, Porsche 911 Carrera 4 AWD Coupe with 370 hp for $98,000, or the Corvette ZR1 with 755 hp for $123,000.
"As a Mustang, it has to be attainable and punch above its weight," said Hermann Salenbauch, global director, Ford Performance vehicle programs.
"To that end, we've set a new standard among American performance cars with our most powerful street-legal V8 engine to date, plus the quickest-shifting transmission ever in a Mustang for all-out precision and speed."
To get 760 hp from the GT500, Ford started with a supercharged 5.2-liter aluminum alloy engine built by hand.
The block features high-flow aluminum cylinder heads with cooling passages and weight-saving wire-arc cylinder liners, in addition to larger, forged connecting rods.
One of the most unique features resides atop the engine: a 2.65-liter roots-type supercharger has been inverted along with its air-to-liquid intercooler and sits neatly in the V8 engine valley. Ford engineers said this was done to maintain a low center of gravity and keep the intake air cooler.
To reduce vibration, beneath the engine is a structural oil pan that not only adds strength but includes a baffle system that keeps the oil in the right locations during hard cornering.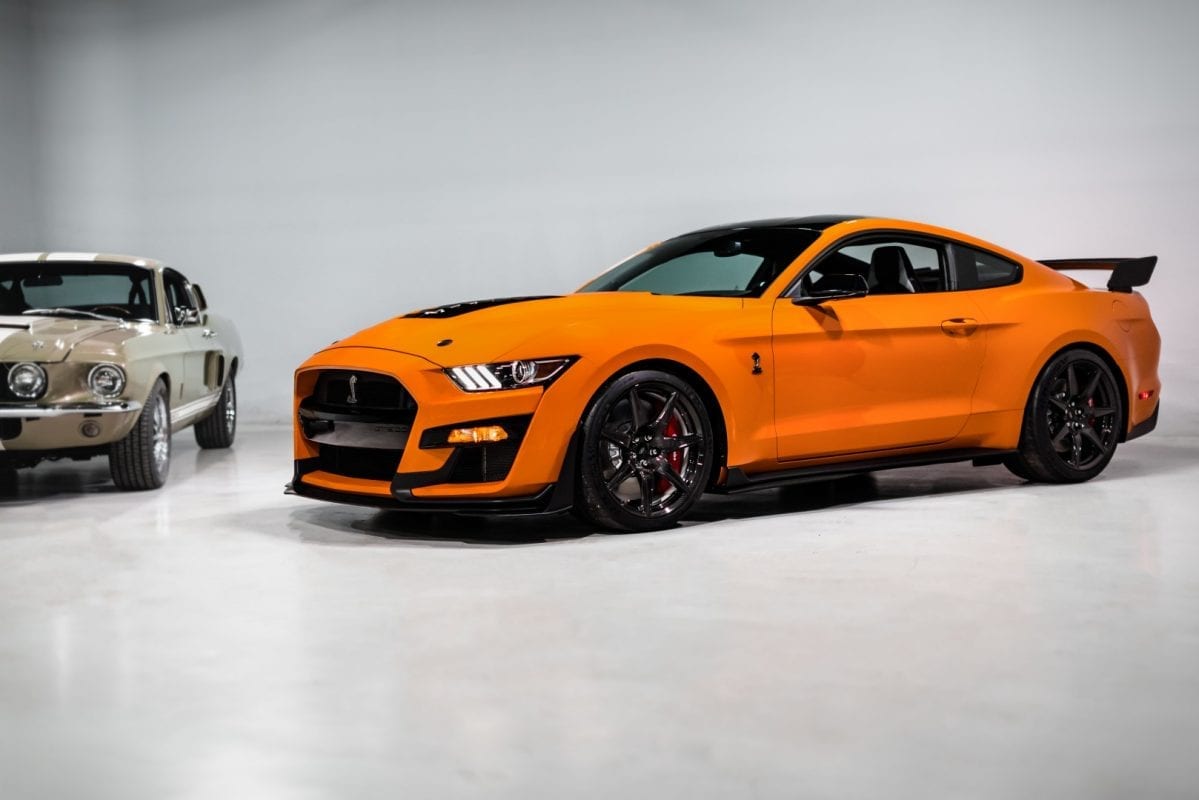 The most controversial component of the GT500 is the Tremec 7-speed dual-clutch transmission. Ford said the automatic transmission was selected for its performance as it can shift smoothly in less than 100 milliseconds – faster than any manual gearbox.
While Ford has released the power ratings, the company has not disclosed 0-60 mph and quarter-mile times.
When it comes to performance and handling, the Shelby GT500 takes advantage of a new electronic power steering unit, revised suspension geometry, and lighter-weight coil springs front and rear. The car also receives the latest generation of Ford's active MagneRide suspension along with the most advanced drive mode technologies from Ford Performance. The result is the highest-ever lateral acceleration from a Mustang for higher track performance and driver control.
The GT500 standard handling package includes adjustable strut top mounts and spoiler with Gurney flap, but for the genuinely hardcore and perhaps a little carbon-obsessed, the carbon fiber track pack is basically an $18,000 necessity.

Aside from giving the car some damn good looks the track pack harnesses power and torque with downforce from a dope carbon fiber GT4 track wing while splitter wickers with integrated dive plane prevent lift up front. You lose the backseat to save weight, but who needs that anyways.
Without a doubt, the best part of the track pack is the exposed carbon fiber 20-inch wheels wrapped in Michelin Pilot Sport Cup 2 tires, sized 305/30 up front, 315/30 out back.
But let's be real… Do you really need racing stripes painted on for an extra $10K? Most likely not, especially since you can add vinyl racing strips for less than a grand.