It's been 84 years since I could smell the fresh paint.. oh the wrong event. But seriously, it's been almost 11 months since our adventure to Auto Club Speedway with Ceramic Pro and JIMGLO Trailers. Yes we know, this video and article should have been released 2 weeks after the event but as my mom always said, "Shit happens". Between working with Ceramic Pro, SRO Motorsports, Crowdstrike Racing, and GMG Racing, our shooting and editing schedule could never catch a break. Some of you were asking why we stopped racing altogether and let us be completely honest, the budget just wasn't there. We started this program way too early in the life of FFP and it was a disaster waiting to happen.
If you're in tune with club racing or just regular track days, it's pretty fucking expensive even with the help of sponsor dollars. A hint for you kids that are looking for sponsors, you better have skin in the game and have an open checkbook for when shit goes wrong because it will when it's least expected. At the end of this article, I will provide a cost break down of this particular event to give you some real insight into how much it cost to run a media production company and wheel a car that wasn't ready for the race track as we thought so.
Jumping right into this, before we even made it California, we were already having issues. Our tire rack that was built for our JIMGLO Trailers Ego was about 4 inches too short. That meant that the car couldn't tilt back all the way without the hood physically hitting the rack unless done extremely slowly. With time running out and no way to get a new rack welded, I decided to go forth with it and we would deal with it at the track as found it was extremely easy to control the tilt of our JIMGLO with someone putting their weight upfront. We were already loaded up in the bed of Alex's 2017 Ford F-150 Raptor and there was no way we were going to venture off without spare tires. For some that are wondering what a Raptor pulls like with stock leaf springs loaded up with an open car trailer that weighs about 5,000 pounds in total, it drives normal with no sway. Thanks to proper trailer etiquette from Tim Norris at JIMGLO Trailers, we made sure that our Mustang was in the middle of our Ego Trailer for the best weight distribution. The truck did sag a little as the suspension is built for off-roading and we do recommend the Eibach + Deaver leaf suspension combo if you plan to tow regularly.
With no issues and averaging about 10 to 11 miles per gallon, we made it to our very well equipped AirBNB where myself and Alex met up with the film crew. If you're a track day person, you know how early you need to be up to get prepared. 5:00 AM, a quick stop at 85 Degrees and it was our time to shine… as so we thought. So where are we exactly and what event are we attending? Speed Ventures, a California based company that host exciting track events for all makes and skill levels was our choice as I've wanted to drive Auto Club Speedway since I last visited in 2013. The sanction is very welcoming to newbies, seasoned, and high level of experienced drivers. This is definitely the place you want to be if you have a high-performance car or even a daily driver. The groups are split into 5 different categories from beginner to race group. We opted for the higher tier group as my driving skill is of a high caliber. You will see all types of vehicles from stock Mustangs to full-on GTD homologated race cars. Speedventures offers a safe, welcoming, and very affordable option for all drivers and teams alike. We're excited to give our Mustang a little TLC to get back out on track with them later this year.
With the drivers meeting and tech inspection done, everyone was on edge and my adrenaline was flowing. We carefully unloaded the FFP Ceramic Pro JIMGLO Trailers Mustang off our Ego Tiltbed trailer with no issues. I was able to creep back slowly and start the tilt motion before the tire rack became an issue. Our Mustang is equipped with our ZL1 Addons tow strap points meaning we had our Mustang off this trailer in less than 3 minutes. The trailer and car combo is was a show stopper as many participates asked us about it. That's exactly what we wanted to see and hear.
On-time and ready to rock and roll for the first session, we start prepping our Mustang for our first session. First and foremost, we gotta keep her looking pretty with Ceramic Pro CARE, this is Ceramic Pro's first consumer-grade hydrophobic product that is perfect to clean up any messes on your Ceramic Pro coated vehicle or any surface that has been Ceramic Pro'd. Our fuel of choice was VP Racing's MS109. We made a healthy 420 WHP and 420 WTQ on our stock fuel system at around 110 degrees ambient temperature on a Dyno Jet Dynometer. Tire pressure in our Toyo R888r's was set at 16 PSI cold that would equate to a hot operating range of 35 PSI.
Strapped, and ready to go.. my heart is racing at this point. I get up on the bank and realize this is real life, if you mess up here, it's not going to be pretty. I take it slow for the first 2 laps to get our Toyo R888s. I weave a little and press the brakes harder and harder to get the Hawk DTC pads up to temp as well. Alright, lap 3 let's go, full attack.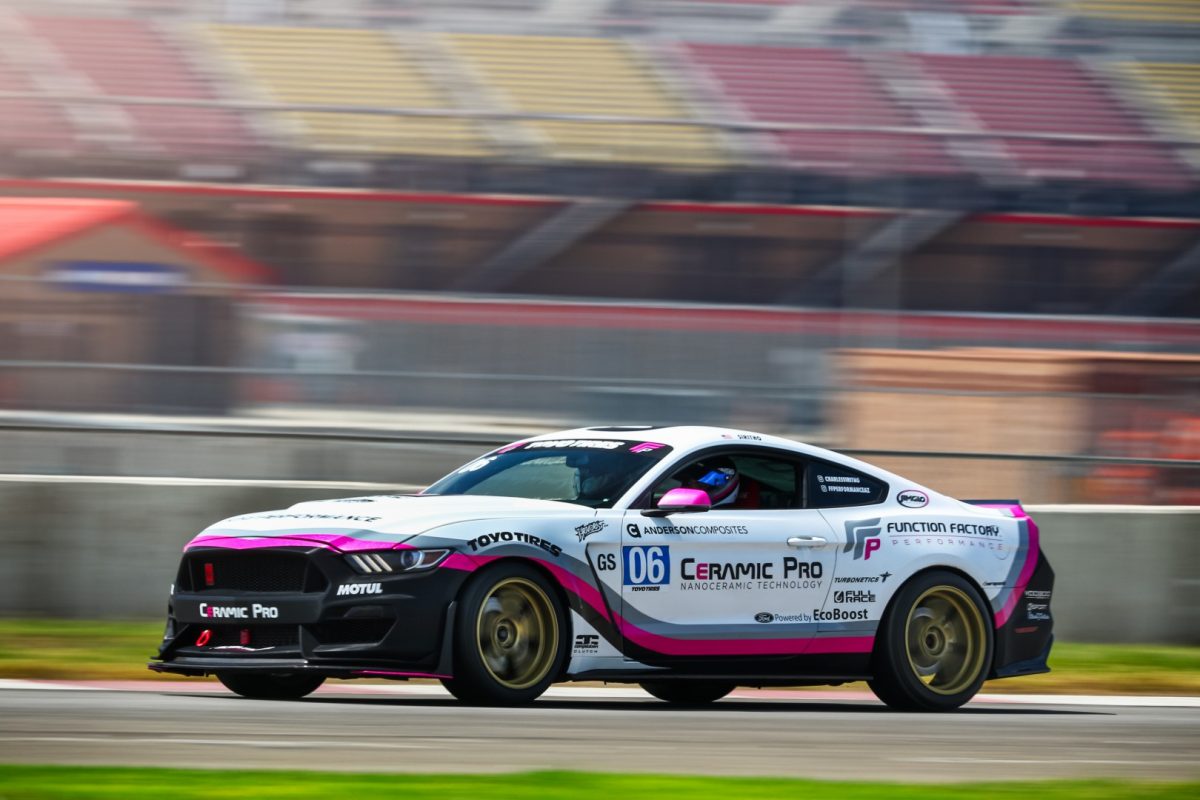 From here on out, I and the team would highly appreciate it if you watched the video that is posted above. It will summarize the many issues we faced during our visit to Auto Club Speedway. This is where the story starts to take a dive and it will get quite negative in a sense. Our first high-speed entry into NASCAR turn 1, our rear passenger quarter panel is SMOKING and I mean LOTS of smoke. I immediately came into the pits to discover that the quarter panel had completely eaten into our R888r but not enough to destroy it. The wrap started to bubble in places but this was our chance to show the power of the Ceramic Pro. The coated side didn't care what happened, we instantly wiped the burnt rubber off with a towel while the uncoated side was no match against the melted Toyo rubber.
We knew we were on borrowed time had no option but to fix the car in our pit garage. I knew I should have put more camber into the rear… but I didn't. I and Alex quickly jacked up the car and went to town on our Voodoo13 camber arms, adding more negative camber until the tire was flush with the fender. Come to find out find after this event, we were nearly dead even on our camber adjustment at around negative 3.9 degrees in the rear and our starting point was 3.1.
The track is hot, let's go back out. Our lap time is looking terrible, I'm sitting on a 2 minute lap time as I am just overdriving the car. By our 3rd lap, disaster nearly strikes as the brake pedals goes to the floor coming off the NASCAR bank into the chicane. Back into the pits, we come to find out that the stock brake is still in the master cylinder and lines. A couple of phone calls and we find a shop with Motul RBF 660, we burn another hour replacing the fluid in the garage.
ALRIGHT, guys and gals, back out in full force. I've started to calm down and really get a feel for the track, we're picking up 2 to 3 seconds EVERY lap until the TPMS light starts to flash… and now the dash starts to say low tire pressure… and now the car is feeling weird. Yep, you guessed it, back to our pit garage we go. This time around, a broken valve stem, A FREAKING VALVE STEM. A 5 dollar part failed while we on the NASCAR bank. A little google and phone call and we headed to Discount Tire to get it changed out. Shout out to them for taking us in getting it done ASAP. We've burned ANOTHER hour, we quickly get our Advan and Toyo back on our Mustang and head out in full attack mode.
Sike, as our lap times started to drop, we ran into another issue I didn't foresee coming. On the 2nd to last turn, there were enough G's to induce fuel slosh.. and A LOT of it. Enough for our poor little 2.3L Ecoboost to start breaking up on the main straight over the finish line. This was KILLING our top speed towards the timer beams and wreaking our lap times. We pulled off AGAIN into our pit garage to find out… we're out of MS109. Day 1 was over for us and I was sitting on an embarrassing 1:55 lap time.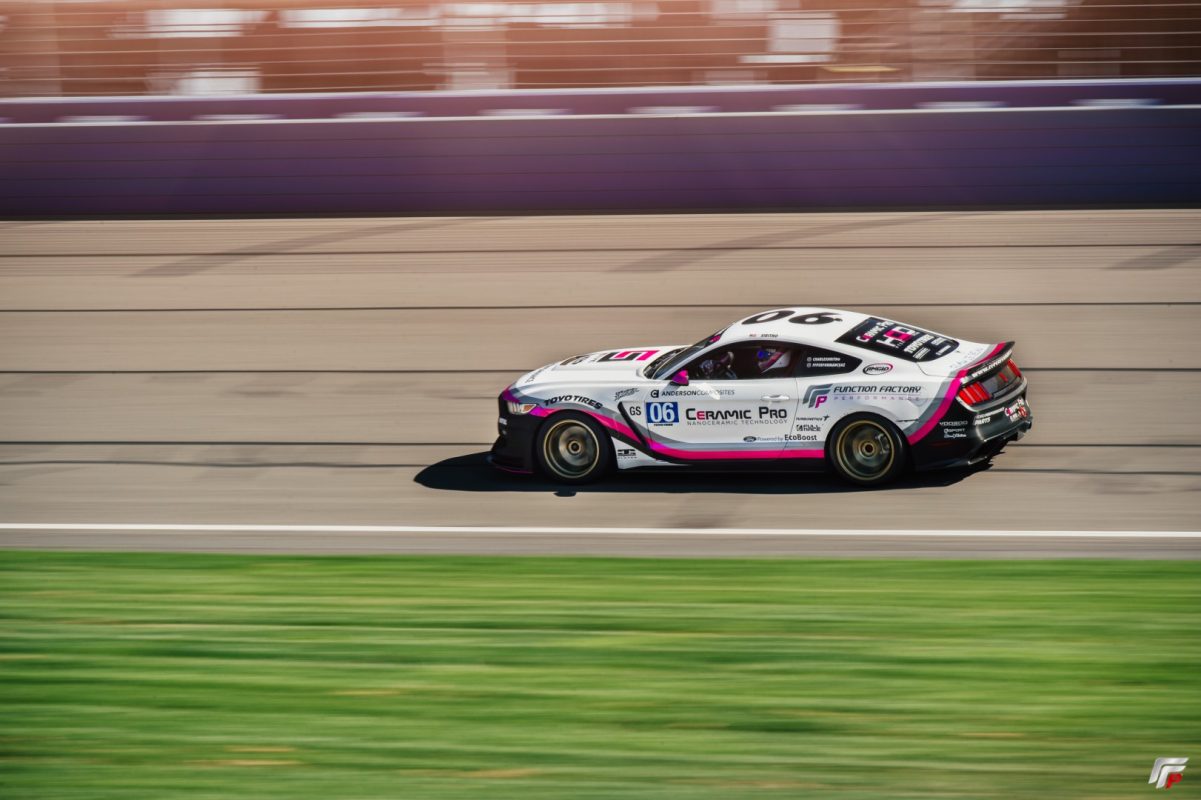 Everyone frantically got on their phones and called every race shop and gas station for as many pals as we could find. Finally, we found a gas station that was a solid 60 miles away from where we were staying that had plenty in stock. We jumped in the Raptor and made our way to the gas station. You can guess from here that we didn't get much sleep as the drive there and back took nearly 4 hours with traffic and dinner. The second we got back to our Airbnb, we crashed out to get ready for our 2nd and last day of track action.
Day two, a fresh 15 gallons of MS109, big smiles, and more adrenaline. Let's go full attack from the first to the last lap. This is it, the car feels fantastic, I trusted my Hawk Pads, I was loving the grip levels of my R888r's and the car felt stunningly fast down the main straightaway. Our lap times were dropping dramatically from 1:53 to 52 to finally a 1:51:xx. That means I was able to shed nearly 11 seconds off our first lap out here. This put us in line with the Porsche GT3's 991.1 and Ferrari 458's that were running in our same run group. We were still suffering from the fuel slosh/break up and it genuinely did not allow us to keep up with them on the main straight. To even keep pace with these exotic cars, we needed every ounce of straight-line speed we could get, and our Mustang just wasn't prepared for the high G's of the back corners.
Looking back at this entire experience, it's everything I could have imagined and more. Were we ill-prepared? Absolutely, but did I have the time of my life? Absolutely and I'd do it all over again. Now that we are in a brick & mortar with a little more success, it's time to get back out on the track to show that this platform still has what it takes to compete even with a 4 cylinder and show how well this Ceramic Pro coating performs at the highest level.
My top 10 take aways from our first REAL track day session.
Racing is more expensive than you could ever imagine if it's a track day
Do not overbuild your car, I did, it took a lot out of me to drive this Mustang but it was very rewarding when it was done right
Being ill-prepared and ignorant about track day will cost you a lot of time and unneeded headaches. Take my mistakes and learn from them so you don't have to repeat them!
The Ecoboost Mustang equipped with the NX2 turbocharger is a force to be reckoned with. 155 Miles per hour was no problem for this baby stallion
You need to trust your car or you'll truly never achieve the lap times you're expecting our of yourself and your vehicle. Triple check everything before going out, your life and others' lives are on the line!
The Toyo R888r tire has so much more grip than I ever could have imagined. Not only that, but the tire life span is also unreal for a DOT competition tire, and for someone that is budget racing, I cannot recommend more than I already have.
Fuel slosh is real and is something I wouldn't have expected. There are ways to fix this with internal bladers in the stock tank.
Our MT-82 gave up, we broke 5th by the time this was all over. This transmission can only take so much wear and tear.
Our JIMGLO Trailer Tiltbed Trailer did a fantastic job transporting our 2016 Ford Mustang Ecoboost. The tilt bed function works flawlessly and we had our Mustang on and off in less than 5 minutes
The Ceramic Pro PPF & Vinyl coating WORKS. The uncoated sided was destroyed by the melted rubber whereas the coated side laughed at it and it instantly wiped off.
Total cost break down
VP Racing MS109 Fuel: $1050
Entry Fee with garage $900
Gas for Raptor: $350
Airbnb $280
Food $200
Fixing the car on the spot $200
Media crew pay $2000
Prepping the car before the race $1000
Total cost for a 2 day track event: $5,980
Charles
@ffperformanceaz