I'm not going to keep you guys waiting any longer. I just offloaded all of the raw videos and my editor just grabbed the hard drive. In the photo attached is the dyno sheet for all the intakes listed. Please remember, these results are UNTUNED. Keep that in mind as we go through this data. We did about 7 to 8 pulls per intake to make it fair. We let the car cool down in between runs as the stock intercooler is absolutely worthless. Here is the list of intakes that we tested. Starting from the top, the most power made, to the bottom making the least.
STD correction with 0 smoothing.
Roush Performance 2018-2021 Ford Mustang 2.3L EcoBoost Cold Air Intake Kit
WINNER: Most power, best looking, great-sounding, and OEM fitment.
257.95WHP / 341.28 WTQ
Roush knocked it out of the part with their cold air intake for the 2015 to 2021 Ford Mustang EcoBoost. With their close relationship with Ford, it's easy to trust Roush when it comes to their R&D on any product. Their CAI for the EcoBoost Mustang is miles ahead of other brands with an OEM-like fit and finish high-quality plastic molding, and a true power gain, even without a tune.
Pros: Fit and finish is OEM-like, increase in sound, makes power regardless of OEM tune.
Cons: Most expensive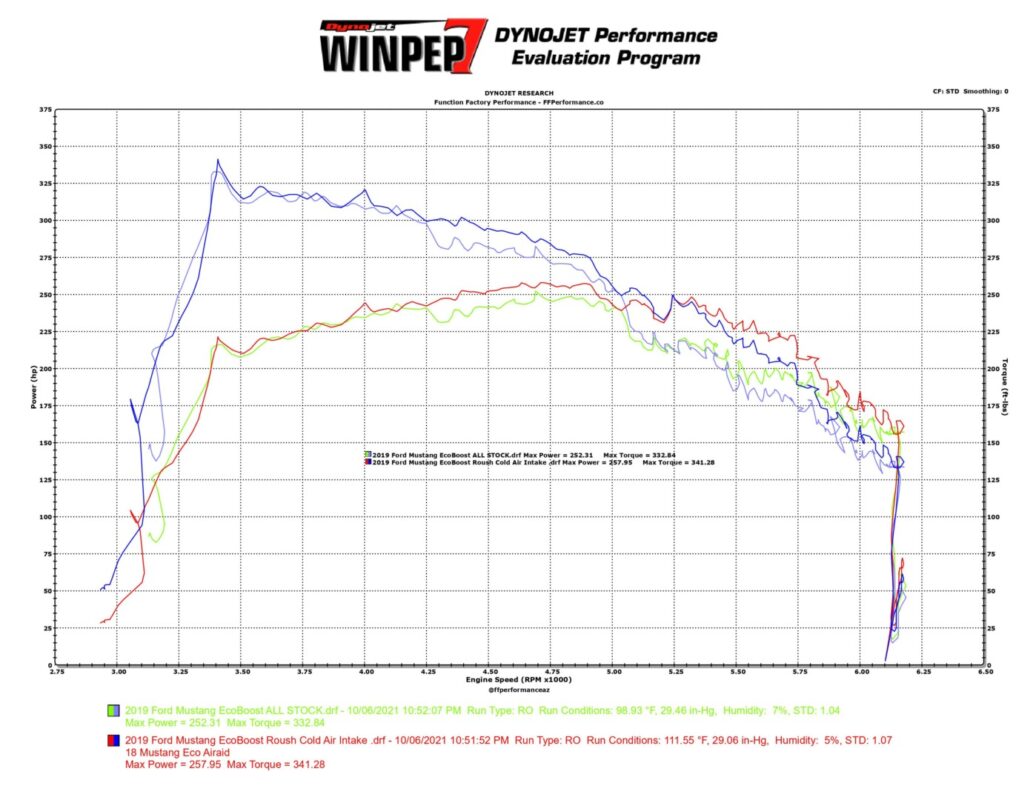 No air filter
256.96 WHP / 321.11 WTQ
This test was recommended by Jessie Ringly from Engineering Motorsports Solutions. We simply removed the stock air filter from the car and made a few dyno pulls and here are the results. We do not recommend this modification for the street. This is strictly for drag race use only.
Pros: Cheap and easy power that can be done in less than 1 minute.
Cons: Extremely dangerous for the health of our turbochargers/engine. Drag race recommended only.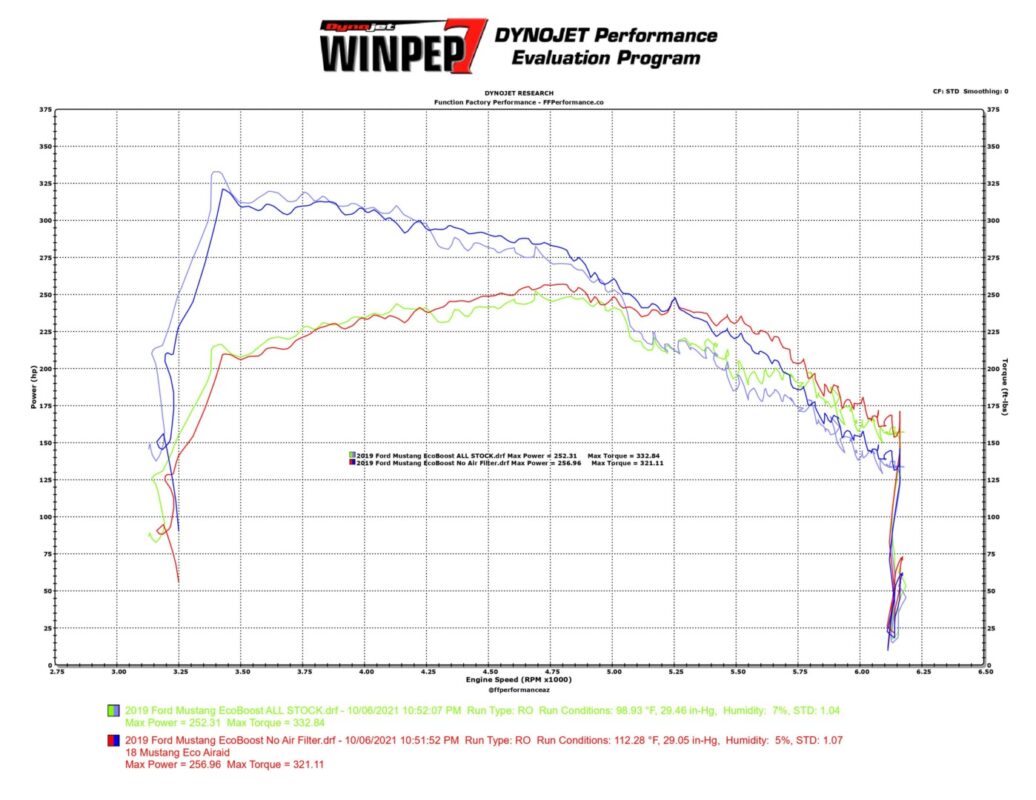 K&N 2015-2021 Ford Mustang (EcoBoost, V6, GT) Drop-In Replacement Air Filter
252.45 WHP / 323.85 WTQ
Another very simple modification, unclip the airbox and replace your stock filter with this K&N. K&N is a world-renowned brand and you can count on them when it comes to high-performance air filters.
Pros: Ridiculously easy install, open your air box and replace.
Cons: None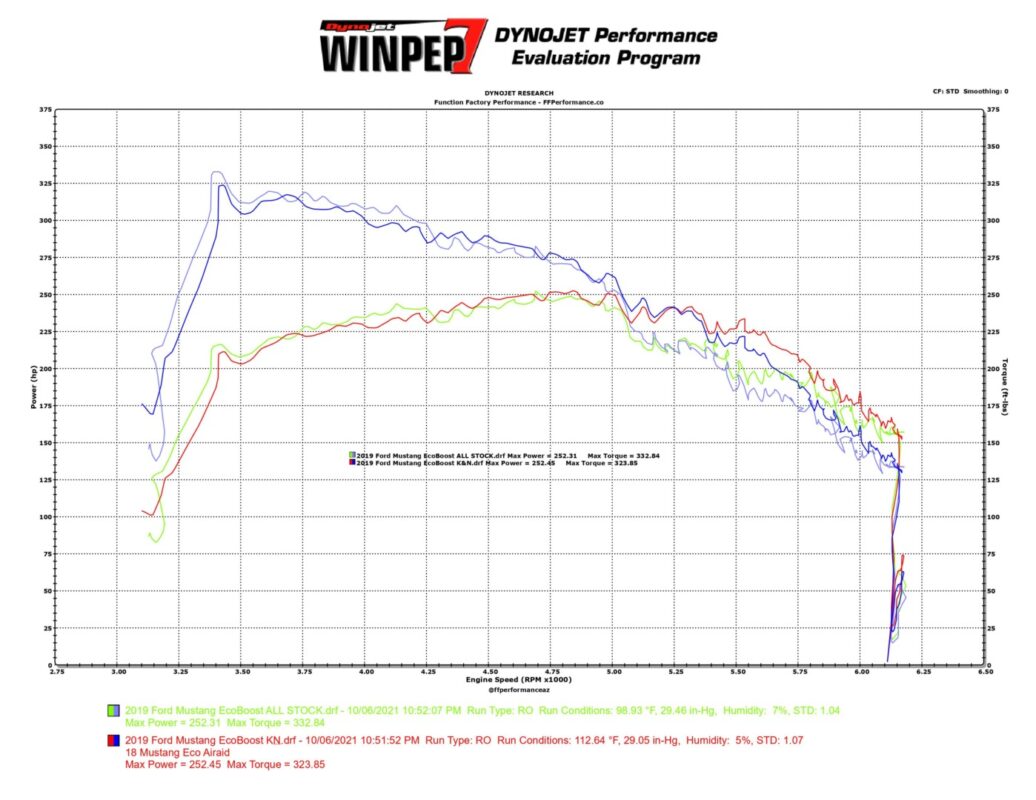 Stock car
252.31 WHP / 332.84 WTQ
This is where things get iffy. Anything posted below the stock dyno pull is intakes that actually lost power during our testing. Just because they lost power doesn't mean they are bad. The intake could simply have too much volumetric efficiency for the ECU to recalibrate. We are more than certain that with a simple custom tune, these intakes will make some decent power.
Pros: Warranty
Cons: Who wants a stock car? Not us.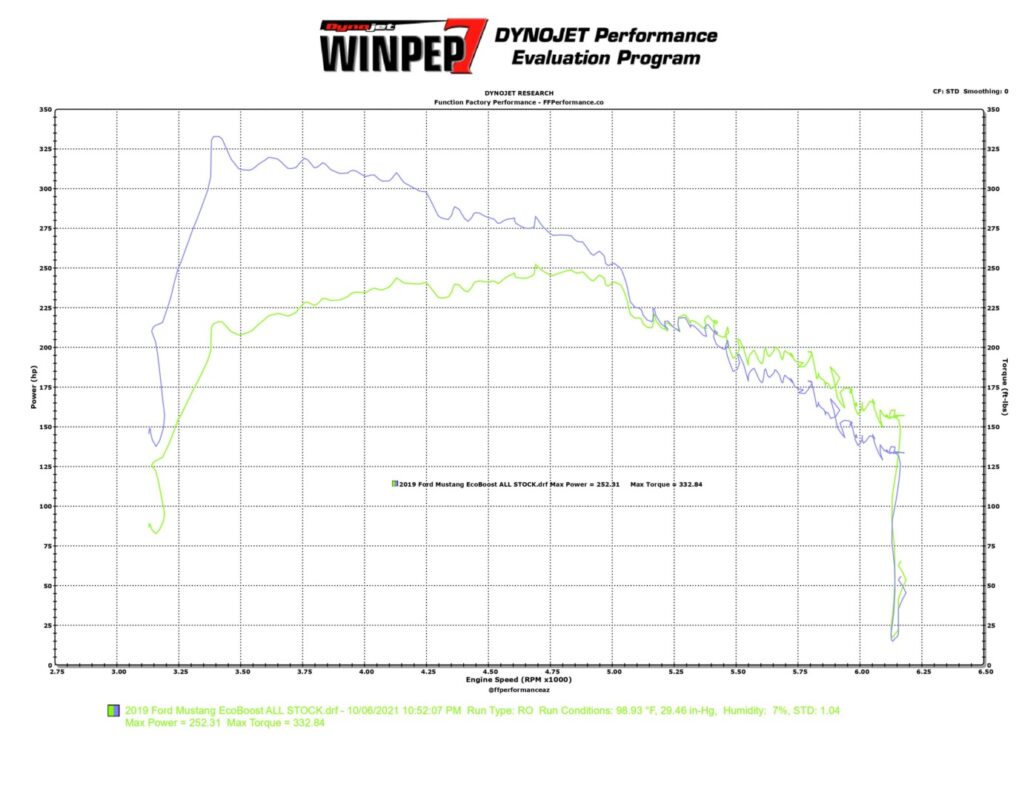 Airaid 2015-2021 Ford Mustang Ecoboost Jr Intake Kit (Oiled)
243.13 WHP / 320.06 WTQ
This combo is loved by many on the forums and in many groups. Personally, I think it's a great addition and in theory, should have performed well. We think this is the best air intake for the NX2 turbocharger if you're looking to make the most power.
Pros: OEM looks, larger pipe, decently easy install. Make great power with a larger turbo.
Cons: Made less power on the stock tune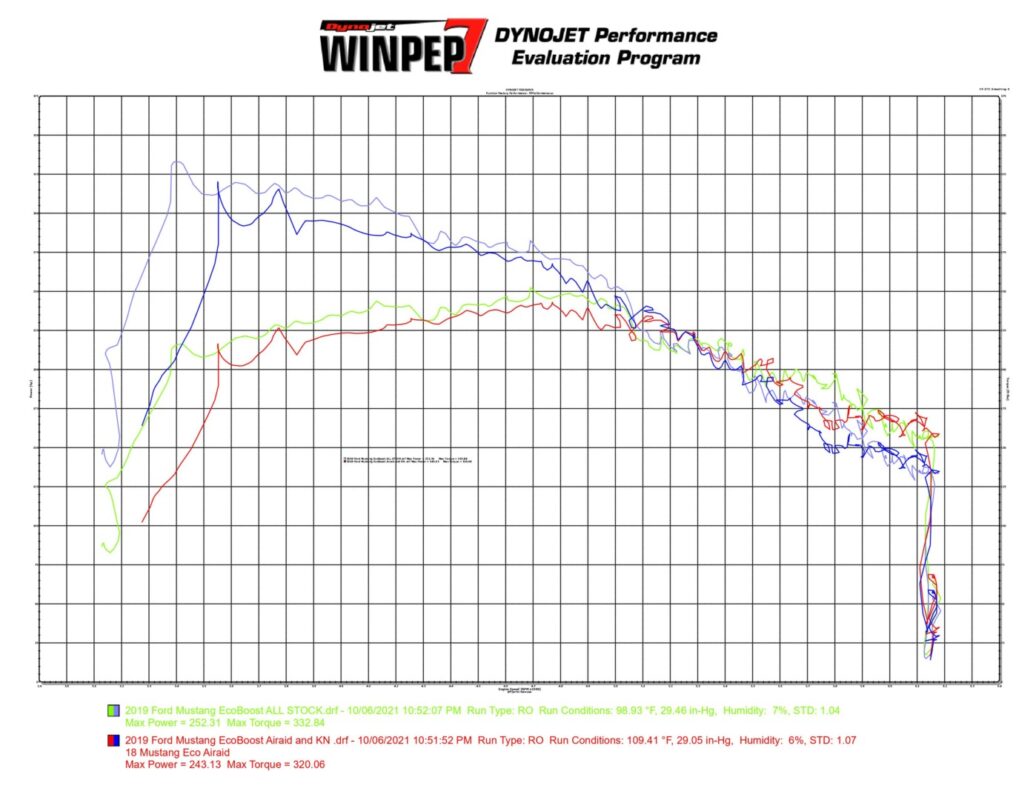 Full-Race Motorsports 2015-2021 Ford Mustang Ecoboost Cold Air Intake
243.09 WHP /328.21 WTQ
We've had this cold air intake on our 2016 Ford Mustang EcoBoost since we purchased her back in 2016. To be slightly biased, this is our favorite intake next to the Roush. Why do you ask? It's LOUD. Featuring a 3.5″ all-aluminum construction intake tube, you're able to hear the whistle of your OEM or NX2 turbocharger like no other. Just like the Airaid, we believe this intake will make great power with a pro tune.
Pros: LOUD and all-aluminum construction.
Cons: Minor power loss on OEM tune. We would not recommend this intake in areas that receive lots of rain.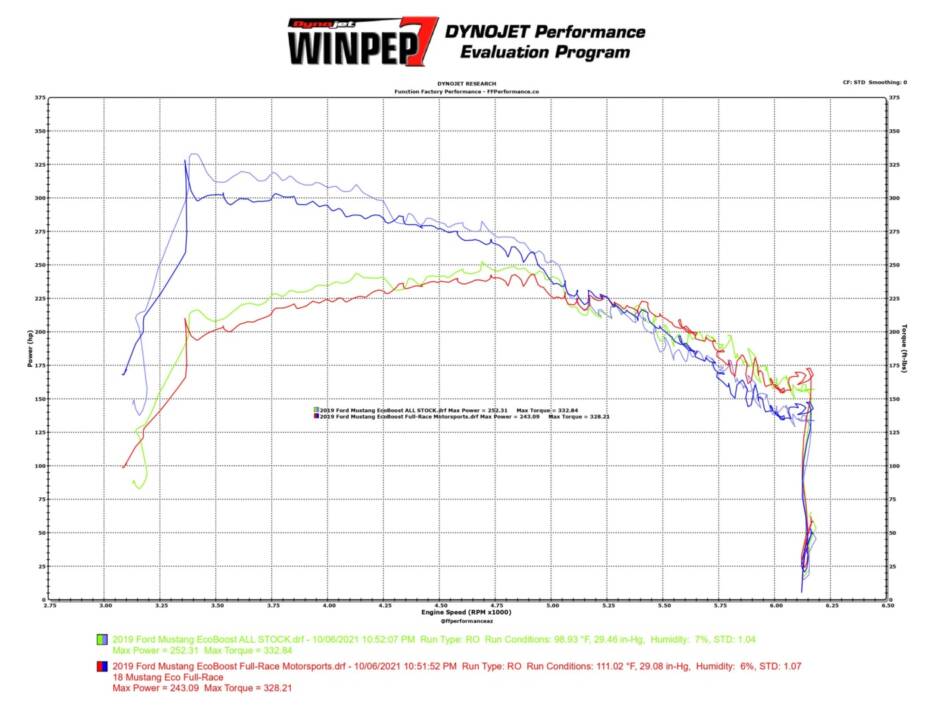 As always, feel free to leave a comment down below and make sure to follow us on social media.
Follow us below
Facebook: https://www.facebook.com/ffperformanceaz
Instagram: https://www.instagram.com/ffperformanceaz/
Youtube: https://www.youtube.com/functionfactoryperformance
Need help ordering? Shoot us a message at this link https://ffperformance.co/factory-service/contact/ or dial 480-576-8606