I know you guys have been waiting for this data and it's still incomplete. The videos are all being edited as I type this. Here are my notes on the following intercoolers we tested. As you can tell below, an FMIC is a perfect investment for your EcoBoost Mustang. Look at those numbers!
Video is coming soon, make sure to check back for it and install photos.
CV Fabrication 2015-2021 Ford Mustang EcoBoost Race Intercooler WINNER
281.29 WHP / 336.90 WTQ
This thing is MASSIVE. They say bigger is better and this CVF Race intercooler did make the most power out of the 3 FMICs that we tested.
Pros: Makes the most power, and looks aggressive IF you like the tall core.
Cons: Extremely heavy, this thing is big! You need to use a ton of lube to get the couplers on. You must remove your OEM shutters and crash the beam. I personally do not like the look of this cooler. It does not flow with the car, but that is only my opinion.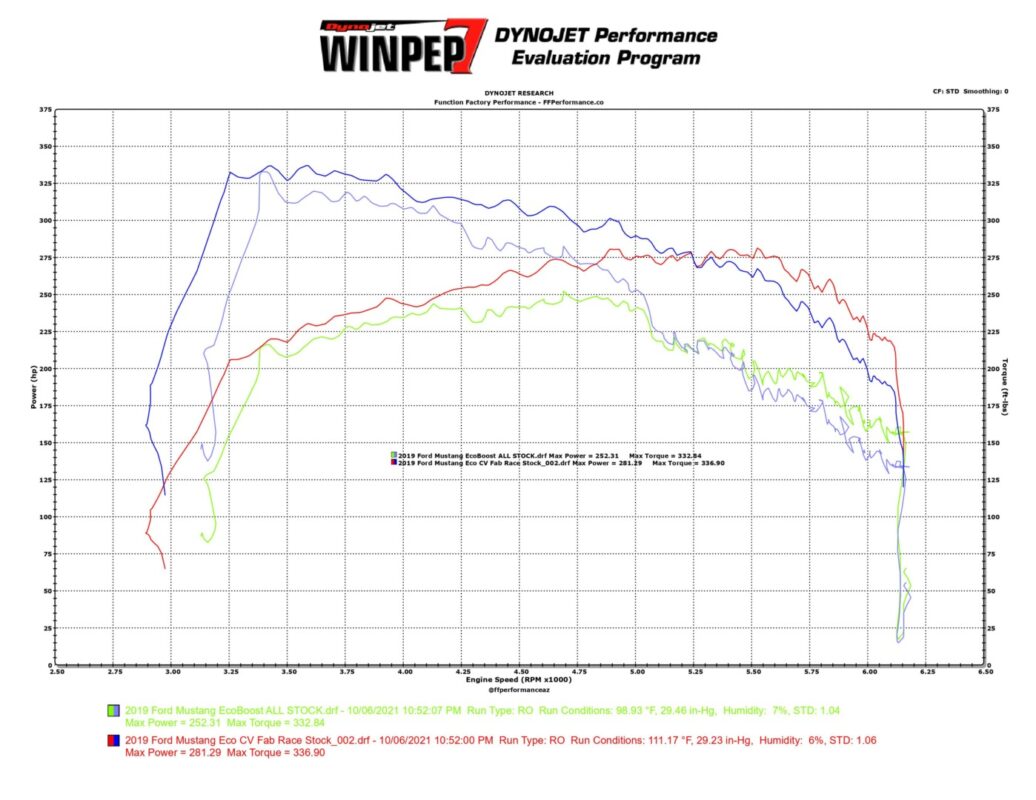 Full-Race Motorsports 2015-2021 Ford Mustang EcoBoost Front Mount Intercooler
This is on our EcoBoost Mustang.
277.27 WHP / 322.14 WTQ
Link:http://bit.ly/FRMFMEFMIC
American-made and tig welded a few miles south of us, the Full-Race Motorsports FMIC feels like a true "tuner" style front mount. Fitment is perfect and flows with the grille. It has an OEM appearance just like the street intercooler.
Pros: American-made, tig welded. Quality is 10/10. Makes great power. Mounts to the OEM crash bar or can be replaced with an optional bash bar.
Cons: Drilling into the OEM crash bar is a PITA. You will need to remove your OEM shutters.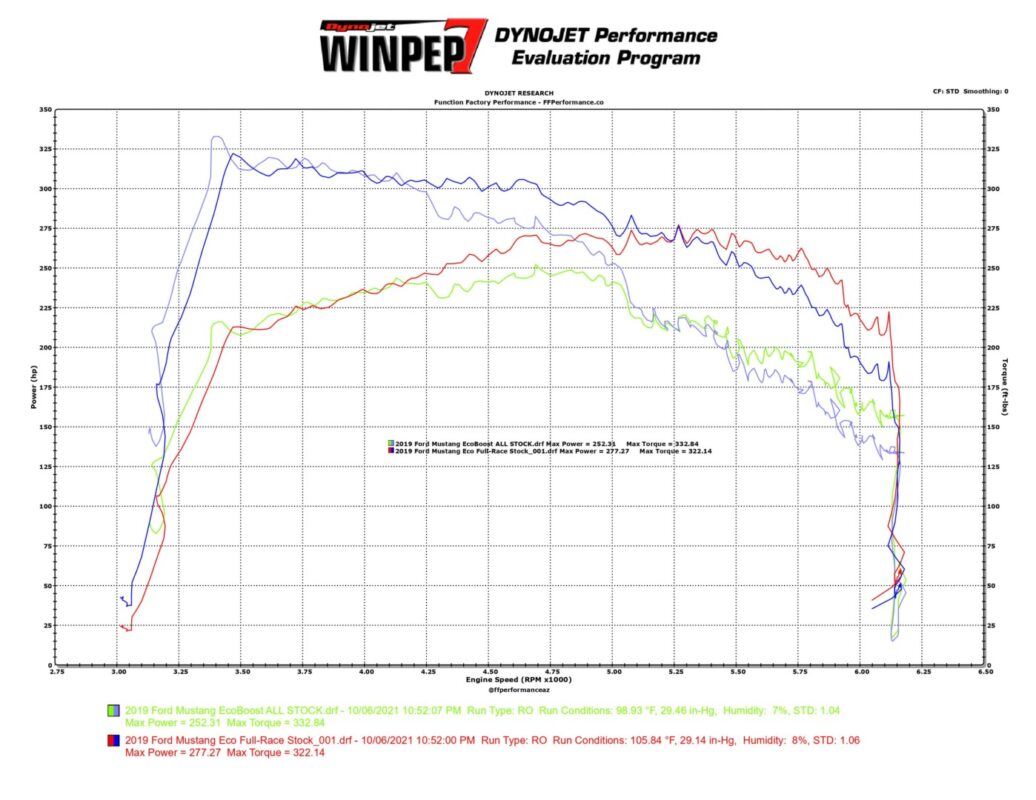 CV Fabrication 2015-2021 Ford Mustang EcoBoost Street Intercooler
I love this intercooler
273.53 WHP / 318.86 WTQ
Link: http://bit.ly/CVFFMESI
Why do I love this intercooler? It's sleek and discreet but with a massive core that extends inwards instead of upwards. To the naked eye, you would never expect that someone had replaced their FMIC for this much larger unit.
Pros: PERFECT FITMENT, absolutely no hassle. Looks OEM+. Makes great power. Best bang for the buck
Cons: Honestly none, if you're planning to make 550 WHP, the Race or Full-Race intercooler will be needed.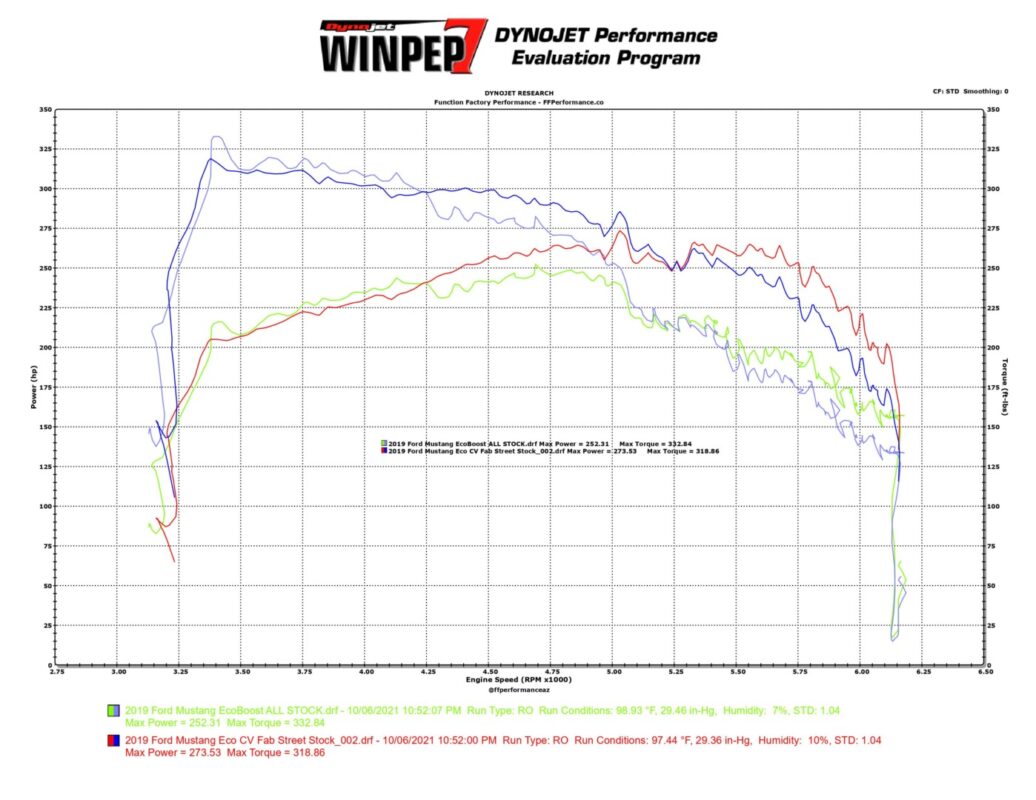 STOCK 2019 Ford Mustang EcoBoost:
252.31 WHP / 322.84 WTQ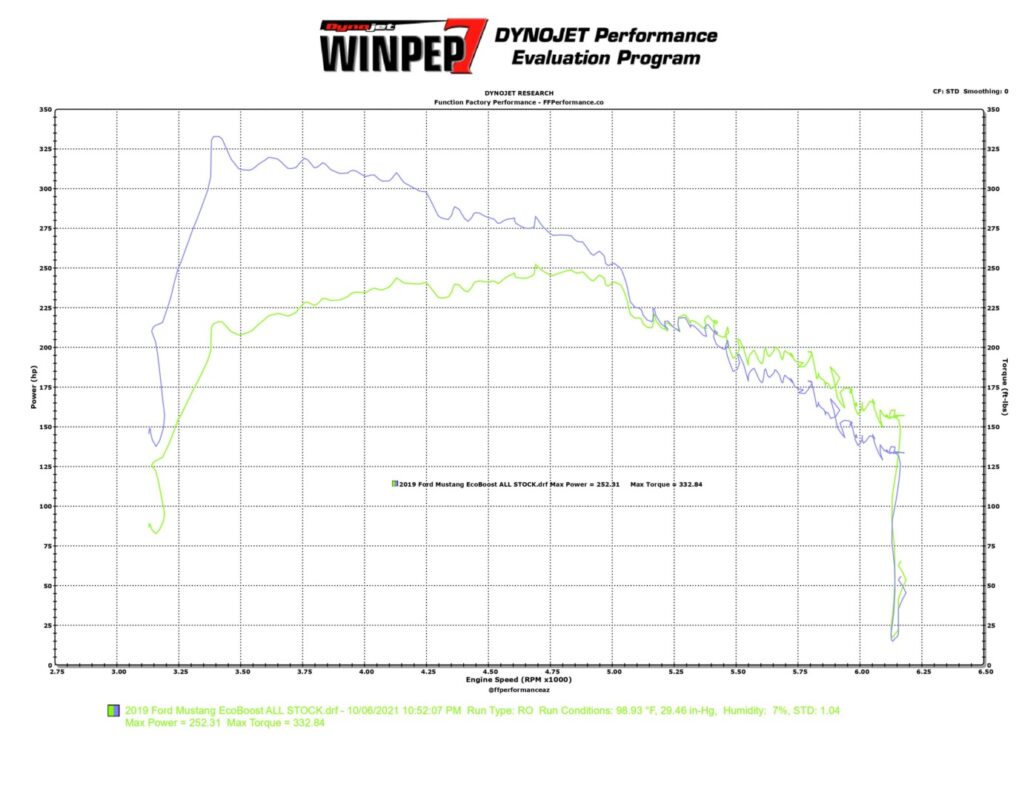 As always, feel free to leave a comment down below and make sure to follow us on social media.
Follow us below
Facebook: https://www.facebook.com/ffperformanceaz
Instagram: https://www.instagram.com/ffperformanceaz/
Youtube: https://www.youtube.com/functionfactoryperformance
Need help ordering? Shoot us a message at this link https://ffperformance.co/factory-service/contact/ or dial 480-576-8606