The 2024 Ford Mustang GT is a testament to American muscle and performance, blending its storied heritage with cutting-edge technology and engineering. At Function Factory Performance, we're thrilled to give you an in-depth exploration of this impressive machine. The 2024 Mustang GT is set to reshape the automotive landscape with innovative features and exceptional performance capabilities.
Engine and Performance:
The heart of the 2024 Ford Mustang GT is its legendary 5.0-liter V8 engine. This powerplant has been a key component of the Mustang's performance pedigree for decades, and the latest iteration delivers even more power, efficiency, and refinement. In this blog, Function Factory Performance will explore the technical details and advancements of the 2024 Mustang GT's 5.0L V8 engine, giving enthusiasts a thorough understanding of what makes this engine a true powerhouse.
Engine Specifications and Output:
The 2024 Ford Mustang GT's 5.0L V8 engine is part of the third generation of Ford's Coyote family. This naturally aspirated, dual overhead cam (DOHC) engine features four valves per cylinder, variable valve timing, and direct and port fuel injection. The result is a highly efficient combustion process that maximizes power and torque across the entire rev range.
The 5.0L V8 produces an impressive 480 horsepower and 415 lb-ft of torque, propelling the Mustang GT from 0 to 60 mph in under 4 seconds. Ford has managed to strike an ideal balance between power and efficiency, as the engine also offers respectable fuel economy figures for a high-performance sports car.
Engine Enhancements and Upgrades:
For the 2024 model year, Ford has made several enhancements to the 5.0L V8 engine to improve its performance and durability further. Some of the key upgrades include:
Redesigned cylinder heads: The 5.0L V8 now features high-flow cylinder heads, which allow for increased airflow and improved combustion efficiency. This translates to more power and better fuel economy.
Revised camshaft profiles: The camshafts have been optimized to maximize the engine's increased airflow, improving throttle response and overall performance.
Enhanced cooling system: Ford has implemented a more efficient cooling system that helps maintain optimal engine temperatures, even under demanding driving conditions. This improves reliability and longevity, ensuring the 5.0L V8 can withstand the rigors of high-performance driving.
Upgraded exhaust system: The 2024 Mustang GT has an optional Active Valve Performance Exhaust system that allows drivers to adjust the exhaust note to their preference. This system provides a thrilling soundtrack to match the engine's exceptional performance.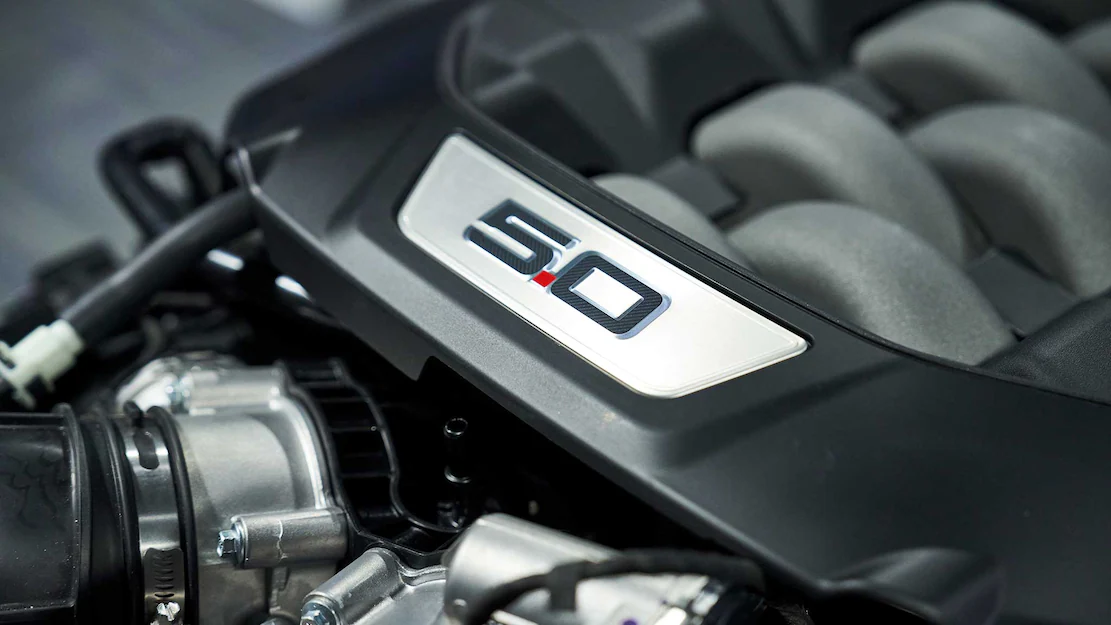 Photo Credit: MotorTrend
Suspension, Brakes, and Handling:
The 2024 Mustang GT boasts a meticulously engineered suspension system with exceptional handling and ride comfort. The independent rear suspension (IRS) and MacPherson strut front suspension work cohesively to deliver superior cornering capabilities and ride stability. Ford has also introduced an optional MagneRide adaptive damping system, which adjusts the suspension's damping force in real time based on road conditions and driving style for optimal performance.
The optional Performance Package includes upgraded brakes, a TORSEN limited-slip differential, and unique chassis tuning for those seeking greater handling prowess. This package transforms the Mustang GT into a track-ready machine capable of easily tackling even the most demanding circuits.
Base Model Brakes:
The 2024 Ford Mustang GT comes standard with large vented disc brakes on all four corners, ensuring consistent and reliable stopping power. The front brakes feature 14-inch rotors with four-piston fixed calipers, while the rear brakes utilize 13-inch rotors with single-piston floating calipers. This setup offers a well-balanced brake feel and provides stopping power for spirited driving and daily use.
Performance Package Upgrade:
The optional Performance Package significantly upgrades the Mustang GT's brake system for those seeking enhanced braking performance. This package includes larger 15-inch front rotors with six-piston Brembo calipers, providing increased stopping power and improved heat dissipation. The rear brakes also upgrade to larger 13.8-inch rotors, further bolstering the car's braking capabilities.
The Performance Package's upgraded brake system is designed to handle the rigors of track use, offering improved fade resistance and pedal feel during high-performance driving. This ensures consistent and reliable braking performance, even under the most demanding conditions.
Brake Assist and Electronic Brakeforce Distribution:
The 2024 Ford Mustang GT also benefits from advanced braking technologies like Brake Assist and Electronic Brakeforce Distribution (EBD). Brake Assist detects emergency braking situations and applies additional brake force to help reduce stopping distances. EBD, on the other hand, ensures optimal brake force distribution between the front and rear wheels, resulting in improved stability and control during braking.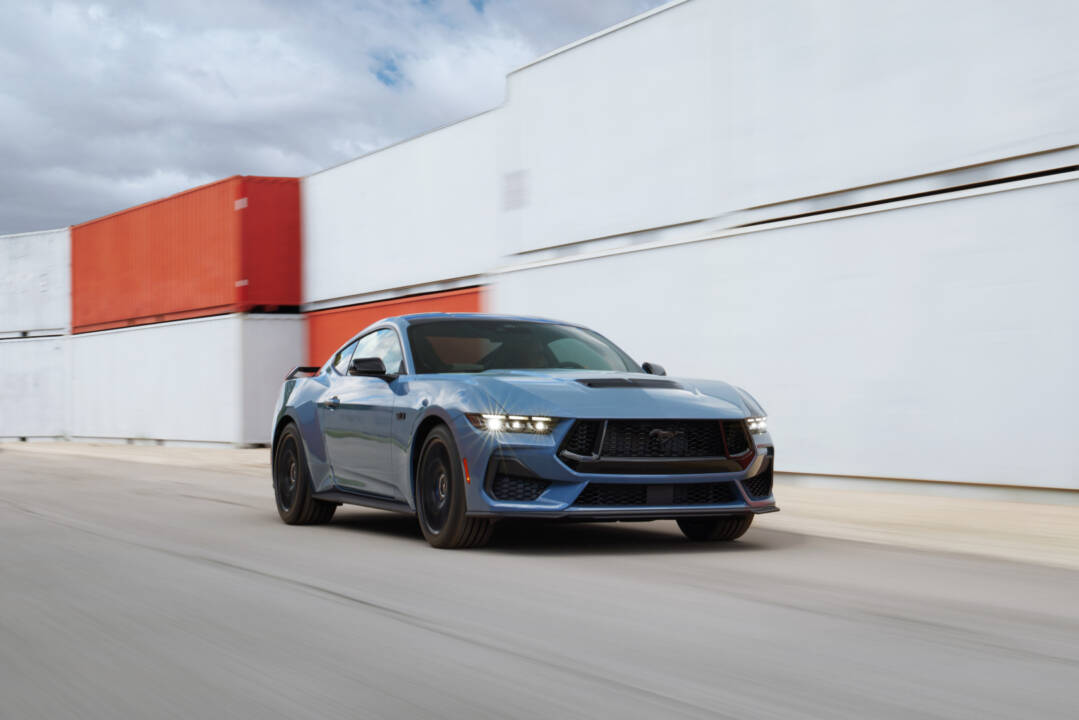 Photo Credit: Ford Motor Company
Interior and Technology:
The 2024 Ford Mustang GT interior blends classic design elements with contemporary amenities. Premium materials and a driver-centric layout create an inviting atmosphere, while advanced technology features ensure a seamless and connected driving experience. A customizable 12-inch digital instrument cluster, SYNC 4 infotainment system with a 10.1-inch touchscreen, and Apple CarPlay and Android Auto compatibility make the Mustang GT a tech-savvy driver's dream.
The 2024 Ford Mustang has garnered praise for its performance capabilities and striking exterior design, but the interior is equally worthy of admiration. Function Factory Performance is excited to delve into the details of the Mustang's luxurious cabin, which artfully combines heritage and modernity to create a comfortable, stylish, and technologically advanced driving environment.
Cabin Design and Materials:
Ford has crafted the Mustang's interior to incorporate classic and contemporary design elements. The layout features a driver-centric cockpit with an aviation-inspired instrument panel and a three-spoke steering wheel that pays homage to Mustangs of the past. The cabin is adorned with premium materials, including soft-touch surfaces, contrast stitching, and available aluminum or carbon fiber accents, adding to the car's upscale ambiance.
The 2024 Mustang offers a range of seating options, including standard cloth-trimmed sport seats or optional leather-trimmed seats with heating and ventilation. Recaro sport seats are also available for those seeking a more race-inspired feel. These options cater to various preferences, ensuring drivers and passengers enjoy a comfortable and supportive seating experience.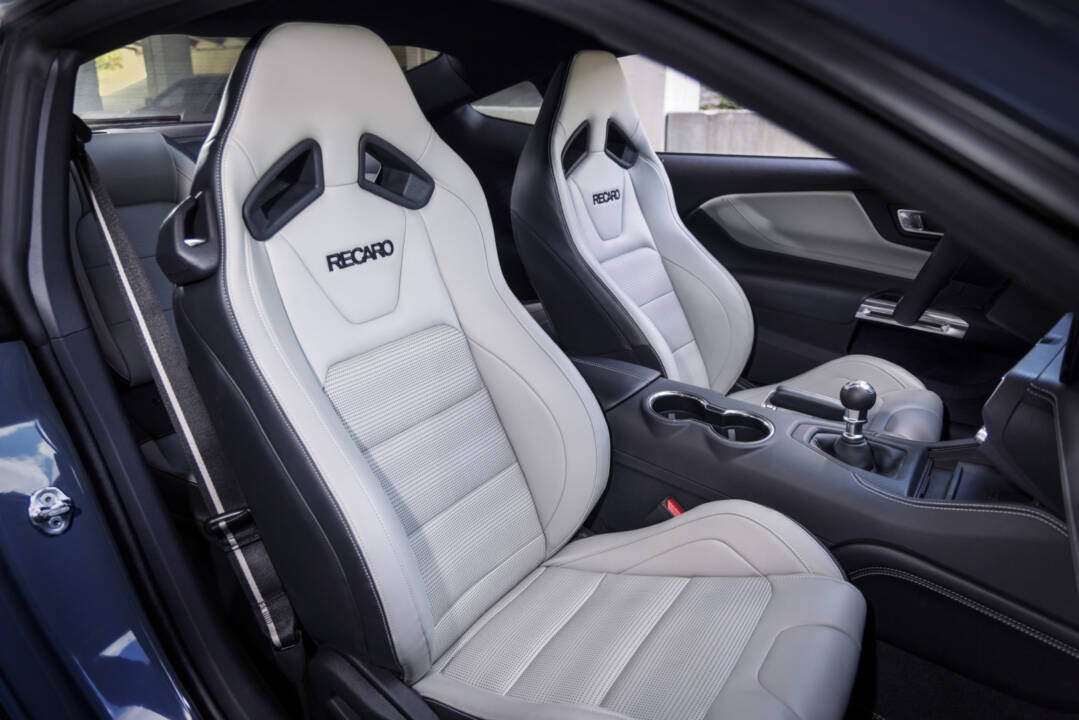 Infotainment and Connectivity:
The 2024 Ford Mustang boasts a cutting-edge infotainment system to keep drivers connected and entertained. The SYNC 4 system is housed in a 10.1-inch touchscreen display, which offers an intuitive interface, crisp graphics, and customizable settings. Apple CarPlay and Android Auto compatibility is standard, allowing seamless smartphone integration and access to popular apps for navigation, music streaming, and more.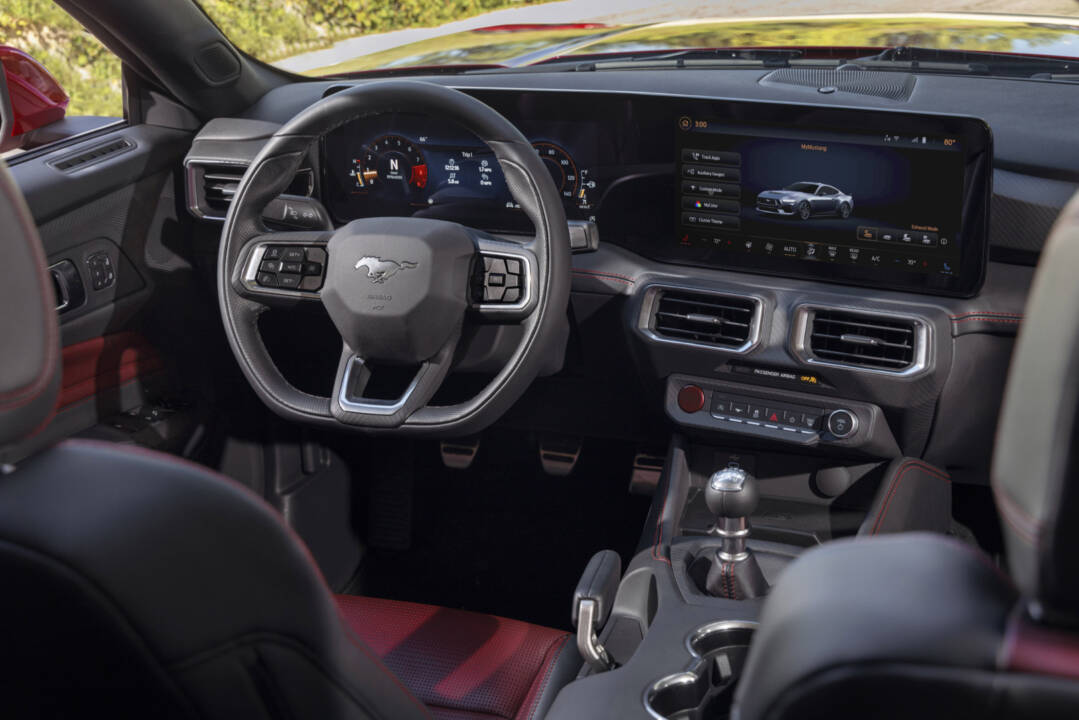 Drivers can also enjoy a customizable 12-inch digital instrument cluster, which offers various display modes and real-time performance metrics, such as acceleration times, lap times, and G-forces. This advanced feature elevates the driving experience by keeping essential information accessible and allowing drivers to tailor the display to their preferences.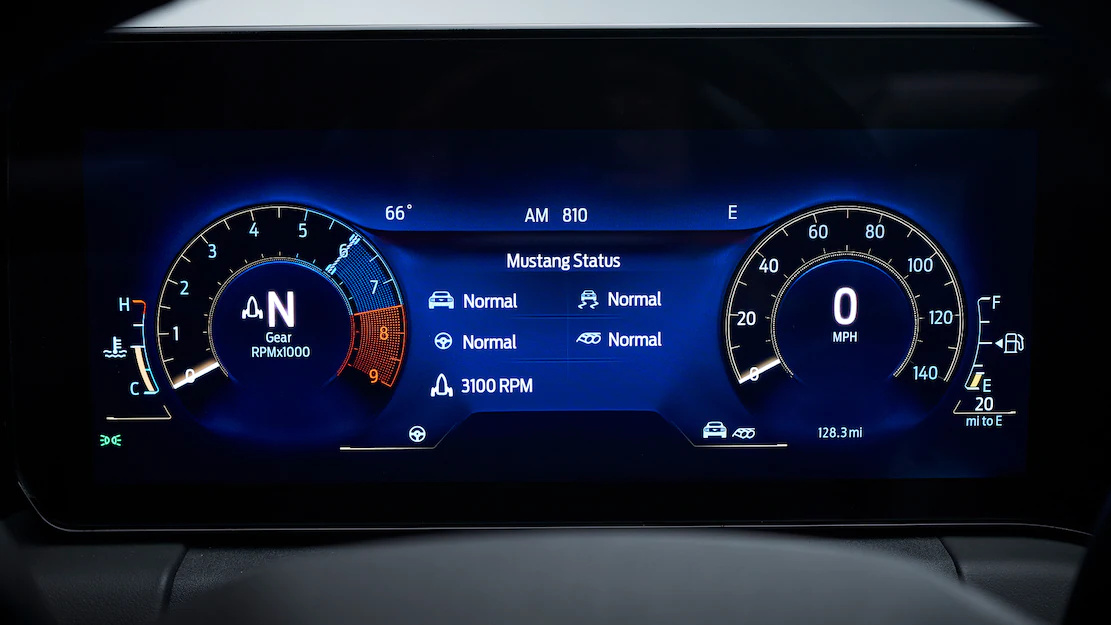 Sound System and Acoustic Comfort:
The 2024 Ford Mustang offers an optional B&O Sound System by Bang & Olufsen, which features 12 speakers and a powerful 1,000-watt amplifier. This premium sound system delivers an immersive listening experience, transforming the cabin into a personal concert hall.
Acoustic comfort is another key aspect of the Mustang's interior. Ford has employed advanced sound-deadening materials and active noise-cancellation technology to minimize road and wind noise, creating a serene environment that allows drivers and passengers to converse easily or enjoy their favorite tunes.
Safety and Driver Assistance:
Ford has equipped the 2024 Mustang GT with a comprehensive suite of driver assistance features, ensuring safety remains a top priority. The Ford Co-Pilot360 system encompasses Pre-Collision Assist with Automatic Emergency Braking, Lane-Keeping System, Adaptive Cruise Control, and more. These advanced systems work in tandem to bolster driver confidence and promote a safer driving experience.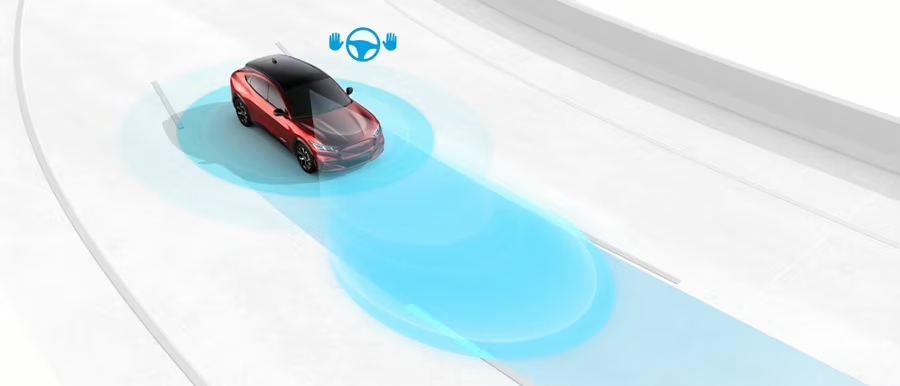 Conclusion:
The 2024 Ford Mustang GT exemplifies Ford's dedication to innovation and performance. The Mustang GT sets new standards for American muscle cars with its powerful powertrain, sophisticated suspension, and state-of-the-art technology. At Function Factory Performance, we're excited to share our passion for this remarkable machine and eagerly anticipate its arrival in the hands of performance enthusiasts worldwide.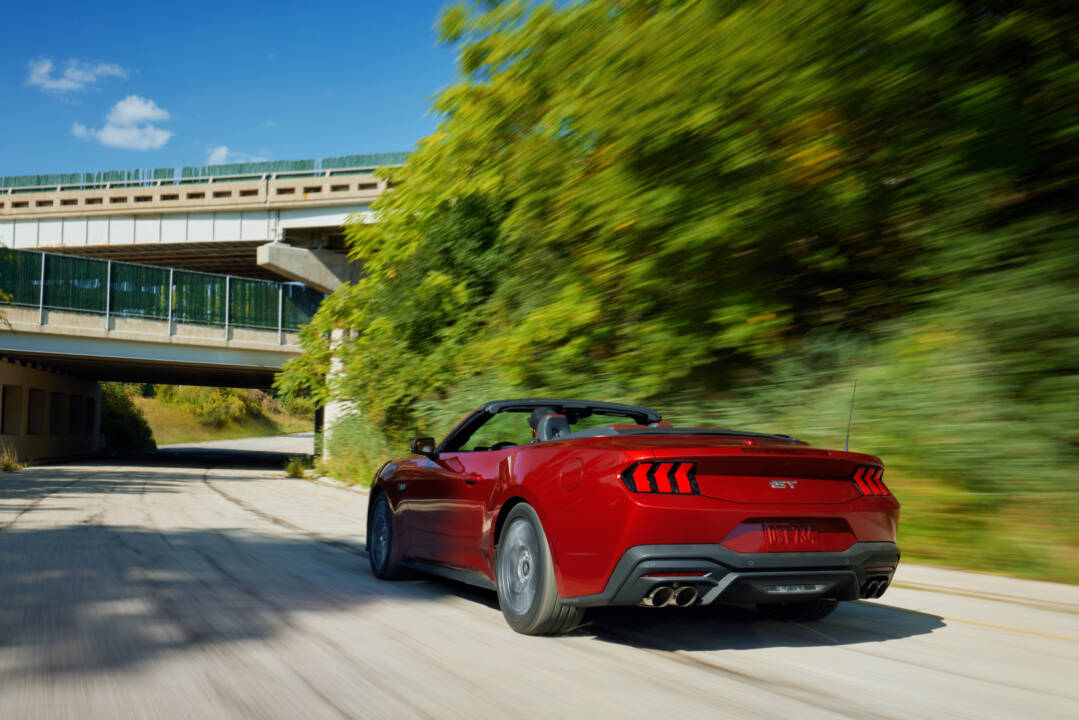 Photo Credit: Ford Motor Company