Features
• Supports up to 2750 horsepower
• 102mm compressor inducer | 133mm compressor exducer
• 118mm turbine inducer | 112mm turbine exducer
• 28% more turbine flow (compared to GTX) see graph below
• One-piece aluminum center housing
• 16mm dual ceramic ball bearing cartridge
• Outline interchangeable with GTX Gen II turbos
• Stainless Steel turbine kit sold individually. 1.09 A/R, 1.25 A/R, 1.41 A/R
WARNING: Maximum allowable turbocharger speed is 84krpm. The use of this product above max turbocharger speed is at the owner's risk, and can result in damage and premature failure. To protect the turbocharger from overspeed when operating, a speed sensor can be installed into the compressor housing to monitor shaft speed. Sensors sold separately.
Performance results of this product are highly dependent upon your vehicle's modifications and tuning/calibration. The horsepower numbers represented above are calculated based strictly on choke flow of the compressor map (total turbo capability), which represents the potential flywheel horsepower.
G Series G57
Compressor
Turbine
Supercore PN
Model
Inducer
Exducer
Trim
A/R
Inducer
Exducer
Trim
880547-5031S
G57-2000
88mm
133mm
44
0.88
118
112
90
880547-5032S
G57-2350
94mm
133mm
50
0.96
118
112
90
880547-5033S
G57-2550
98mm
133mm
54
0.96
118
112
90
880547-5029S
G57-2750
102mm
144mm
50
0.96
118
112
90
880547-5030S
G57-3000
106mm
144mm
54
0.96
118
112
90
Compressor Map & Exhaust Flow Chart
The latest Garrett technologies featuring many advanced features.
COMPRESSOR MAP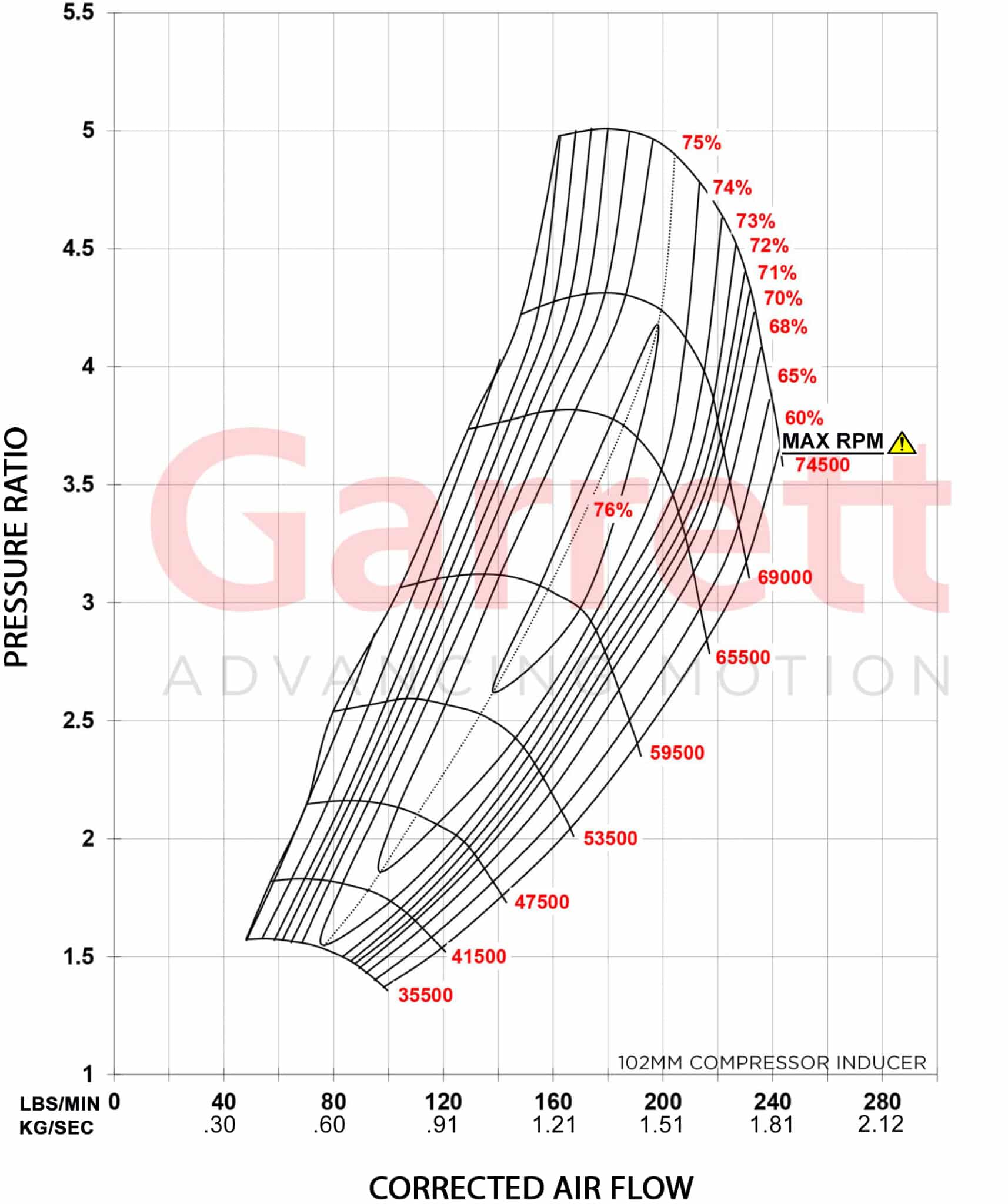 EXHAUST FLOW CHART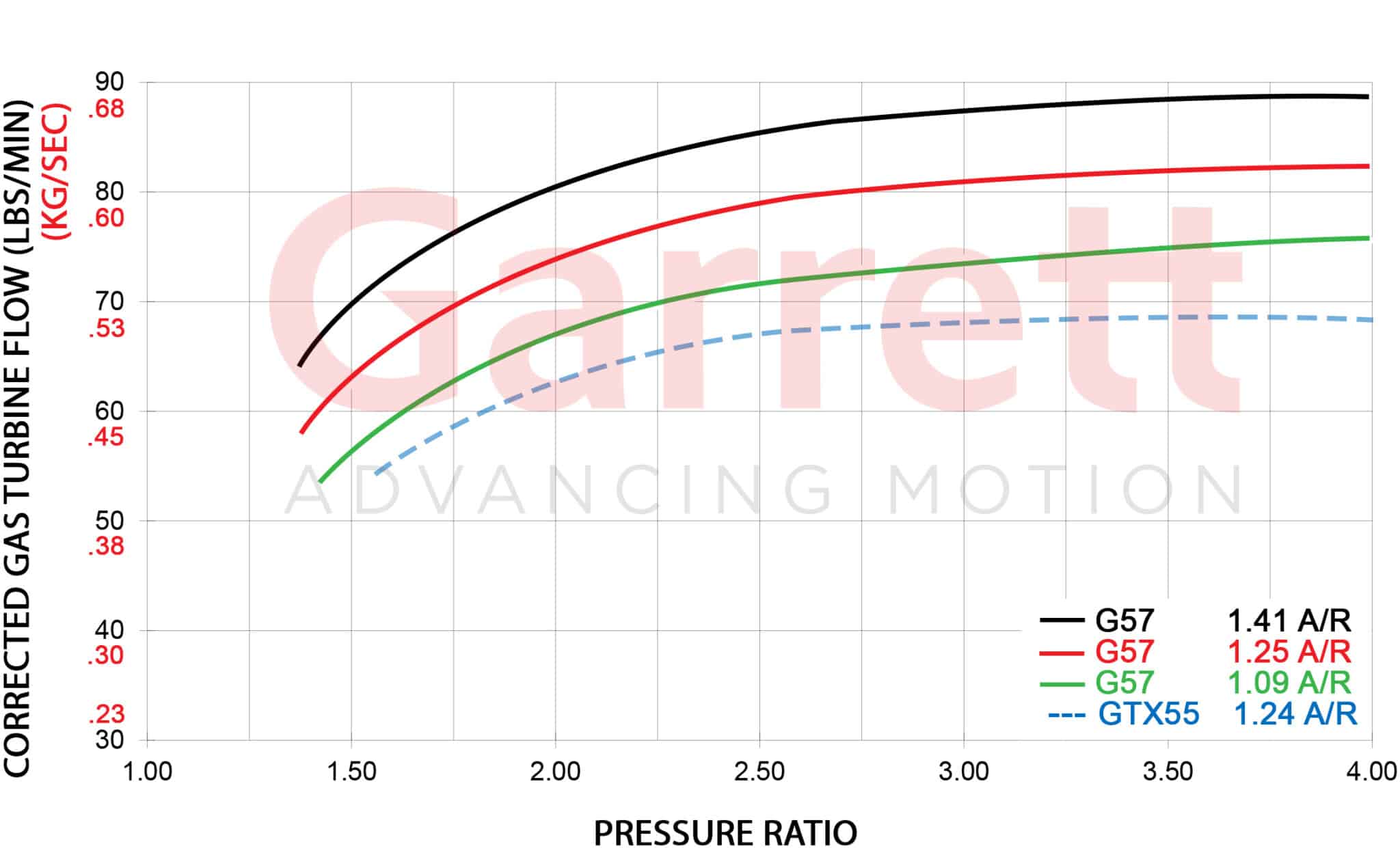 G Series: A Turn Ahead Of The Competition
G Series G57 turbochargers feature the latest innovations in turbocharger technology. Advanced compressor and turbine aero offer a range of high horsepower performance boosting solutions for 3.0L – 12.0L engine platforms. 88mm, 94mm, 98mm, 102mm, 106mm compressor inducer sizes produce up to 3000 horsepower for today's top drag race eams.
Turbine Stage:
The newly engineered turbine wheel with optimized G Series aerodynamics increases flow up to 28% (Compared to GTX Gen II, see graph below). The large 90 trim turbine stage measures 118mm at the inducer and 112mm at the exducer. G57 is offered with three stainless steel V-band turbine housings in 1.09 A/R, 1.25 A/R, and 1.41 A/R.
Part Numbers
1.09 A/R: 761208-0083 (Stainless Steel V-band inlet & Outlet)
1.25 A/R: 761208-0084 (Stainless Steel V-band inlet & Outlet)
1.41 A/R: 761208-0085 (Stainless Steel V-band inlet & Outlet)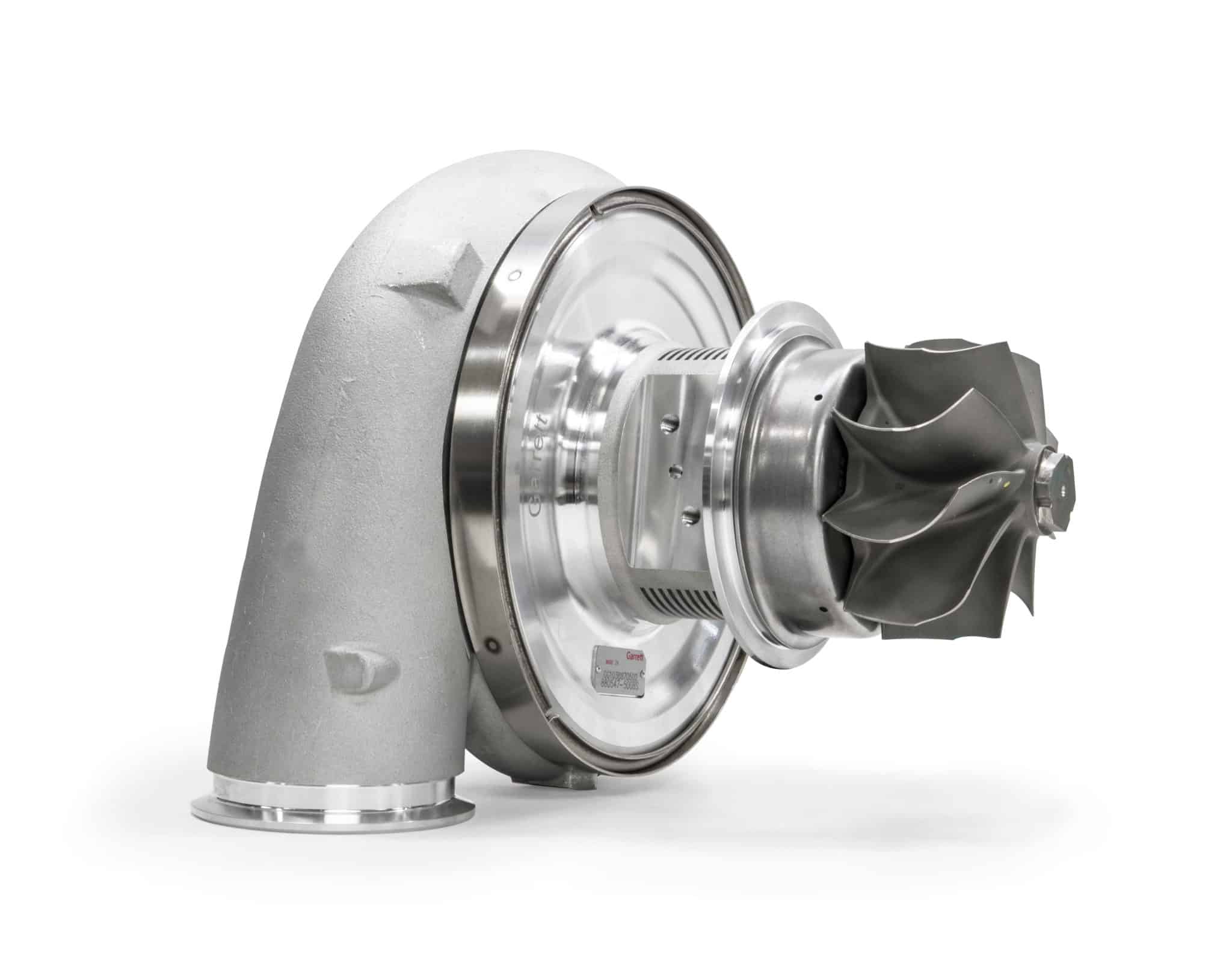 Center Housing:
One-piece aluminum center housing reduces supercore weight. The center housing is air cooled, features a 16mm dual ceramic ball bearing for premium rotor dynamics, and retains the oil inlet and outlet specifications from previous GTX designs.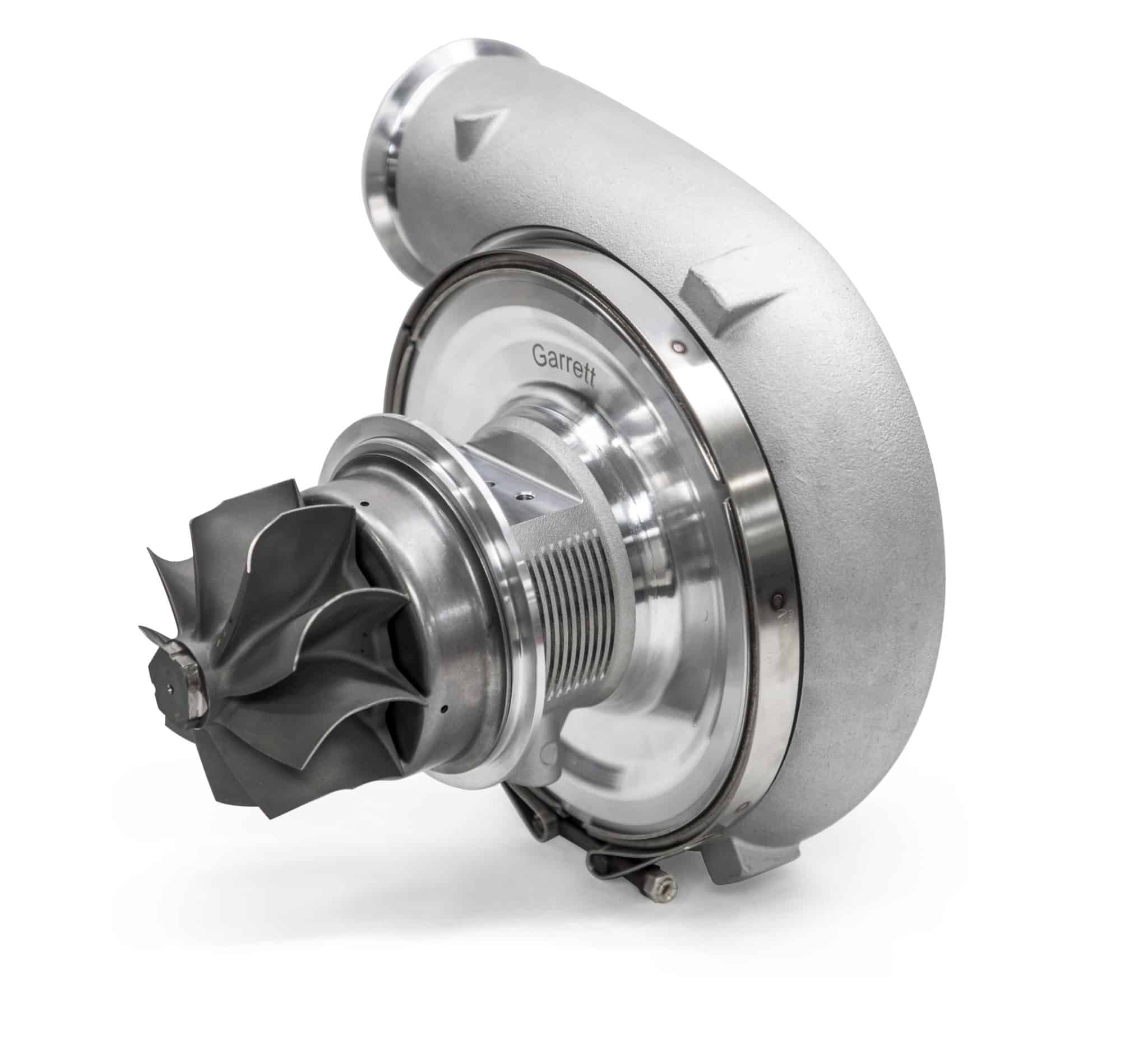 Compressor Stage:
Garrett G57 compressor stages are offered in 88mm, 94mm, 98mm, 102mm, and 106mm inducer sizes each with their own horsepower ratings indicated in the model name.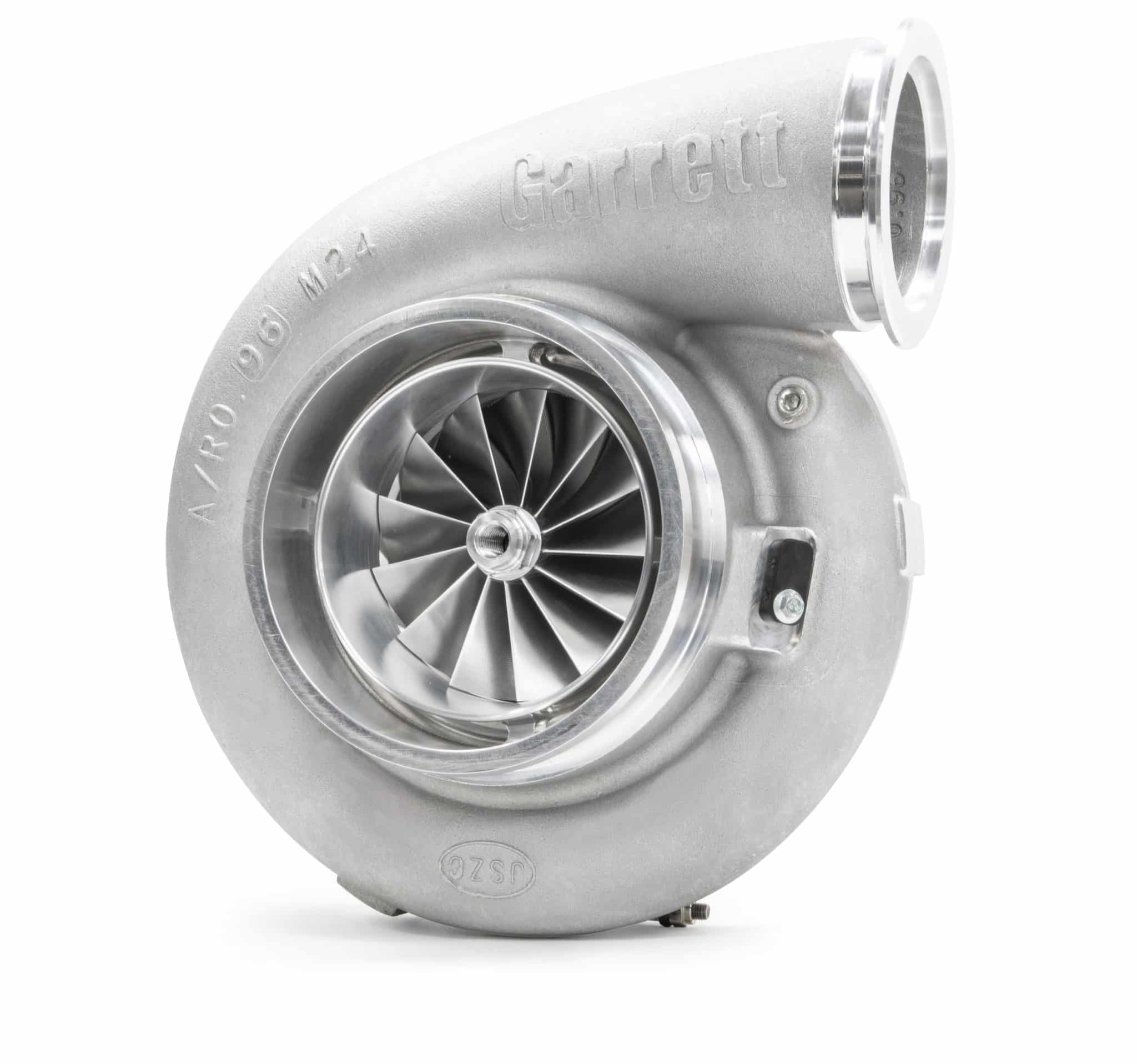 Turbine Housings:
Stainless steel turbine housings
Short outlet (SFI certified not available)
(3) Turbine configurations: 1.09 A/R, 1.25 A/R, 1.41 A/R
V-band inlet: 4.25 inch (108mm) (same as GTX55)
V-band outlet: 5.15 inch (131mm) (same as GTX55)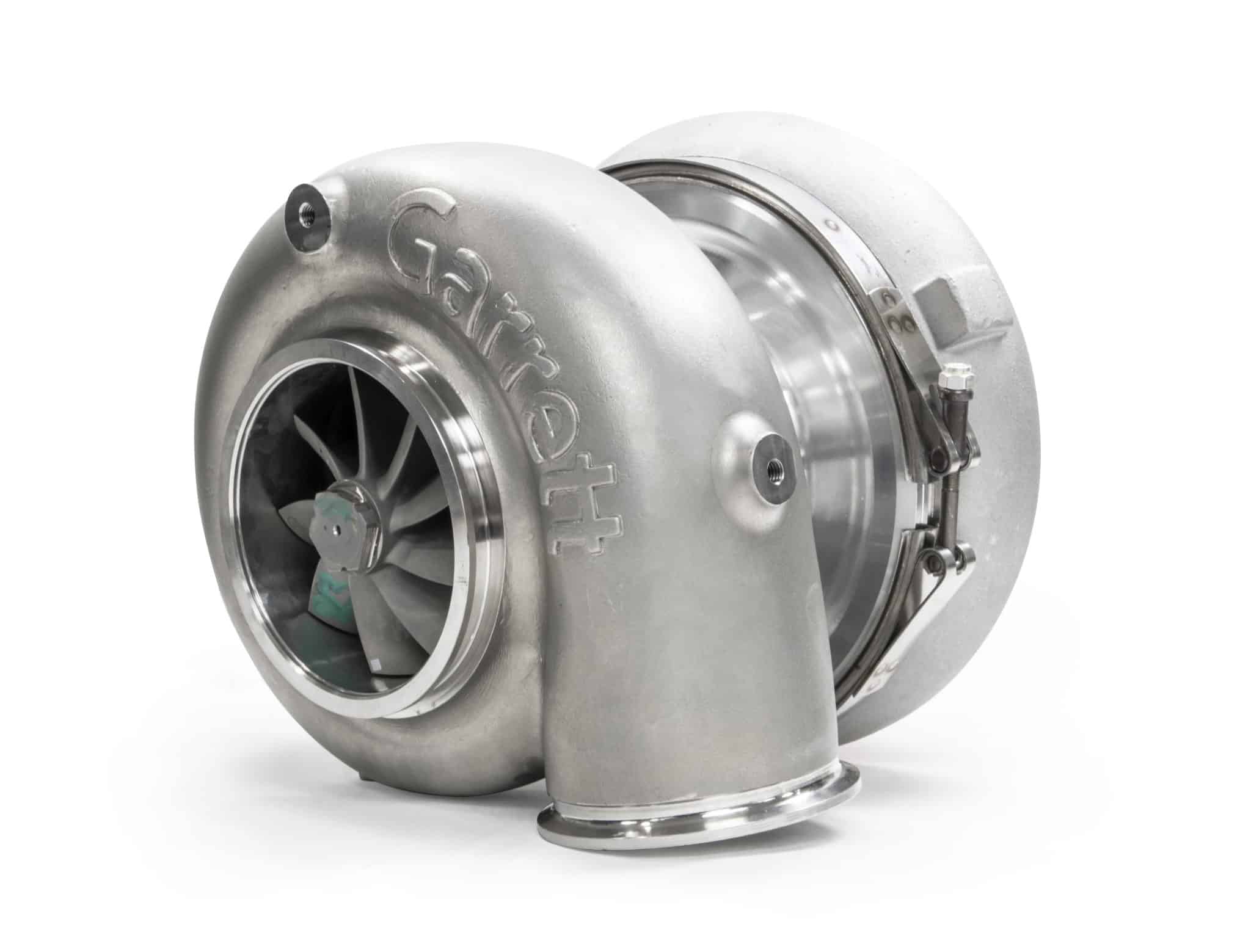 Dual Ceramic Ball Bearing
An oil restrictor is recommended for optimal performance with ball bearing turbochargers.The G57 turbochargers utilize a massive 16mm dual ball bearing cartridge with steel cages. An oil pressure of 40 – 45 psi at maximum engine speed is recommended to prevent damage to the turbocharger's internals. In order to achieve this pressure, a restrictor with a 0.040" orifice will normally suffice, but you should always verify the oil pressure entering the turbo after the restrictor in insure that the components are functioning properly. Recommended oil feed is -3AN or -4AN line or hose/tubing with a similar ID. As always, use an oil filter that meets or exceeds the OEM specifications.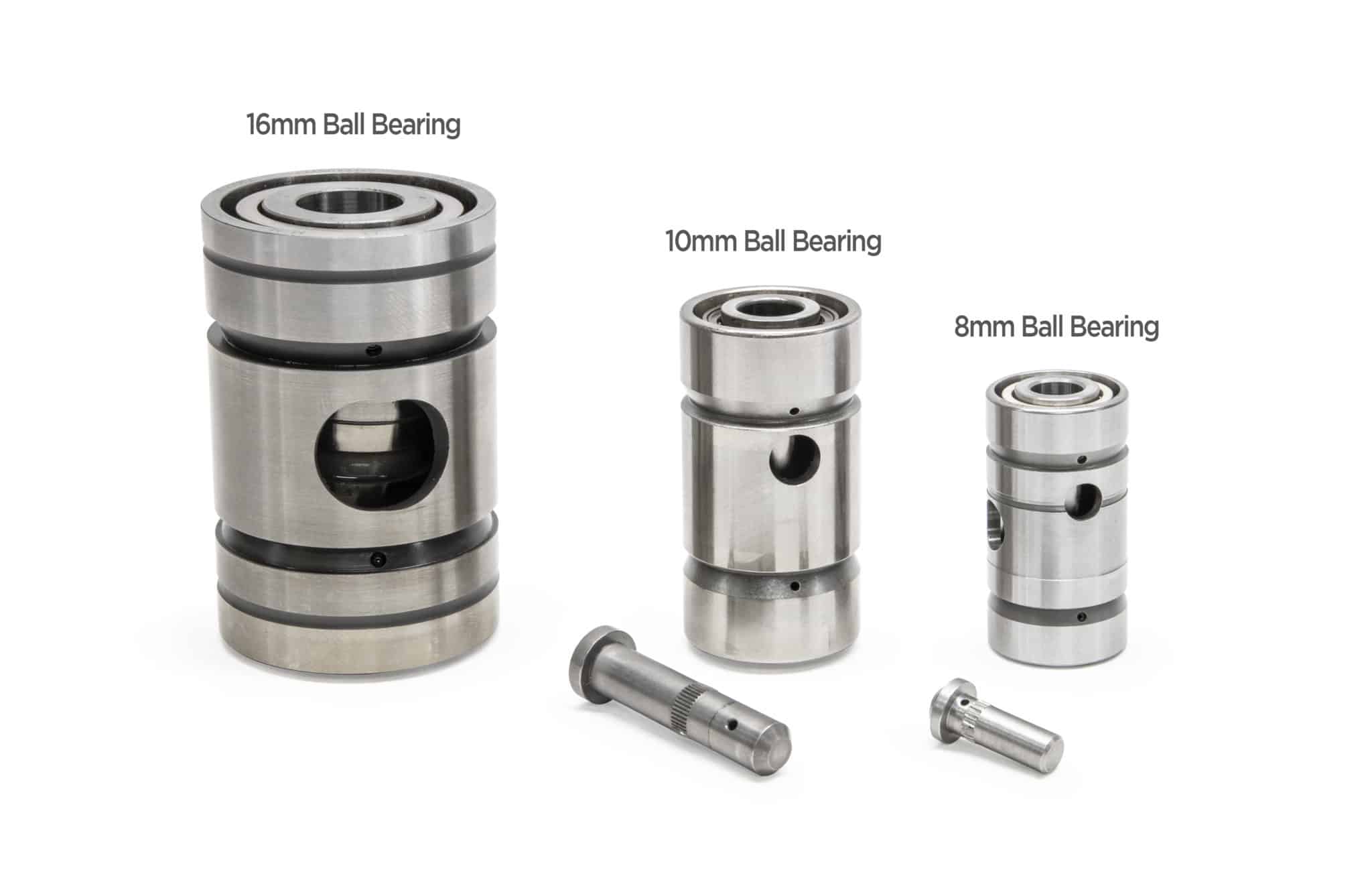 We've got your back!
Function Factory Performance takes "customer service" very personally. We understand that finding the right parts can be overwhelming. Education and awareness are the principles that keep us ahead of the curve. Let us make this experience simple, easy, and awesome, so without hesitation give us a call at (480) 576-8606, feel free to direct message on our live chat or CLICK HERE to contact us via email.
Make sure to follow us on Instagram: @FFPerformanceAZ and Youtube.
EMAIL A FACTORY SPECIALIST FOR HELP CALL A FACTORY SPECIALIST NOW