I know you guys have been waiting for this data and it's still incomplete. The videos are all be edited as I type this. Here are my notes on the following Cat-Back Exhausts we tested. As you can tell below, these aftermarket cat-back exhausts DO MAKE POWER regardless of the stock tune. There is more to be gained from tuning your Mustang but for those that want to keep their powertrain warranty, we highly recommend upgrading your exhaust to extract more ponies out of your 2.3L EcoBoost engine.
Let's talk about cat-back exhaust for our 2015 to 2021 Ford Mustang EcoBoost's. In the photos below are the dyno sheet for all the exhausts tested. Please remember, these results are UNTUNED. Keep that in mind as we go through this data. We did about 7 to 8 pulls per exhaust to make it fair. We let the car cool down in between runs as the stock intercooler is absolutely worthless. Here is the list of exhausts that we tested. Starting from the top, the most power made, to the bottom making the least. STD correction with 0 smoothing.
Video coming soon, keep checking back.
Tomei 2015-2021 Ford Mustang Ecoboost Expreme Ti Titanium Cat-Back Exhaust
WINNER: Best sounding with stock downpipe, the craftmanship is 10/10
273.74 WHP
323.19 WTQ

This is by far one of our favorite exhausts for the 2015 to 2021 Ford Mustang EcoBoost. This exhaust literally weighs 13 pounds from end to end. From the packaging, instructions, to the fitment, this exhaust is first-class from start to finish. The sound is as good as it gets for a 4 cylinder and this is one of the loudest exhausts for the EcoBoost Mustang.
Pros: Lightweight, sounds perfect, fitment is perfect
Cons: Not many people like the single exhaust look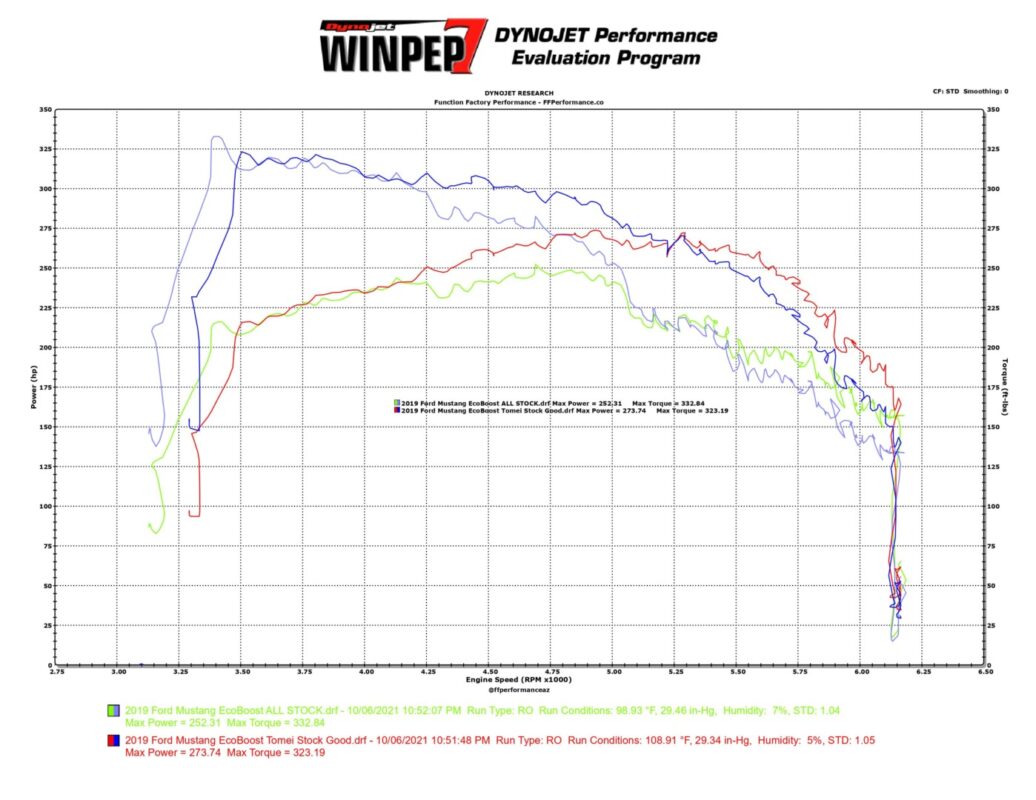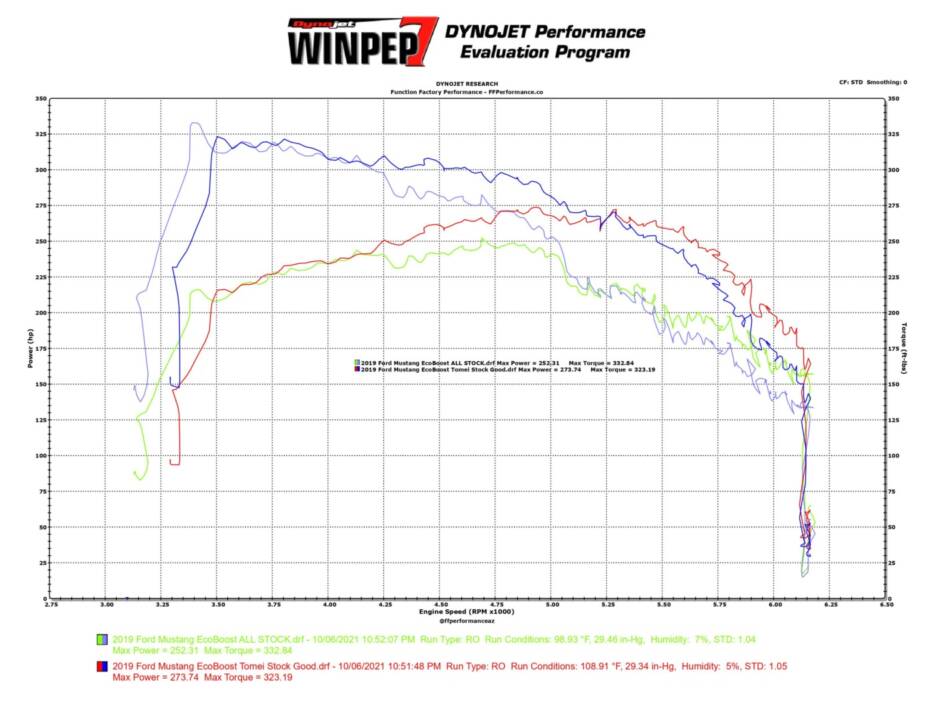 MBRP 2015-2021 Ford Ecoboost Mustang XP Series (T409) Cat-Back Exhaust Race Version
Perfect volume and 9/10 tone, best budget exhaust
265.22 WHP
344.79 WTQ
This is our favorite budget exhaust. Made out of T409, this exhaust will not rust even in high humid areas. For the price, this exhaust made great gains on the dyno. It sounds fantastic, it's not too loud but not quiet by any means. Install was very simple and the chrome tips look great.
Pros: Great volume from the exhaust, perfect price point, dual exhaust tips
Cons: The system is heavy.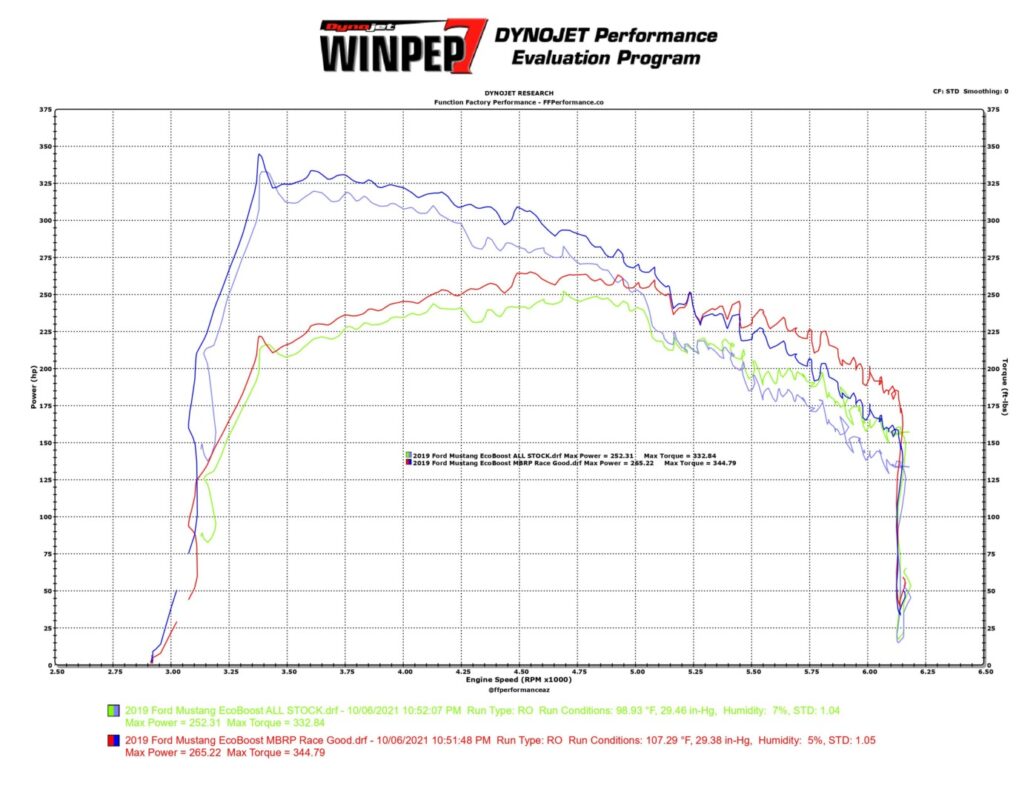 Full-Race Motorsports 2015-2021 Ford Mustang Ecoboost 3″ Race Cat-Back Exhaust System
Perfect fitment, quality is A1, 9/10 tone, louder than MBRP
260.22 WHP
329.84 WTQ
We had this exhaust on our EcoBoost Mustang a few weeks after we purchased it. We personally think this is the best system to use with an NX2 and high flow downpipe. It sounds exotic due to the placement of the muffler in the middle of the car.
Pros: A1 fitment, over-engineered and uses vband clamps, paired with a large turbo, this system sounds 10
Cons: Could be louder on a stock turbo Mustang.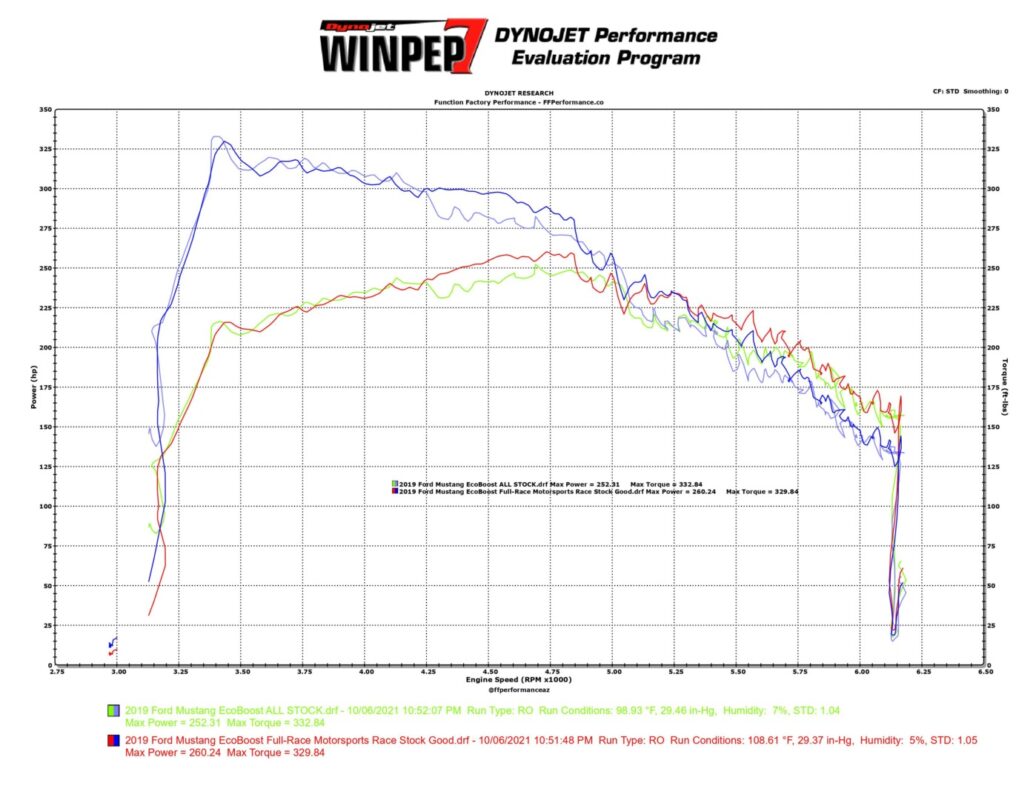 All stock
252.31 WHP
332.84 WT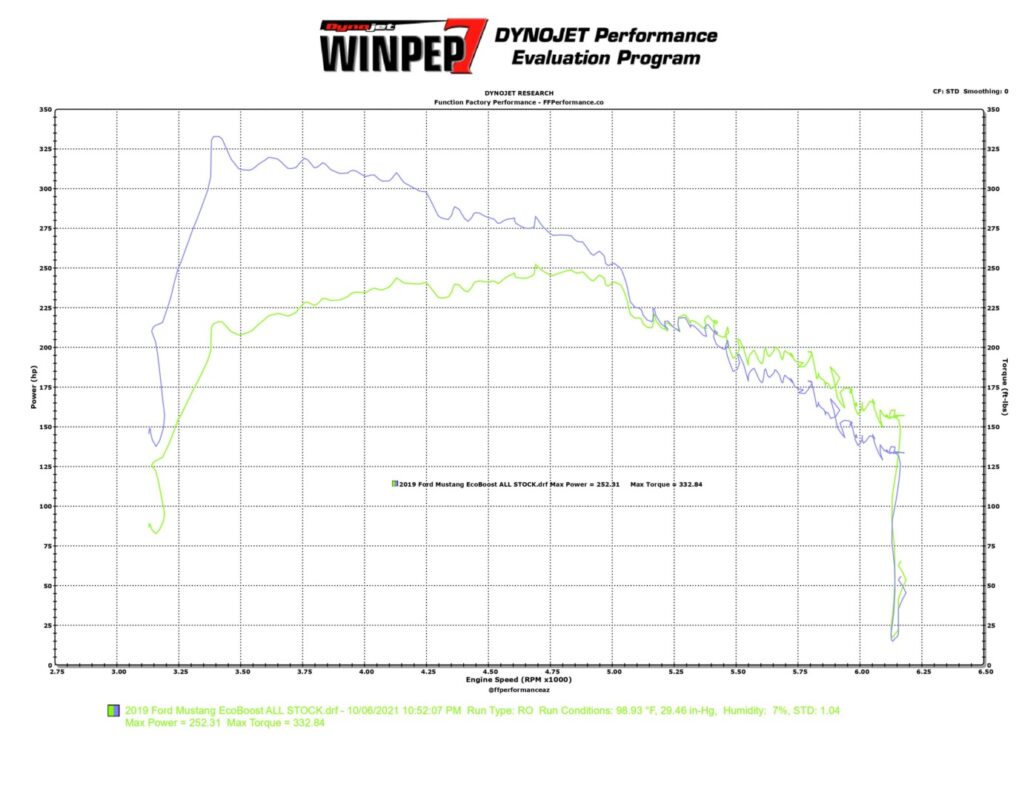 As always, feel free to leave a comment down below and make sure to follow us on social media.
Follow us below
Facebook: https://www.facebook.com/ffperformanceaz
Instagram: https://www.instagram.com/ffperformanceaz/
Youtube: https://www.youtube.com/functionfactoryperformance
Need help ordering? Shoot us a message at this link https://ffperformance.co/factory-service/contact/ or dial 480-576-8606