Function Factory Performance Install + Sound Video
Tomei has been around since 1968, focused around competitive automotive sports. Throughout the last few decades, they have been involved in many different facets of the industry and even provide products internationally. Quality is everything.
Function Factory Performance Dyno Results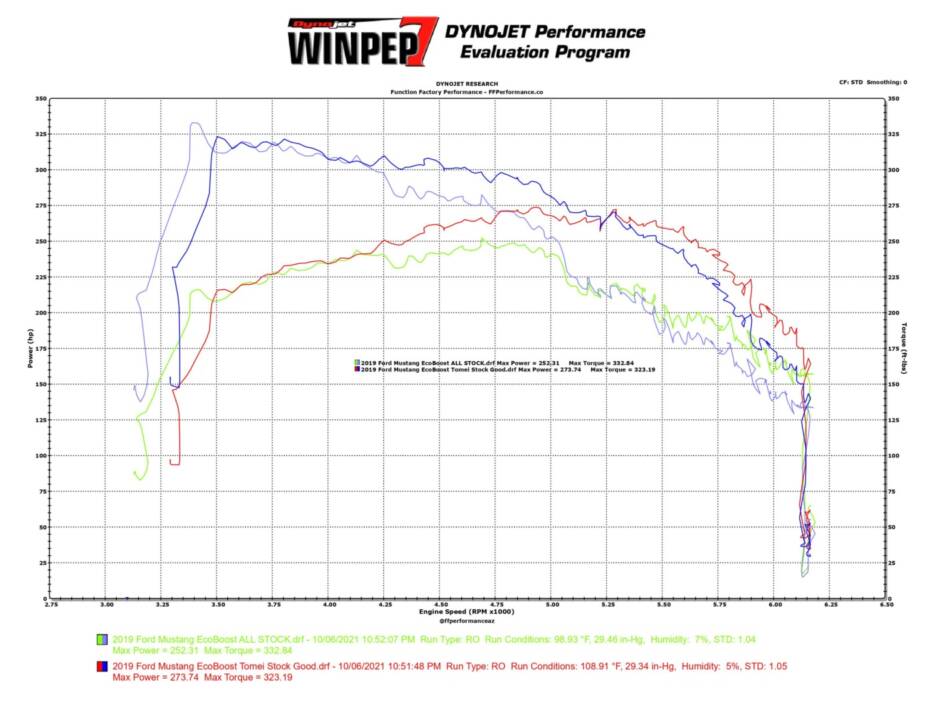 Product Overview
Seldom is an exhaust described as sexy, considering its usually metal piping. To describe this exhaust system as metal piping would be a huge disservice to the product. This system is completely titanium, weighing ONLY 13.2 POUNDS. Yes, that means you will be saving 45.2 lbs from just this upgrade alone.  Built as a single exit exhaust system, part of the muffler and tip are chemically treated to allow for that "burnt" titanium look, adding to the unique allure.  Nothing about this product is close to being average, even the packaging is so meticulously put together that it would come as a surprise to see any shipping damage. Everyone's favorite topic, is sound. Let us save you from watching too many low-quality videos, trying to get the slightest idea of the exhaust note. Refined, aggressive, ferocious…enough of the generic words, this system sounds bassy with snappy revs, and plenty of pops and bangs on decel (our favorite).

What's In The Box
Connector Pipe(1)

Main Pipe A (1)

Main Pipe B (1)

Silencer Assy (1)

Clamp Band (3)

Spring (6)

Silencer Band (1)

Silencer Band Rubber (1)

Bolt M8 L=25Mm P=1.25Mm (1)

Nut M8 (1)

Sound Reducer Ver.2 (1)

Bolt Smooth Paste (1)
Christina Roki drivers our 2016 Ford Mustang EcoBoost equipped with the Tomei Expreme Exhaust
We've got your back!
Function Factory Performance takes "customer service" very personally. We understand that finding the right parts can be overwhelming. Education and awareness are the principles that keep us ahead of the curve. Let us make this experience simple, easy, and awesome, so without hesitation give us a call at (480) 576-8606, feel free to direct message on our live chat or CLICK HERE to contact us via email.
Make sure to follow us on Instagram: @FFPerformanceAZ and Youtube.
EMAIL A FACTORY SPECIALIST FOR HELP CALL A FACTORY SPECIALIST NOW