Coming Soon! Available on: February 11, 2021
When AMS Performance released the original Red Alpha Heat Exchanger in 2017, they created the VR30 platform's first direct OEM replacement heat exchanger that was properly sized and shaped for maximum thermal transfer. While competitors spent the next 3 years playing catch up, AMS went back to the drawing board to push the Infiniti Q50 & Q60 platform even further. They knew as time went on the platform would advance to higher and higher power levels that would necessitate better cooling, which is why their AMS SNAILWORKS© Engineering Team designed the all-new Red Alpha Race Heat Exchanger – The largest stock location heat exchanger on the market.
Maximizing available space to create a larger heat exchanger surface area for cool air to pass through can be a challenge in a confined space like the front end of the Q50 and Q60. The Red Alpha Race Heat Exchanger expands to a massive 32mm thickness, nearly three times thicker than the factory heat exchanger. Our team was able to expand the unit in all dimensions by utilizing a new steel support bracket to keep your new heat exchanger secure. With an 827% increase in core size over OEM, the Red Alpha Race Heat Exchanger has what you need to take your Infiniti Q50 or Q60 to the next level.
Features –
Biggest and baddest stock location heat exchanger on the market
Near TRIPLE the thickness of the factory heat exchanger (32mm vs 11mm)
827% increase in core size over OEM for unbelievable heat transfer
CAD designed and CNC machined 6061 T6 billet aluminum end tanks
Motorsport quality tube and fin heat exchanger core made in the UK
Drastically increased coolant flow
CFD analysis performed on the core and tanks to allow for optimized heat dissipation
548% added fluid capacity over OEM further increases thermal stability
Easy installation in OEM bolt hole locations with included support bracket
Can be used on stock or modified vehicles to reduce heat soak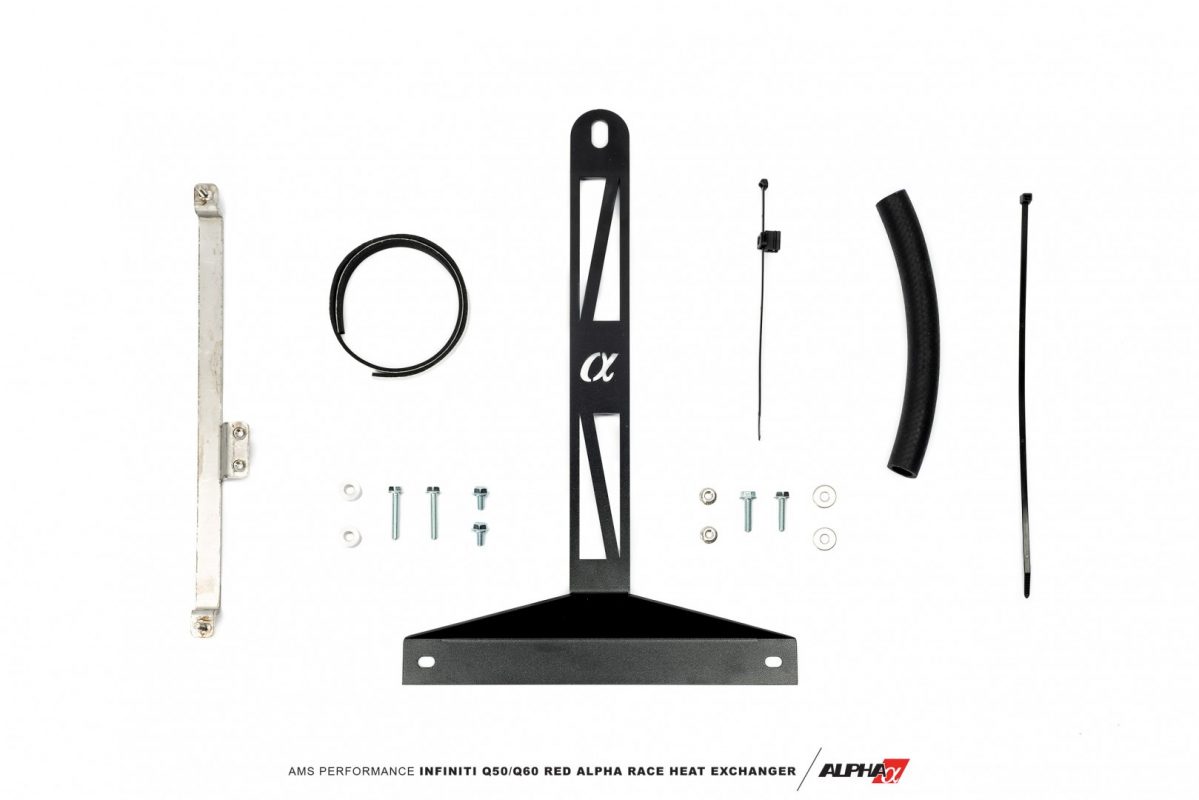 Engineered To Be The Best –
AMS Performance is an engineering company first. They have built their 20-year reputation as a leading motorsports aftermarket component manufacturer by creating the highest performing parts through a focused engineering approach to design. This design method allows them to include features not found in any other kits on the market, including billet 6061 T6 aluminum end tanks for improved fitment and aesthetics, a screw valve for easy bleeding, and a metal support bracket to make sure the additional weight is secured. Where others use plastic barb fittings, and low-grade rubber hoses, the AMS SNAILWORKS© Engineering Team have put together a system that uses the highest quality materials for years of trouble-free operation.
While the Red Alpha Race Heat Exchanger is significantly larger than OEM, their AMS Team set out to make the INFINITI Q50/Q60 Red Alpha Race Heat Exchanger upgrade as simple as possible to install. The new unit fits in the same location as the factory core, allowing for maximum compatibility with oil coolers, shutters, and parking assist sensors. By using the factory mounting points you or your trusted mechanic can install it quickly and easily. The core simply slides in and bolts into the factory mounting holes with the supplied support bracket, and then gets connected to your existing factory hose routing.  For a heat exchanger of this size, you don't get a cleaner or more simple installation than that!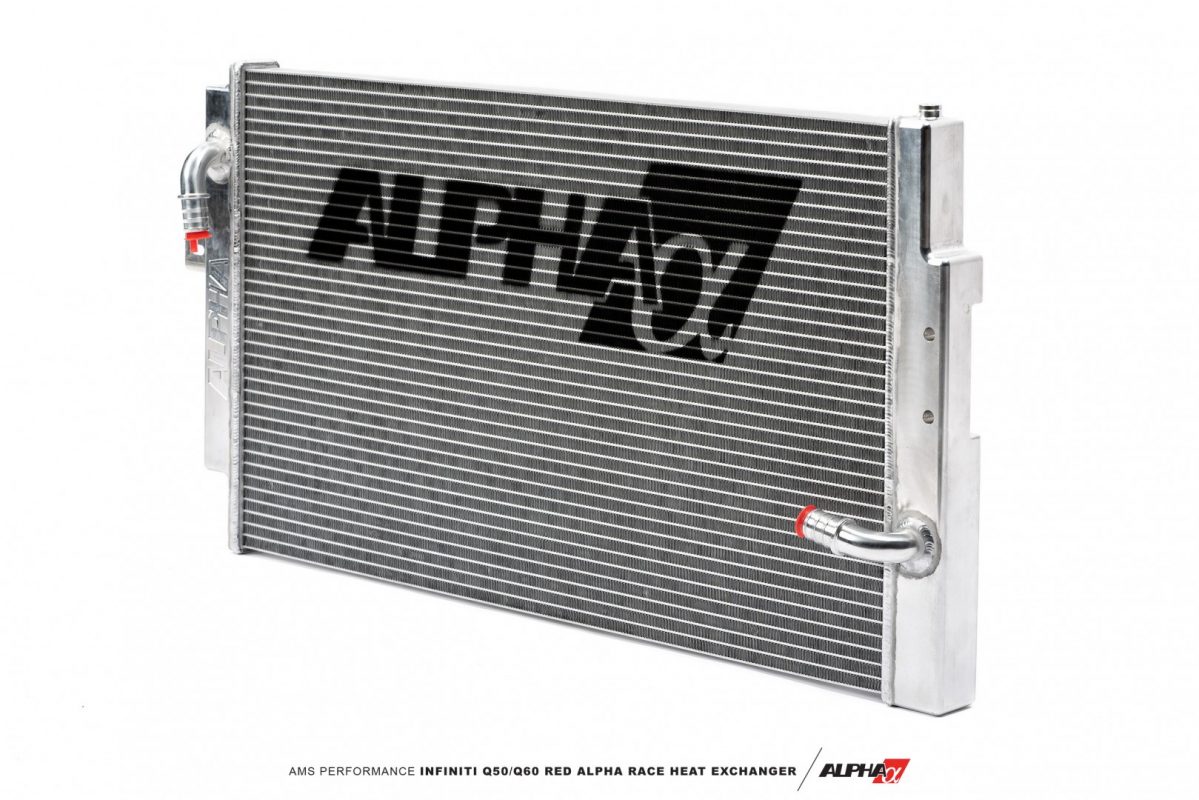 Size Matters –
For the core of the INFINITI Q50/Q60 Red Alpha Heat Exchanger, AMS chose a motorsport quality heat exchanger core made in the UK. With this high efficiency, the single-pass core is much larger and dissipates heat quickly for maximum cooling. Through the larger design, added fluid capacity, and drastically increased flow, your 3.0L VR30 twin-turbocharged engine benefits from reduced intake air temperatures (IAT), boosting your power output.
By nearly tripling the thickness of the OEM core and increasing the frontal surface area, you gain an extraordinary amount of added cooling efficiency. The Red Alpha Race Heat Exchanger core and end tanks hold an astounding 548% more coolant than the stock heat exchanger. You gain increased thermal capacity for the entire intercooler system by accommodating this additional coolant. Whether you live in a hot climate region, enjoy drag racing, or long high speed pulls on airstrips the INFINITI Q50/Q60 Red Alpha Race Heat Exchanger will help keep your intake temps lower and maintain your INFINITI's maximum power output no matter the conditions.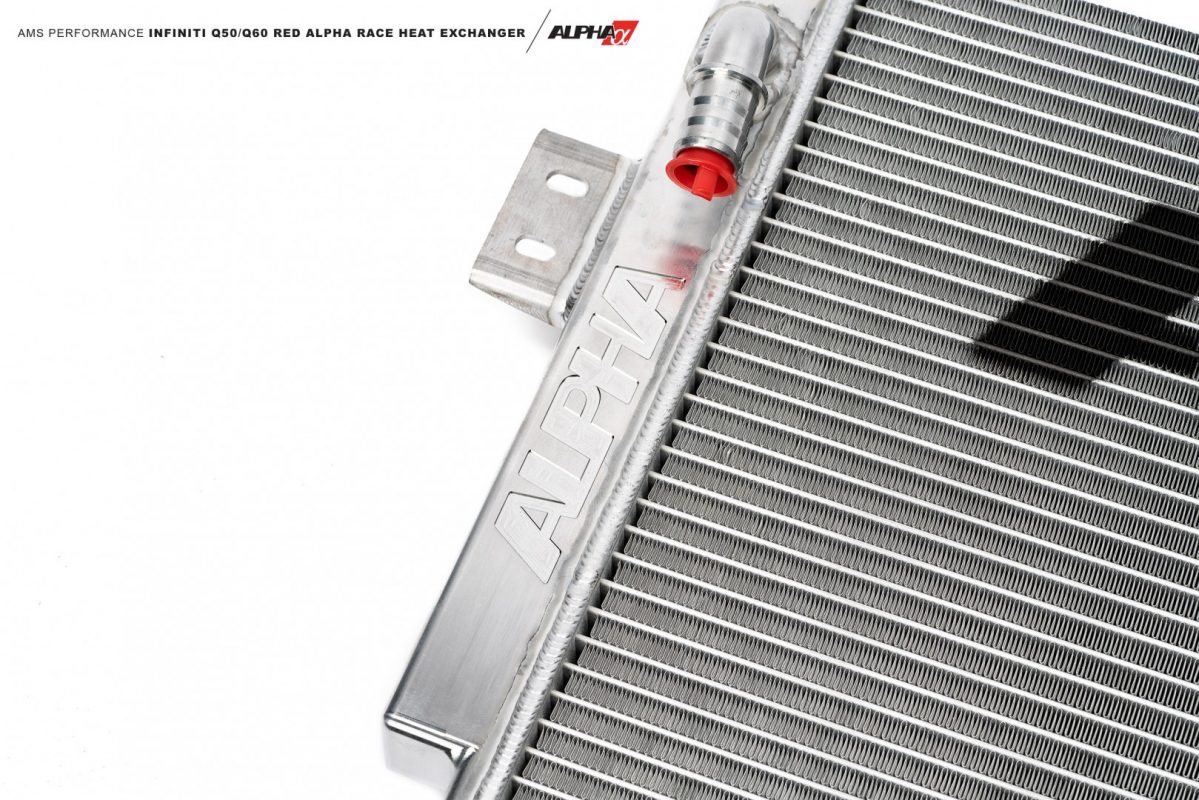 Fitment –
2017-2021 INFINITI Q60 with VR30
2016-2021 INFINITI Q50 with VR30
Installation Instructions –
Notes –
Requires minor plastic trimming for proper fitment. Please review installation instructions for further details.
***Not legal for use on pollution controlled motor vehicles. This product is for racing competition only and is not legal for use on highway or street vehicles, or other non-racing competition off-road vehicles***
We've got your back!
Function Factory Performance takes "customer service" very personally. We understand that finding the right parts can be overwhelming. Education and awareness are the principles that keep us ahead of the curve. Let us make this experience simple, easy, and awesome, so without hesitation give us a call at (480) 576-8606, feel free to direct message on our live chat, or CLICK HERE to contact us via email.
Make sure to follow us on Instagram: @FFPerformanceAZ and Youtube.
EMAIL A FACTORY SPECIALIST FOR HELP CALL A FACTORY SPECIALIST NOW