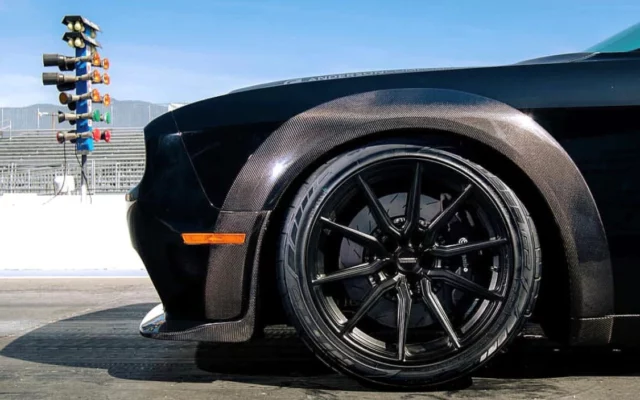 Dodge the ordinary and usher in the extraordinary with this Anderson Composites Carbon Fiber Front Splitter Lip for the 2015-2023 Dodge Challenger Widebody Hellcat. Crafted for the discerning car enthusiast who understands the marriage of style, performance, and durability, this splitter is the must-have accessory that your Challenger has been missing.
Unleash the beast within your Hellcat with this state-of-the-art front splitter. Made from high-quality carbon fiber, a material known for its superior strength-to-weight ratio, this product promises an aesthetic upgrade and performance improvement. Its light weight ensures your speed demon stays nimble on the road, while its remarkable durability protects your car's front end from the daily grit and grind of the streets.
This carbon fiber splitter's aggressive design perfectly complements your Hellcat's raw power and swagger, adding a touch of streamlined sophistication that's sure to turn heads wherever you go. As fellow enthusiasts, we at Function Factory Performance understand that your car is more than just a vehicle; it's an expression of your lifestyle and a testament to your passion for performance.
The Anderson Composites Front Splitter Lip is designed for easy installation, letting you transform your Hellcat without needing professional tools or help. Its high-quality finish seamlessly blends with your car's design, enhancing its overall appeal and aggressive stance.
We've got your back!
Function Factory Performance takes "customer service" very personally. We understand that finding the right parts can be overwhelming. Education and awareness are the principles that keep us ahead of the curve. Let us make this experience simple, easy, and excellent, so without hesitation, give us a call at (480) 576-8606. Feel free to direct message on our live chat, or CLICK HERE to contact us via email.
Make sure to follow us on Instagram: @FFPerformanceAZ and Youtube.
EMAIL A FACTORY SPECIALIST FOR HELP CALL A FACTORY SPECIALIST NOW