Introducing the 2020-2023 Ford Mustang Shelby GT500 Style Front Bumper Conversion for the 2018 to 2023 Ford Mustang. Check out Taylor's 2020 Ford Mustang GT equipped with our GT500 bumper below.
If you want to give your 2018-2023 Mustang an intimidating and powerful look, look no further than our Function Factory Performance GT500 Style Conversion Bumper. This bumper mimics the aggressive styling of the 2020 Ford Shelby Mustang GT500, providing your Mustang with an OEM-quality facelift that exudes confidence and strength.
With our conversion bumper, your Mustang will have the bite of a Cobra at first sight. Our product is designed to deliver an aggressive facelift while maintaining OEM quality, ensuring that your Mustang looks and performs at its best. Our bumper is made from high-quality materials, and we conduct rigorous quality control tests to guarantee that our customers receive top-quality products.
Invest in our conversion bumper, and you'll experience the feeling of driving a whole new car. With its aggressive and robust design, your Mustang will stand out from the crowd and demand attention.
Click or tap here to view our photo album of our installation.
Stock Bumper vs Our FFP 2018-2023 Ford Mustang GT500 Front Bumper Conversion
Check out OrangeFury7's 2020 Ford Mustang equipped with our Function Factory Performance Ford Mustang GT500 Front Bumper Conversion.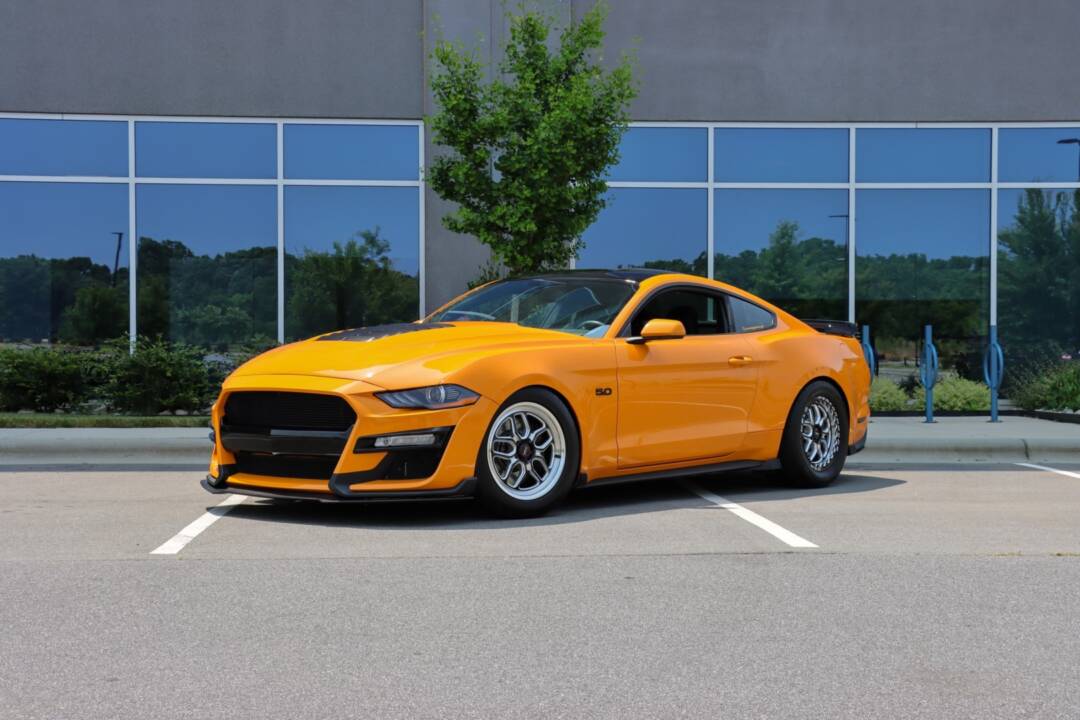 Frequently Asked Questions
What material is the bumper made of?

Crafted from top-of-the-line polypropylene, the bumper is built to withstand the most demanding conditions and is rigorously tested to ensure optimal performance.
What is Polypropylene?  (Factory Grade Plastic)
Polypropylene is a factory-grade plastic that boasts high tensile strength, impact resistance, compressive strength, and stress-cracking resistance while retaining its stiffness and flexibility. Rest assured that our product is made from the same material as your OEM bumper, ensuring unmatched quality and durability.
How's the fitment?
The Shelby GT500 Style conversion bumper has a fantastic fit, making installation a breeze. No cutting, shaving, or modifications are required.
This is a direct-fit bumper to turn the front end of your Ecoboost or GT Mustang into the GT500 (2020) style.
Made to fit 2018-2022 Ford Mustang, Ecoboost 2.3L, and GT Models (does not fit a GT350)
It fits With OEM fenders and will work with all OEM and aftermarket hoods.
Mustangs with the Performance Pack 1 (PP1) or PP2 option will require a non-Performance Pack belly pan. 
Kit Includes:
Front Bumper
Front Bumper Upper Grille
Front Bumper Lower Grille
Front Chin Spoiler
Front Side Splitters RH/LH
Front Fog Lamp Covers RH/LH
See the picture for all included.
Detail Photos
Customer Photos
Click below if you're looking for the 2015-2017 FFP Ford Mustang GT500 Front Bumper.
Function Factory Performance 2015-2017 Ford Mustang GT500 Front Bumper Conversion
We've got your back!
Function Factory Performance takes "customer service" very personally. We understand that finding the right parts can be overwhelming. Education and awareness are the principles that keep us ahead of the curve. Let us make this experience simple, easy, and awesome, so without hesitation give us a call at (480) 576-8606, feel free to direct message on our live chat, or CLICK HERE to contact us via email.
Make sure to follow us on Instagram: @FFPerformanceAZ and Youtube.
EMAIL A FACTORY SPECIALIST FOR HELP CALL A FACTORY SPECIALIST NOW