GARRETT G42-1450 DUAL BALL BEARING TURBO
The largest mid-frame turbo in the G-series lineup, Garrett's all-new G42-1450 is a beast.  Using an all-new 98mm compressor wheel aero to achieve a whopping 77% peak efficiency and +10% flow gains over GTX42 – with no compromise. The Improved ported shroud inlet design offers maximum surge resistance with huge flow rates in a compact outline. Flowing 136 lb/min with a Max turbo speed of 114krpm and max exhaust gas temp is 1050C/1922F.  G42 Compressor housings use a traditional 5″ inlet and 3″ outlet with a fully machined Speed Sensor Port.
COMPRESSOR SPECIFICATIONS
Compressor Wheel Exducer: 79mm
Compressor Wheel Inducer: 98mm
Compressor Wheel Trim: 65
Compressor Wheel Material: Forged Billet Aluminum Alloy
Compressor Housing A/R: 0.85 A/R
Max Flow Rate: 136 lb/min
Max Recommended Turbo Shaft Speed: 114,000 RPM
Compressor Housing Connections:

Inlet: 5.0″ Hose Coupler
Outlet: 3.0″ Vband
G42-1450 Compressor Map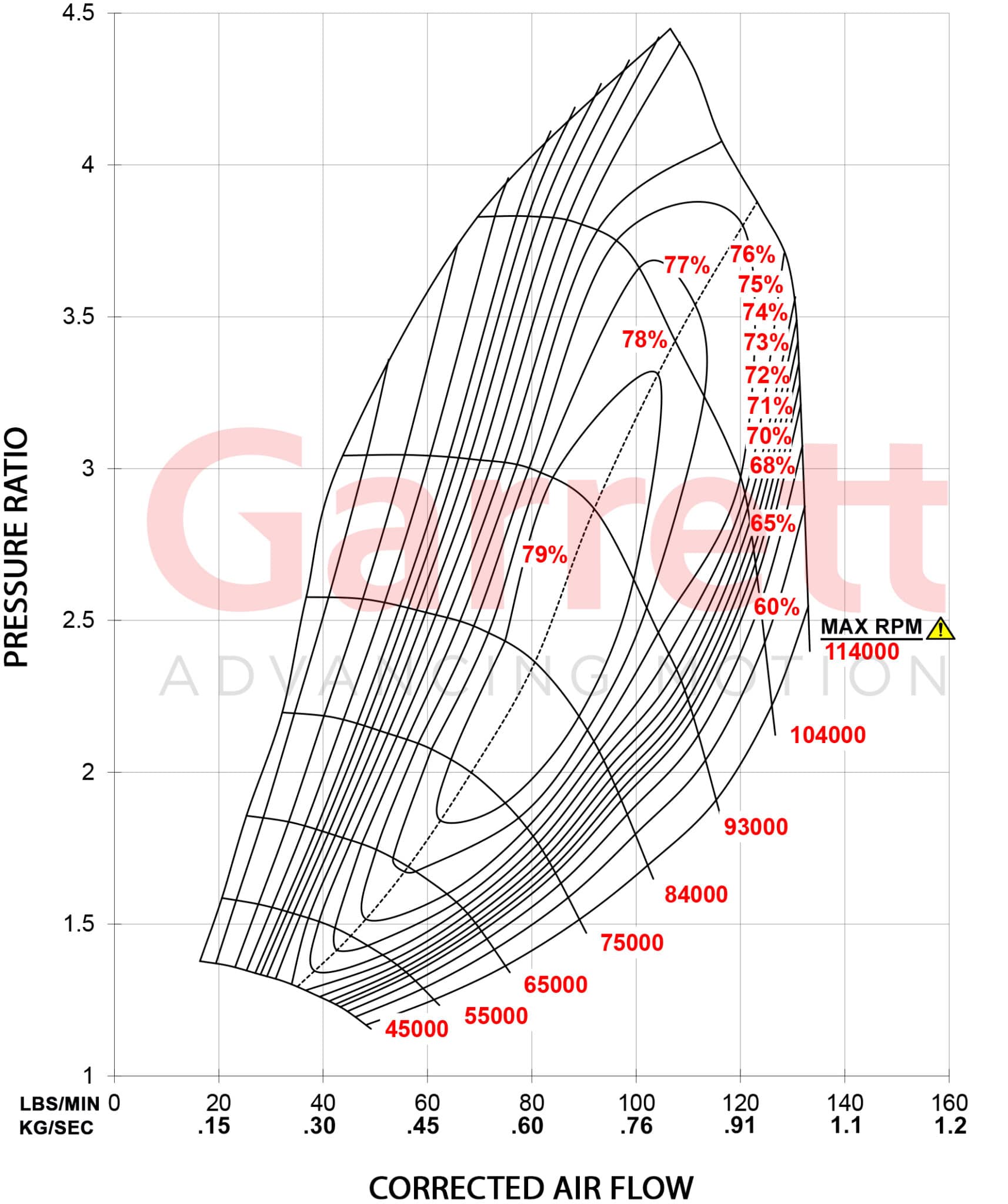 TURBINE SPECIFICATIONS
Turbine Wheel Exducer: 75mm
Turbine Wheel Inducer: 82mm

Turbine Wheel Trim:

 84
Turbine Wheel Material: Mar-M
Turbine Wheel Max Temp: 1050C / 1922F
Housing Size and A/R ratio: G-Series G42-1450 is available in six (6) different turbine housing configurations:

1.01 A/R T4 Twin Scroll Inlet, V-Band Outlet
1.15 A/R T4 Twin Scroll Inlet, V-Band Outlet
1.28 A/R T4 Twin Scroll Inlet, V-Band Outlet
1.01 A/R  Scroll Inlet, V-Band Outlet
1.15 A/R T4 Twin Scroll Inlet, V-Band Outlet
1.28 A/R T4 Twin Scroll Inlet, V-Band Outlet
DUAL BALL BEARING CHRA

All G-series turbos utilize a V-band turbine housing to CHRA connection.  This improves ease of installation, clocking, and servicing the turbo.  Each turbocharger includes (1) -4AN oil restrictor fitting with a 1mm restriction orifice to provide the turbo with the recommended 40psi of oil pressure.  Four large water jacket ports increase cooling capacity and allow enthusiasts to customize water line routing to help improve the installation process.  The turbocharger comes with two -6AN water fittings and two plugs. *Recommended to install waterlines on opposite sides of the housing
We've got your back!
Function Factory Performance takes "customer service" very personally. We understand that finding the right parts can be overwhelming. Education and awareness are the principles that keep us ahead of the curve. Let us make this experience simple, easy, and awesome, so without hesitation give us a call at (480) 576-8606, feel free to direct message on our live chat, or CLICK HERE to contact us via email.
Make sure to follow us on Instagram: @FFPerformanceAZ and Youtube.
EMAIL A FACTORY SPECIALIST FOR HELP CALL A FACTORY SPECIALIST NOW