Features
GEN II COMPRESSOR WHEEL AERODYNAMICS
76MM COMPRESSOR INDUCER | 109MM COMPRESSOR EXDUCER
99MM TURBINE INDUCER | 91MM TURBINE EXDUCER
15% INCREASED FLOW
LARGER  .88 A/R COMPRESSOR HOUSING VOLUTE
GTX5009R FEATURES A 109mm COMP EXDUCER ( + 1mm) AND HAS 39% LOWER INERTIA
SUPERCORE AND TURBINE HOUSING SOLD SEPARATELY
COMPATIBLE WITH GT AND GTX TURBINE HOUSINGS
WARNING: Maximum allowable turbocharger speed is 84krpm. The use of this product above max turbocharger speed is at the owner's risk, and can result in damage and premature failure. To protect the turbocharger from overspeed when operating, a speed sensor can be installed into the compressor housing to monitor shaft speed. Sensors sold separately.
Performance results of this product are highly dependent upon your vehicle's modifications and tuning/calibration. The horsepower numbers represented above are calculated based strictly on choke flow of the compressor map (total turbo capability), which represents the potential flywheel horsepower.
GTX5009R GEN II | Reference Data
Compressor
Turbine
Supercore PN
Replaces
Inducer
Exducer
Trim
A/R
Inducer
Exducer
Trim
851285-5016S
NEW
76mm
109mm
49
0.88
99mm
91mm
84
851285-50017S
804878-5020S
80mm
109mm
54
0.88
99mm
91mm
84
The latest Garrett technologies featuring many advanced features.
COMPRESSOR MAP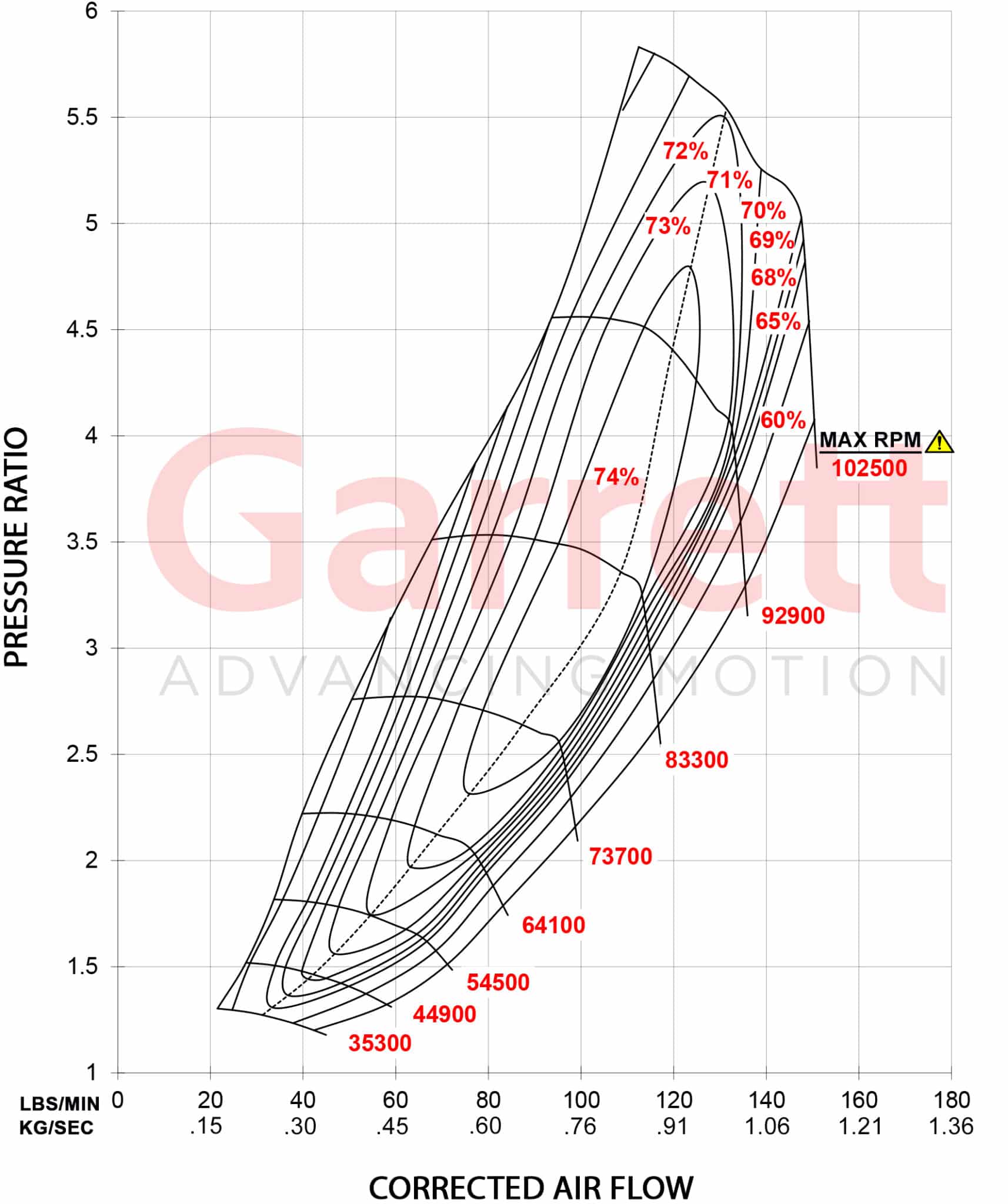 EXHAUST FLOW CHART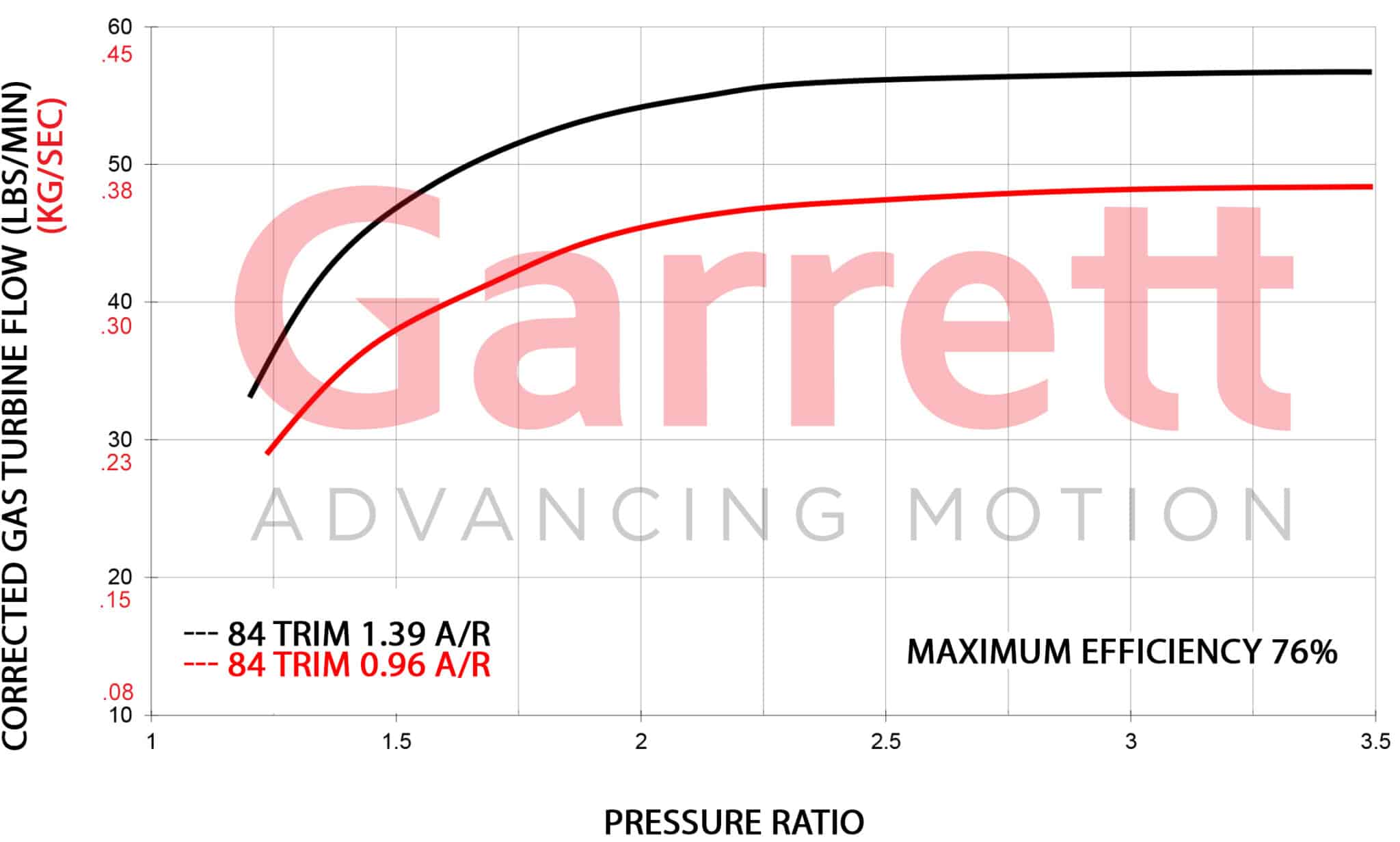 Gen II Compressor Wheel Dimensions and Aerodynamics
GTX5009R Available in 76mm and 80mm inducer diameters
Comp exducer is now 109mm (+1mm vs Gen I)
Gen II wheel produces 15% more air flow
39% lower inertia
Larger Comp Exducer on Gen II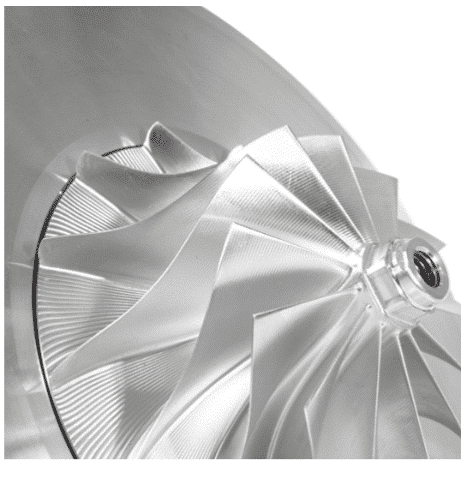 .88 A/R Compressor Housing
Gen II features a larger .88 A/R (Gen I .69 A/R)
This helps maximize the power capacity of the new compressor wheel.
This is also the same compressor housing used on the GTX5533R (85mm and 88mm)
Larger Compressor Volute

.88 A/R Compressor Housing
Gen II features a larger .88 A/R compressor housing that will cause an increase in outline dimensions only on the cold side of the turbo.
+6mm longer on the comp outlet Fig. A
+10mm longer on the comp inlet Fig. B
Comp outlet diameter 107mm (same)
Not outline interchangeable with gen 1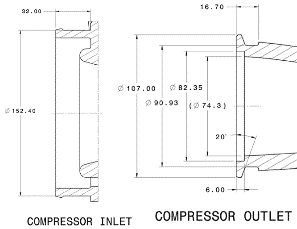 Dimensional Compressor Measurements vs. Gen I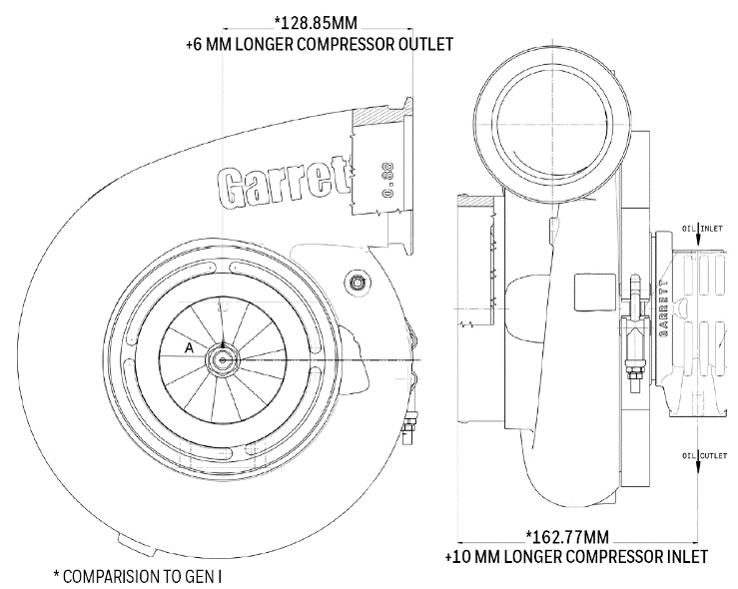 Additional Features
Lightweight billet backplate
(NEW) Backplate to compressor housing O-ring
Speed sensor port compatible only with new flange style speed sensors: (pn 781328-0003 Street Kit | pn 781328-0004 Pro)
Compatible only with New G Series Speed Sensor

We've got your back!
Function Factory Performance takes "customer service" very personally. We understand that finding the right parts can be overwhelming. Education and awareness are the principles that keep us ahead of the curve. Let us make this experience simple, easy, and awesome, so without hesitation give us a call at (480) 576-8606, feel free to direct message on our live chat, or CLICK HERE to contact us via email.
Make sure to follow us on Instagram: @FFPerformanceAZ and Youtube.
EMAIL A FACTORY SPECIALIST FOR HELP CALL A FACTORY SPECIALIST NOW